The 007 MAGAZINE 'GOLDFINGER portfolio'
A five-volume set of A4 76-page Limited Edition publications
builds into the ultimate 380-page definitive GOLDFINGER collectable!
Goldfinger is without doubt the most famous, iconic and memorable of all the James Bond films, and on its release in 1964 it set movie screens alight around the world with a heady cocktail of creativity that became an entertainment phenomenon; from its glittering opening credit titles designed by Robert Brownjohn, accompanied by Shirley Bassey belting out its brassy main title theme written by John Barry, Leslie Bricusse and Anthony Newley, through to the corpse of an unfortunate woman painted gold, a man with a deadly steel-rimmed flying hat, an Aston Martin DB5 'with modifications', a Bond Girl whose feline name caused much trepidation, death by laser beam, a larger than life villain with the Midas touch, and the golden gleaming cathedral-like interior of Fort Knox, as imagined by brilliant Production Designer Ken Adam – with all these elements its hardly surprising that the heady concoction that is Goldfinger impressed so many in 1964, and now, over 50 years later, remains a popular evergreen entertainment for successive generations of film fans and Bond enthusiasts alike.
| | | | | |
| --- | --- | --- | --- | --- |
| | | | | |
| VOLUME 1 | VOLUME 2 | VOLUME 3 | VOLUME 4 | VOLUME 5 |
The 'GOLDFINGER portfolio' (Volumes 1 to 5) – is a 380-page celebration of everything that is representative of this great film and is packed with rare never-before-seen exclusive imagery from the 007 MAGAZINE ARCHIVE, with detailed definitive information-packed photo captions throughout, and also includes:
•
Call Sheets
•
Documents
•
Press Releases
•
Blueprints
•
Ken Adam Sketches
•
Press Ads
•
Contact Sheets
•
UK Front of House Sets
•
Complete UK Exhibitors' Campaign Book
•
Many never-before-seen images
– including two scenes shot but cut from the film and featured here for the first time!
Plus Interviews:
•
All-new interviews with the Goldfinger Girls:
Nadja Regin, Margaret Nolan, Shirley Eaton – and the 'voice of the Bond Girls', Nikki van der Zyl.
Plus articles:
| | |
| --- | --- |
| • | The Goldfinger titles – Brownjohn hits it out of the park (by Luke G. Williams) |
| • | Goldfinger – the classic James Bond score by John Barry (by Geoff Leonard & Pete Walker) |
| • | An Oscar From Cutting Room 30 (by Oscar-Winning Dubbing Editor Norman Wanstall) |
CURRENTLY OUT OF PRINT - IMPERFECT ARCHIVE COPIES AVAILABLE
*Each new issue of 007 MAGAZINE published, along with all back issues, are cost out as individual price modules in order to keep our administration, postage, and handling costs within our economic strategy, therefore we are unable to group publications for sales despatch. This administration policy not only safeguards 007 MAGAZINE & ARCHIVE Limited, but also our customers from bulk losses caused by the international postal services.
The 007 MAGAZINE 'GOLDFINGER portfolio' Volume 1
76-page Limited Edition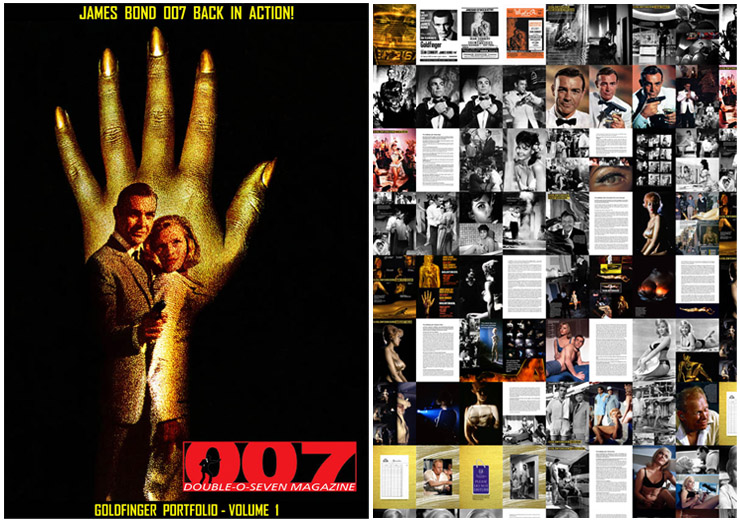 •
Volume 1 of a 5 volume set of A4 76-page Limited Edition publications – builds into the ultimate 380-page definitive GOLDFINGER collectable!
•
Each 76-page volume will be a print to order quantity only!
•
Order your copy now to ensure delivery of the important exclusive collectable publication

Featured in the 007 MAGAZINE 'GOLDFINGER portfolio' – Volume 1:

•
All new exclusive profusely illustrated interviews with Bond Girls: Nadja Regin, and golden girls Margaret Nolan and Shirley Eaton.
•
The Goldfinger titles – Brownjohn hits it out of the park – featuring rare images of Robert Brownjohn shooting the credit titles with Margaret Nolan
•
Featuring over 150 rare and never-before-seen images

CURRENTLY OUT OF PRINT
The 007 MAGAZINE 'GOLDFINGER portfolio' Volume 2
76-page Limited Edition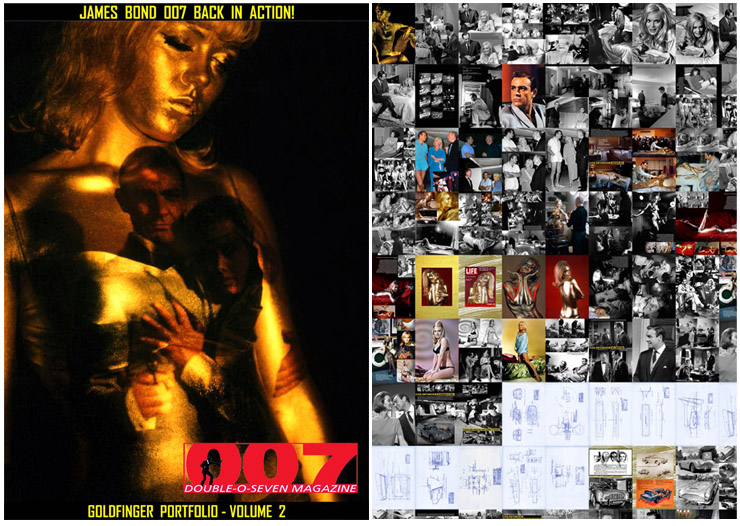 •

Volume 2 of a 5 volume set of A4 76-page Limited Edition publications – builds into the ultimate 380-page definitive GOLDFINGER collectable!

•
Each 76-page volume will be a print to order quantity only!

Featured in the 007 MAGAZINE 'GOLDFINGER portfolio' – Volume 2:

•
A previously unknown scene between Sean Connery and Shirley Eaton, shot but cut from the film
•
Ian Fleming's on-set meeting with Sean Connery and Shirley Eaton
•
Shirley Eaton being painted gold for both her appearances as 'Golden Girl' Jill Masterson
•
10 pages featuring the original blueprints for the gadgets in James Bond 007's Aston Martin DB5
•
Featuring over 250 rare and never-before-seen images

CURRENTLY OUT OF PRINT
The 007 MAGAZINE 'GOLDFINGER portfolio' Volume 3
76-page Limited Edition
•
Volume 3 of a 5 volume set of A4 76-page Limited Edition publications – builds into the ultimate 380-page definitive GOLDFINGER collectable!
•
Each 76-page volume will be a print to order quantity only!
•
Order your copy now to ensure delivery of the important exclusive collectable publication

Featured in the 007 MAGAZINE 'GOLDFINGER portfolio' – Volume 3:

•
The filming of the golf match at Stoke Park Golf Club between James Bond and Auric Goldfinger
•
Publicity shoots taken at Stoke Park Golf Club: featuring Sean Connery, Gert Frobe, Harold Sakata, and Tania Mallet
•
Filming James Bond's Aston Martin on location in the Furka Pass, Switzerland
•
Interview with 'Voice of the Bond Girls' – Nikki van der Zyl – featuring her exclusive on-set photographs
•
Featuring over 200 rare and never-before-seen images
CURRENTLY OUT OF PRINT - IMPERFECT ARCHIVE COPIES AVAILABLE
The 007 MAGAZINE 'GOLDFINGER portfolio' Volume 4
76-page Limited Edition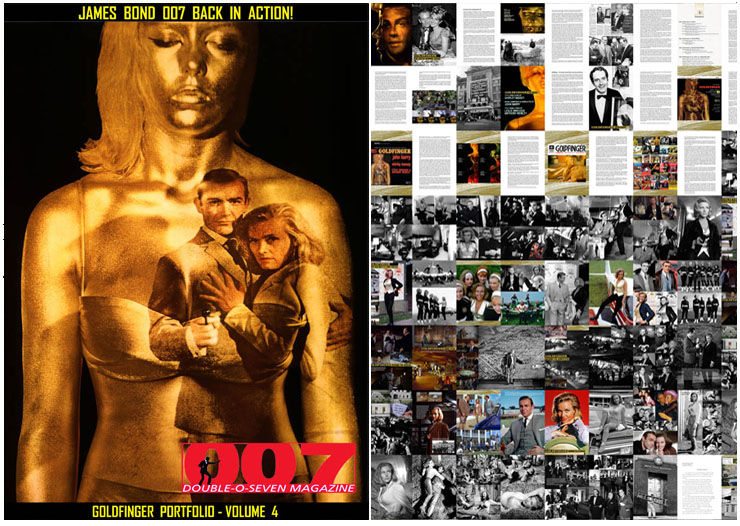 •
Volume 4 of a 5 volume set of A4 76-page Limited Edition publications – builds into the ultimate 380-page definitive GOLDFINGER collectable!
•
Each 76-page volume will be a print to order quantity only!
•
Order your copy now to ensure delivery of the important exclusive collectable publication

Featured in the 007 MAGAZINE 'GOLDFINGER portfolio' – Volume 4:

•
An Oscar From Cutting Room 30 – by Oscar-Winning Dubbing Editor Norman Wanstall
•
Goldfinger – the classic James Bond score by John Barry – by Geoff Leonard & Pete Walker
•
Ken Adam's Fort Knox set at Pinewood Studios – 1964 Press Release
•
Previously unseen scene featuring Honor Blackman as Pussy Galore
•
Detailed photo captions revealing hitherto unknown facts about the film Goldfinger
•
Featuring over 200 rare and never-before-seen images

CURRENTLY OUT OF PRINT - IMPERFECT ARCHIVE COPIES AVAILABLE
The 007 MAGAZINE 'GOLDFINGER portfolio' Volume 5
76-page Limited Edition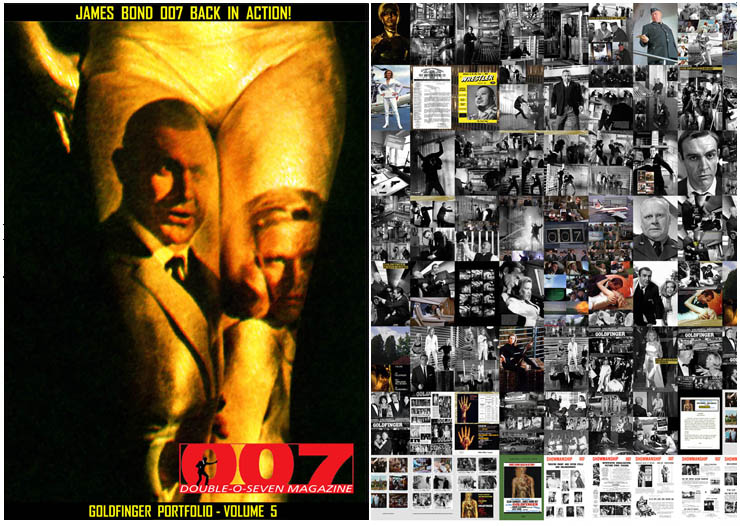 •
Volume 5 of a 5 volume set of A4 76-page Limited Edition publications – builds into the ultimate 380-page definitive GOLDFINGER collectable!
•
Each 76-page volume will be a print to order quantity only!
•
Order your copy now to ensure delivery of the important exclusive collectable publication

Featured in the 007 MAGAZINE 'GOLDFINGER portfolio' – Volume 5:

•
The original letter of introduction from Dale Martin Promotions Ltd suggesting Harold Sakata for the role of Oddjob
•
The UK premiere of Goldfinger
•
The USA premiere of Goldfinger – and Honor Blackman and Shirley Eaton promoting Goldfinger Stateside
•
Filming inside and outside the Fort Knox sets at Pinewood Studios
•
The UK Front of House Sets
•
The complete UK Exhibitors' Campaign Book
•
Detailed photo captions revealing hitherto unknown facts about the film Goldfinger
•
Featuring over 200 rare and never-before-seen images

CURRENTLY OUT OF PRINT

Also still available...
The 007 MAGAZINE 'GOLDFINGER portfolio' steelbook
350-page Wiro Bound Numbered Limited Edition
... what an absolutely breath-taking, doorstop-sized tome it is. Between its impressive "steelbook" covers lies a tantalising wealth of articles, interviews, campaign and press materials and fascinating blueprints. But the real selling point of this golden vault is the fact it's brimming with photographic treasures, a great deal of which these tired old eyes have never seen before – and, trust me, I've seen a lot! The extent of the imagery assembled here is simply astounding, there's almost too much to digest. I've no hesitation in saying that the 'GOLDFINGER portfolio' belongs on the bookshelf of every 007 buff worth his mettle. Everything about it exudes class – from those eye-catching, shiny metal covers to the weight of the paper stock, from the lavish design to the exquisite print quality (and let's not forget the eye-popping content). If you can afford to do so, dig deep and order a copy today because it really is every bit the ultimate tribute to the film that publisher Graham Rye promised, and the results of his sterling efforts deserve to be enjoyed far and wide."

Endorsement from UK customer