How did you come to be offered the role of Moneypenny in Never Say Never Again?
I had worked with Sean Connery before in The First Great Train Robbery (1978) [released in the USA in 1979 as The Great Train Robbery] and when he saw that I was one of the many people up for the part he personally suggested me to the right people, which was very nice.

Were you given any background to the character?
No. I had seen Moneypenny before of course in the earlier films played by Lois Maxwell. At first they [the media] tried to stir things up between us – it was all absolute nonsense, and Lois Maxwell wrote a very nice letter to me, and I contacted her, and they had to drop it eventually because they realised we were friends. I owe the part to Lois in fact because she established the role so beautifully in everyone's minds. As soon as you mention the name 'Moneypenny' people automatically think of Lois.

Were you worried that the part was already established in the public's mind?
At first I was, but it is just a case of interpreting it your own way and playing it as truthfully as you can, which was not difficult you know, to sort of admire Bond from afar, because I think he (Sean) is a wonderful man.
Do you think Moneypenny should have been older, possibly the same age as Bond?
I take that as a compliment actually. No, I didn't have that feeling at all. I was terribly sorry that a lot of the office scenes were cut from the final film, but I mean that's understandable, the public are paying to see Bond and all the action, not us in the office.

What did you think of the finished film?
I thought it was wonderful. I have seen it a couple of times now. The quality of the acting is so good – and Sean Connery to me is Bond. Klaus Maria Brandauer was a great villain, absolutely marvellous, the scenes between them were smashing.

Did you get to meet Brandauer?
No – it seemed everyone else went out to The Bahamas, but I was stuck in London.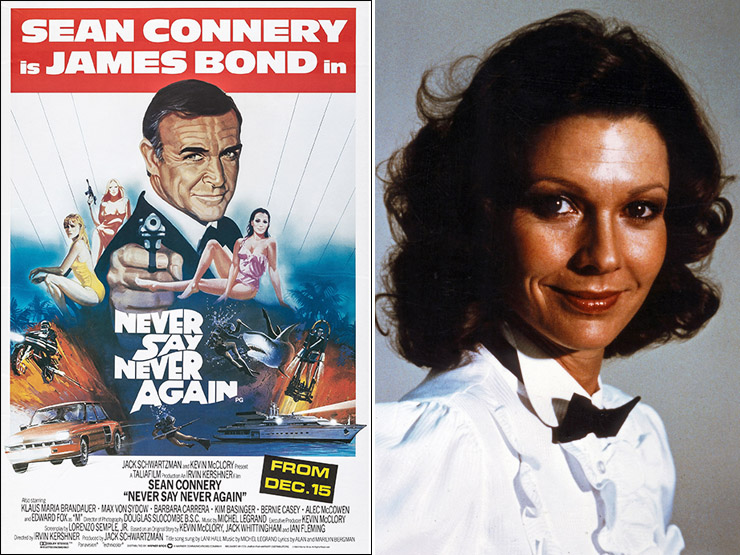 Would you like to play Moneypenny in another Bond picture if the chance arose?
Well of course one would like to play it again, but I would like a little more to it, and of course it matters a great deal who is playing Bond. I think the whole style of the film stems from who is in the lead. I mean, I like Roger Moore as Bond, but I am an original Connery fan.

Have you any thoughts on who you would like to be the next James Bond?
Well, I don't really know. I think it would be nice if Sean came back for another one. I know he has said he wouldn't – but I think he should do at least one more.

Had you seen Thunderball (1965) before you started work on Never Say Never Again?
I didn't know it was a remake of Thunderball until I was well into the film because I didn't see the whole script. I didn't know what was happening in the middle. I had seen Thunderball at the cinema and on television, but I think the two films are sufficiently different that one is not always drawing comparisons.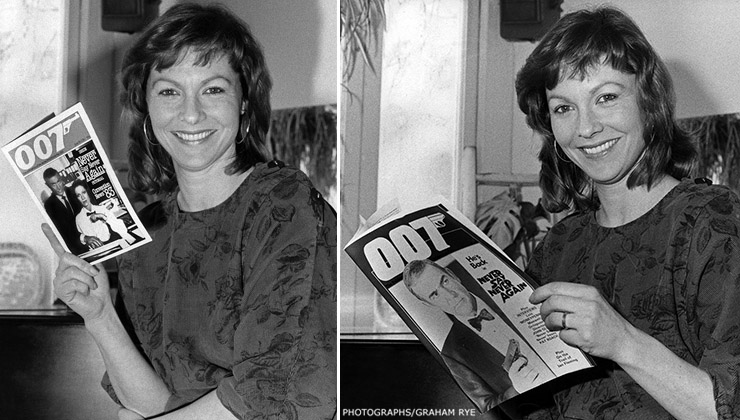 Although Never Say Never Again was a big hit in the States and other countries it seems to have failed to fulfill its full potential in Britain. Have you any thoughts on why this might be?
I didn't realise that.. I thought it had done very well everywhere.

I understand it grossed about three million than the distributors had hoped. I think it may have been because it is a very American film, the humour is very American.
Now you mention it I suppose that may be right because it is very American and perhaps it didn't appeal to the English audience as much. It's odd because I didn't have the slightest idea what it would eventually be like. When you do a play you are with it from the first day to the last and can spot where it is getting stronger or where it is as you progress, but on a film it is entirely the opposite. It was not until I saw the screening in Japan that I saw how my part fitted into the rest of the puzzle, and I found it fascinating. I like the process of filmmaking, but I find it a little unnerving not knowing what else is going on.