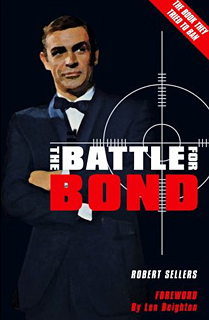 BATTLE FOR BOND BATTLES ON!

The second edition of the most controversial book ever written about the development of James Bond from literary character to screen hero was re-published on 23rd June 2008. Robert Sellers' book The Battle For Bond is now smaller in size, with less photographs than the original, but in a more affordable edition (under a £tenner) and with completely unaltered text. The author and publisher have written a new introduction detailing their feelings about The Fleming Will Trust's actions against them and the first edition of the book.

But the grand coup for this second edition is a brand new foreword by no less a personage than 'Harry Palmer' author Len Deighton, where he includes fascinating personal insights into his friendship with Ian Fleming, and Kevin McClory, as well as the author's personal feelings about the banning of the first edition.

If you missed out on the first edition of The Battle For Bond – don't miss this one!