The James Bond Films

Click on the titles below to see selected images from each film.

Many of the images appearing on this website are available for reproduction in newspapers, magazines and periodicals by contacting Graham Rye: editor@007magazine.co.uk
Sir Sean Connery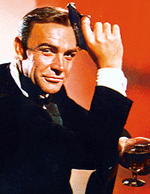 The 007 MAGAZINE Archive
also holds the world's largest collection of images relating to the life and career of
Sean Connery (1930-2020), including many rare photographs from his early performances on
stage, TV and film.
Should any media contact require imagery or information relating
to the James Bond phenomenon please contact our commercial
007 MAGAZINE Archive via editor@007magazine.co.uk
Reproduction prices on request.