Ian Fleming Publications celebrate 70 years of James Bond with a party at the London Library.
On Thursday April 13th, Ian Fleming Publications Limited released new editions of the fourteen classic James Bond stories, and two Fleming non-fiction works, Thrilling Cities and The Diamond Smugglers. This release date coincided with the 70th anniversary of the publication of Ian Fleming's first Bond novel, CASINO ROYALE. To mark the occasion IFP hosted a party at the historic London Library, which has its own links to Ian Fleming. Established in 1841, with an initial collection of only 3,000 books, today the library holds over one million volumes. Ian Fleming became a London Library member in 1952, shortly after having arrived back in England having just completed the first draft of CASINO ROYALE in Jamaica. It was published the following April. He remained a long-standing Library member and his entire James Bond output was written whilst a member.

The library had a range of pieces from their archive on display, including first editions of CASINO ROYALE and the Field Guide to Birds of the West Indies, the book written by ornithologist James Bond, after whom Fleming named his hero. Also on display was a copy of ON HER MAJESTY'S SECRET SERVICE and the book Burke's General Armory, which features in Fleming's novel marked as 'Property of the London Library'. The library had also produced a facsimile of Fleming's membership application.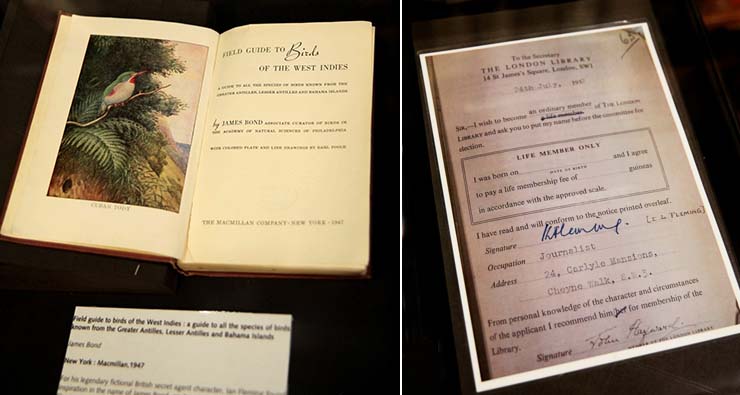 Ian Fleming Publications Limited partnered with David Koppel, nephew of Sunday Times photographer Frank Hermann, to showcase prints of Ian Fleming's visit to the set of Dr. No at Pinewood Studios on 22nd March 1962, and his meeting with Sean Connery starring in his debut film as James Bond 007.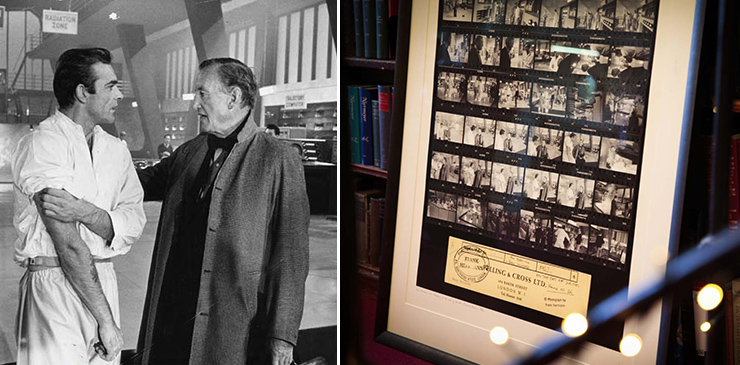 Ian's nieces, Kate Grimond and Lucy Fleming [pictured below top left], delivered a speech on the original publication of CASINO ROYALE, with quotes from the book itself as well as from contemporary reviews. Then followed IFPL Managing Director Corinne Turner [pictured below top right], who spoke on the future of the Bond books, the exciting decision to bring the publishing of the original Fleming books in-house, as well as the imminent publication of a new 007 story. Written by Charlie Higson to commemorate the Coronation of King Charles III, all the royalties from ON HIS MAJESTY'S SECRET SERVICE will go to support the work of UK charity the National Literacy Trust.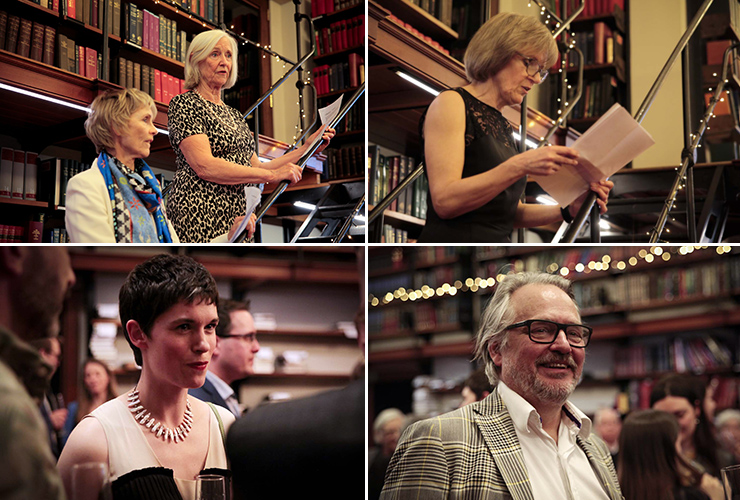 Also attending the party from the world of Bond and the publishing industry, were Double Or Nothing author Kim Sherwood [pictured above bottom left], and Charlie Higson [pictured above bottom right], author of five novels in the YOUNG BOND series and the forthcoming ON HIS MAJESTY'S SECRET SERVICE. Also in attendance were YOUNG BOND author Steve Cole; Mark Pearson, the son of the late Ian Fleming and James Bond biographer John Pearson; and Simon Gardner, son of the most prolific James Bond continuation author.