25 August 2019

Diamonds Are Forever Moon Buggy up for auction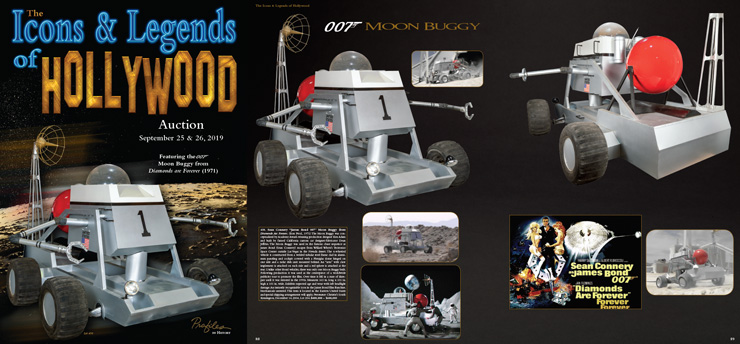 The Icons & Legends of Hollywood Auction (page no. 88)

Sale Dates: Wednesday, September 25, 2019 - 11:00 AM PDT
Day 2: Thursday, September 26, 2019 - 11:00 AM PDT
UPDATE 26 September 2019 - SOLD FOR $400,000 + ($112,000) buyer's premium

Lot 430. Sean Connery "James Bond 007" Moon Buggy from Diamonds Are Forever (EON Prod., 1971). The Moon Buggy was conceptualized by Academy Award-winning production designer Ken Adam and built by famed California custom car designer/fabricator Dean Jeffries.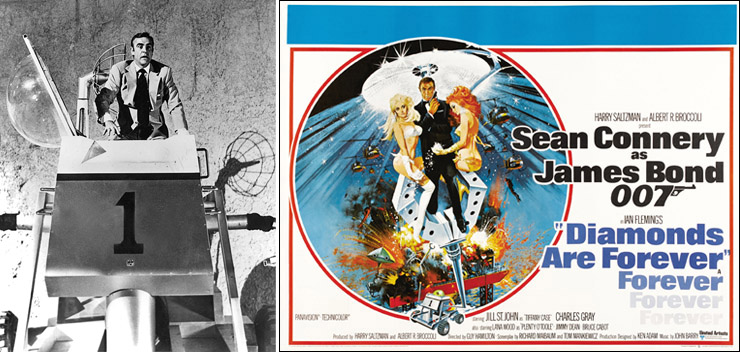 ABOVE: (left) 8:30am 'B' Stage Thursday, 20th July 1971: Sean Connery during the filming of Diamonds Are Forever at Pinewood Studios. (right) Diamonds Are Forever UK quad poster design – the Moon Buggy was an integral part of the promotional campaign throughout the world for the seventh James Bond film and appeared in all the advertising literature.
The Moon Buggy was used in the famous chase sequence as James Bond (Sean Connery) escapes from Willard Whyte's Tectronics Space outside Las Vegas in the Nevada Desert. The 4-wheeled vehicle is constructed from a welded tubular steel frame clad in aluminium panelling and cockpit covered with a Plexiglas dome hinged on one side and a radar dish unit mounted behind. An arm with claw implement is attached on each side and a red sphere at the rear. Unlike other Bond vehicles there was only one Moon Buggy built. Following production it was used as the centre piece of a worldwide publicity tour to promote the film. Over time it fell into a state of disrepair until it was restored in the 1990s by 007 MAGAZINE Editor & Publisher Graham Rye.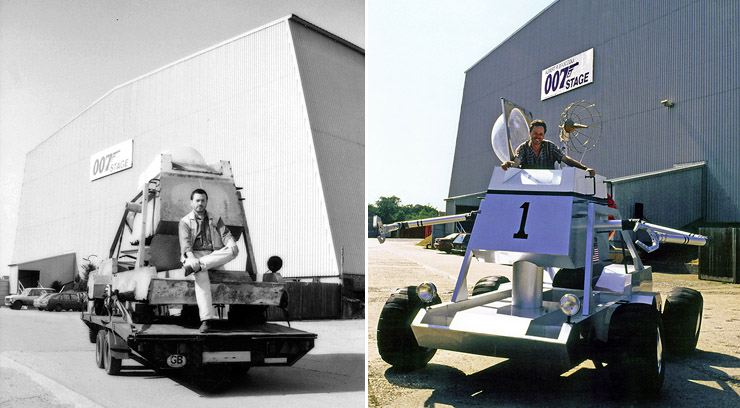 ABOVE: (left) 1993 – 22 years after it was first used for filming the Moon Buggy, in very poor condition, returns to Pinewood Studios. Before and after its restoration, Graham Rye (pictured) was given permission by Cyril Howard, Pinewood's then Managing Director, to store the Moon Buggy at the studios gratis. (right) 1994 – After its restoration Graham Rye had the Moon Buggy photographed before it left for Planet Hollywood, Las Vegas. PHOTOGRAPH/ANDREW PILKINGTON
Measures 163 in. long x 101 in. high x 101 in. wide. Exhibits expected age and wear with left headlight damage. An instantly recognizable icon in the James Bond franchise. Mechanicals untested. The item is located in the Eastern United States and special shipping arrangements will apply. Provenance: CHRISTIE'S South Kensington, December 14, 2004, Lot 204. $400,000 - $600,000.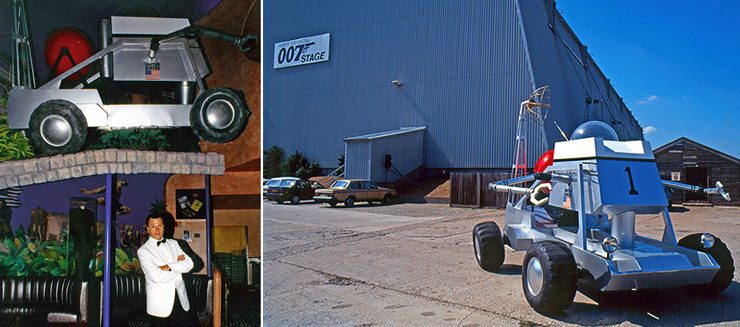 ABOVE: (left) 1994 – Graham Rye was invited on an all-expenses paid trip to Caesar's Palace Las Vegas for the celebrity opening of the latest restaurant in the Planet Hollywood chain. (right) 1994 – The first and last time the Moon Buggy was photographed in front of the iconic 007 Stage at Pinewood Studios. PHOTOGRAPH/GRAHAM RYE
| | |
| --- | --- |
| • | Graham Rye loaned the Moon Buggy to Planet Hollywood in Las Vegas from 1994 to 2004, when it was eventually returned to the UK eight months later than was contractually obligated. |
| • | On July 31, 2001 it was offered in auction by Fleetwood Owen at Planet Hollywood (London) but failed to sell. |
| • | In December 2004 it was offered in auction by Christie's and received only one bidder – Planet Hollywood – who purchased the vehicle (for £23,000) with the intention of using it in their then latest project the Planet Hollywood Las Vegas Resort & Casino. For whatever reason the vehicle was not displayed at Planet Hollywood's new venue and sat in their Florida storage facility for the next 15 years unseen by the public. |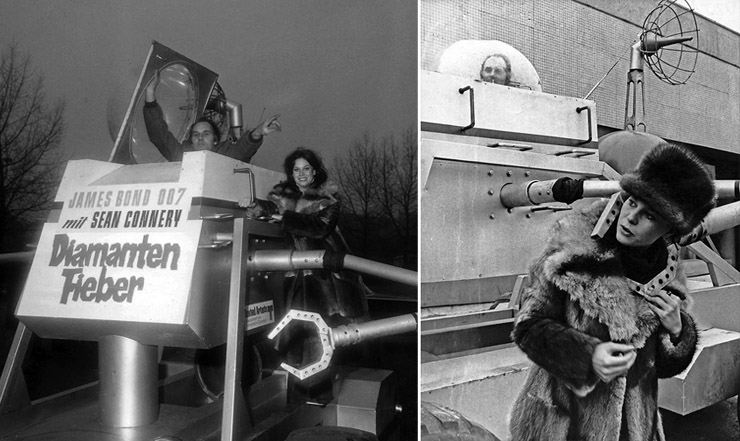 ABOVE: 1972 – Bond Girl Lana Wood a.k.a. Plenty O'Toole poses with the Moon Buggy during its promotional tour in Munich, Germany where the film first opened on December 14, 1971.
TRIVIA NOTES: In the Diamonds Are Forever script given to Dean Jeffries, the Moon Buggy was to burst out through a breakaway wall and drive off down a service road before turning on to a main highway and disappearing from view. It was only when film's director Guy Hamilton saw the location that it was decided to stage a chase over the rocky and duned desert terrain. Unfortunately Dean hadn't constructed the vehicle to take that kind of punishment, and much to his displeasure (and the filmmakers) the Moon Buggy kept breaking down during filming. On one occasion during filming the vehicle broke down out of shot, but the rear wheel which had come off can be clearly seen bouncing back into shot in the finished film! Watch out for it the next time you see the movie on TV or DVD/Blu-ray.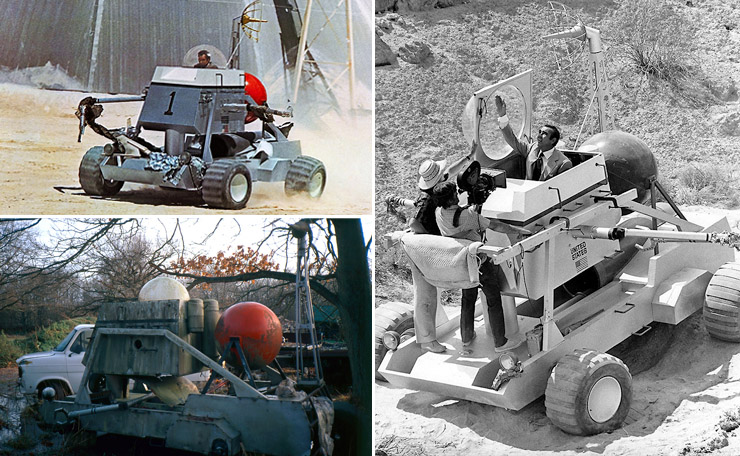 ABOVE: (top left) May 1971: The Moon Buggy in action at the 'John Manville Gypsum Plant' in the Nevada desert outside Las Vegas in Diamonds Are Forever (1971). (bottom left) The Moon Buggy as rediscovered by Graham Rye in a field in Kent. (right) May 1971: Director Guy Hamilton (in hat) and Camera Operator Bob Kindred prepare to shoot close-ups of Sean Connery actually driving the Moon Buggy.