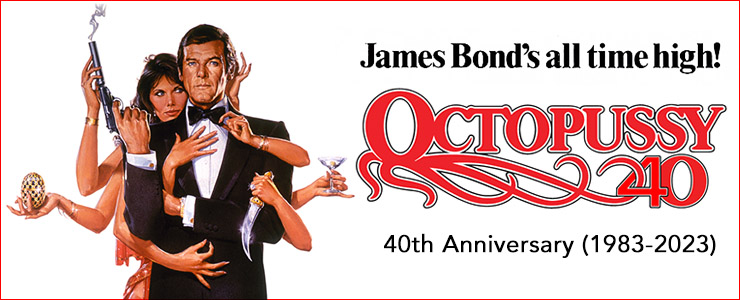 The James Bond film franchise celebrated its 21st anniversary in 1983 with the release of Octopussy – Roger Moore's penultimate appearance as 007. As the thirteenth instalment of the long-running series reaches its 40th Anniversary in 2023, KEVIN HARPER looks back at the making of Octopussy, which significantly out-performed Sean Connery's simultaneous rival comeback as James Bond in Never Say Never Again at the box-office in 1983.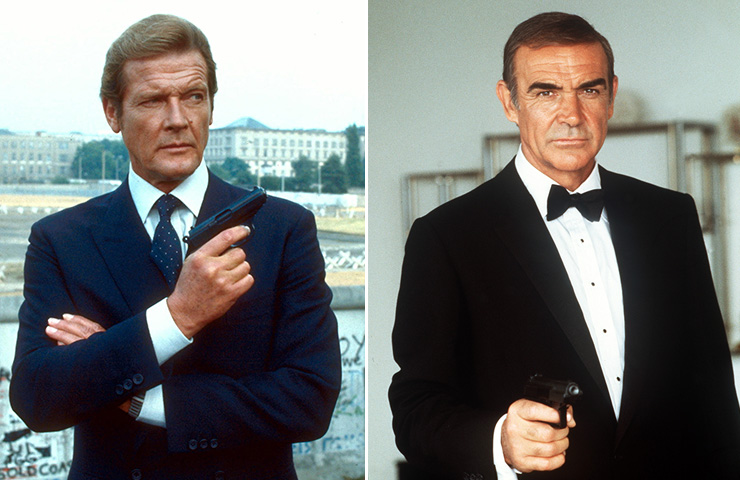 After the outer space excess of Moonraker (1979), the James Bond films returned to earth with a more realistic storyline in For Your Eyes Only (1981); which was based largely on the Ian Fleming short story of the same name, with elements of RISICO, and an unused sequence from LIVE AND LET DIE thrown in for good measure. The resulting film was considered by many fans to be Roger Moore's best so far, and was also particularly successful at the box-office, helping ailing studio United Artists after the financial failure of Michael Cimino's Heaven's Gate (1980). Keen to capitalise on the success of For Your Eyes Only, the studio greenlit another James Bond film to be released at Christmas 1982. The title Octopussy had already been revealed at the end of For Your Eyes Only, but at this stage no storyline had been developed. Within a month of the announcement that a new James Bond film was about to go into production, the Transamerica Corporation sold United Artists to Metro-Goldwyn-Mayer for $380 million, and the prospect of another 007 adventure on the production slate proved a great incentive for any other studio wishing to acquire a stake in the rights to put James Bond on screen. The new company was branded MGM/UA, with United Artists remaining as a separate production entity. This meant that the rights to produce James Bond films were now shared equally between the Broccoli family (as part of their holding company DANJAQ), and MGM, who would finance and distribute the new film.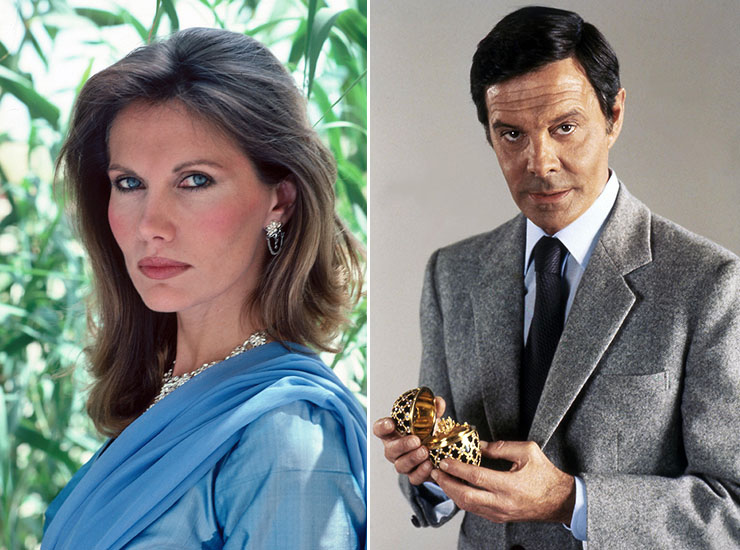 The first story treatment for Octopussy saw the return of Ernst Stavro Blofeld as the main protagonist, which was an unusual move given the legal complications still surrounding the character. Even the bald-headed, white cat stroking wheelchair-bound figure despatched by James Bond in the pre-credit sequence of For Your Eyes Only (1981) was not named for fear of legal reprisals from Kevin McClory – whose own remake of Thunderball, now entitled Never Say Never Again finally went into production in September 1982 – with the original 007 Sean Connery reprising his role as Ian Fleming's secret agent. The original Octopussy treatment saw Blofeld planning to assassinate M and replace him with his chief of staff Villiers, who turns out to be a mole SPECTRE agent. Bond teams up with 'Octopussy' and Kamal Khan, who at this stage was an old school friend working in the Afghan resistance. Blofeld's army chief was named Smythe – a character lifted from Ian Fleming's short story OCTOPUSSY. The initial storyline was further developed into a 62-page treatment by director John Glen, producer Albert R. Broccoli and his stepson Michael G. Wilson, working alongside long-time Bond screenwriter Richard Maibaum. Dated September 3, 1981 the new treatment retained Blofeld as the main antagonist, but dropped Kamal Khan, and now had the story based in Tokyo. Another draft was delivered at the end of the month which dropped Blofeld, made Octopussy more villainous, and with the story now having more of a Cold War angle with a nuclear threat introduced into the narrative.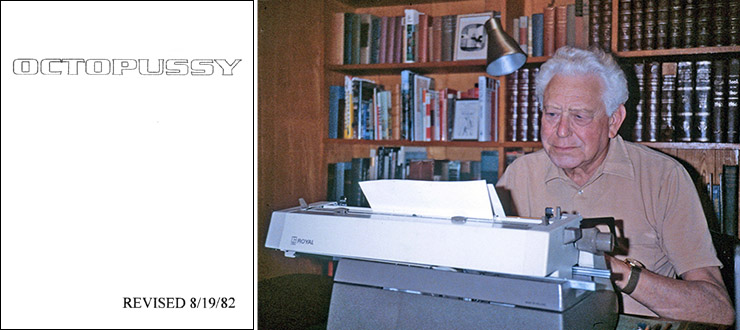 George MacDonald Fraser (1925-2008) was then hired to work on a final screenplay. Fraser was best-known for his long-running series of historical novels featuring the Victorian military hero Flashman – a character who had originally appeared as a coward and bully in the 1857 novel Tom Brown's School Days by Thomas Hughes. With his background as a journalist and historian, Fraser developed the storyline of Octopussy, now set in India, to include elements of Ian Fleming's short stories OCTOPUSSY and THE PROPERTY OF A LADY, which incorporated the Faberge egg and Sotheby's auction into the narrative. The story was still being developed into late 1981 and early 1982, with Fraser ultimately delivering five drafts of the screenplay.

ABOVE: (left) March 29, 1982 – Roger Moore presents James Bond producer Albert R. 'Cubby' Broccoli with the Irving G. Thalberg Memorial Award from the Academy of Motion Picture Arts and Sciences. (right) Maud Adams, Roger Moore and Lois Maxwell jokingly 'recreate' the Octopussy poster artwork with 'Cubby' Broccoli in the garden area of The Dorchester Hotel, Park Lane on the morning of the film's premiere.
Prior to shooting on Octopussy producer Albert R. Broccoli was informed that he would be the recipient of the Irving G. Thalberg Memorial Award from the Academy of Motion Picture Arts and Sciences. 'Cubby' Broccoli was presented with the award by Roger Moore at the fifty-fourth Academy Awards on March 29, 1982 held at the Dorothy Chandler Pavilion in Los Angeles. Cubby graciously paid tribute to his former producing partner Harry Saltzman, with whom he was reunited at the London premiere of For Your Eyes Only (1981) for the first time since their acrimonious split in 1975. Although Roger Moore presented the award he had yet to sign a contract to return as 007. Among those guests attending a party a week later at the famous Chasen's restaurant in Hollywood to celebrate Cubby's birthday were Cary Grant (best man at his 1959 wedding to Dana), John Gavin (signed as James Bond in 1971 but paid off when Sean Connery returned for Diamonds Are Forever), David Hedison (Felix Leiter in Live And Let Die), Christopher Lee (Scaramanga in The Man With The Golden Gun), as well as Hollywood royalty including director Billy Wilder; and screen legends Gene Kelly and James Stewart. Also attending was Sean Connery, who shared a table with Roger Moore and American actor Gregory Peck and their wives.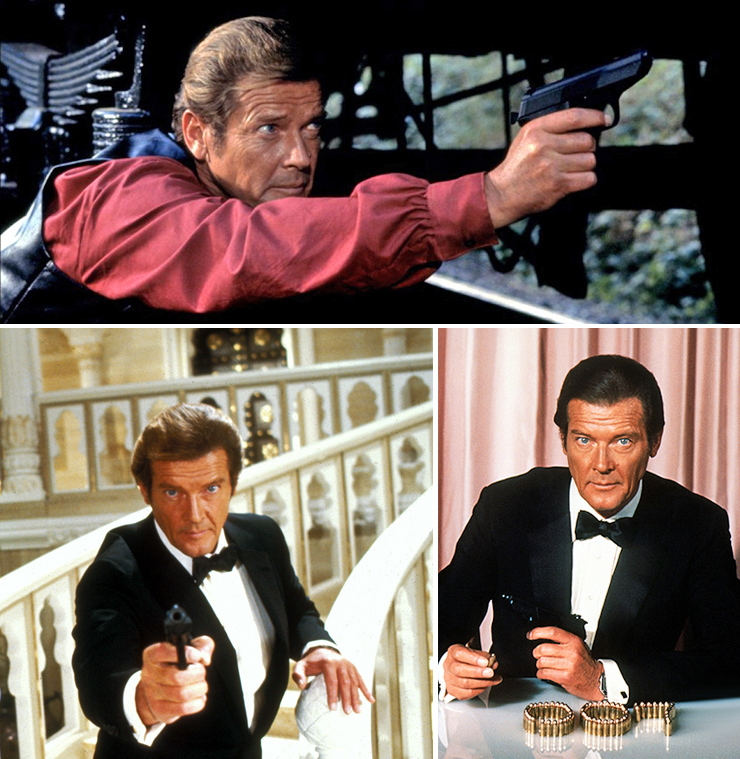 ABOVE: One Moore time? Roger Moore was initially reluctant to reprise the role of James Bond for a sixth time in Octopussy. Believing it would be the last time he would play Bond, Moore eventually agreed to return to the role after producer Albert R. Broccoli made him an offer he couldn't refuse. Other actors had tested for the 007 role in 1982, but with the prospect of a rival film starring the original 007 Sean Connery also in production, Moore was still the only man for the job in the eyes of the public and filmmakers alike.
---