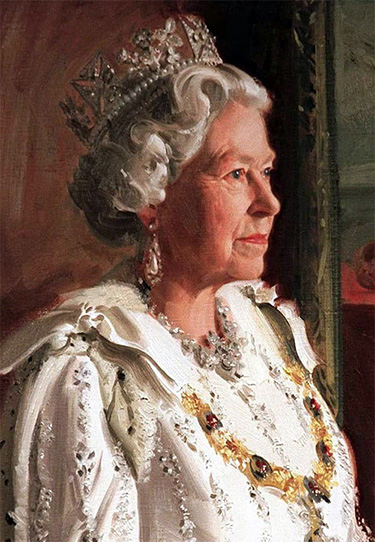 Her Majesty Queen Elizabeth II
(21 April 1926 - 8 September 2022)
Our Queen

She was always there. Not just a Queen, a monarch.

Not just the Mother of our country, but of the Commonwealth, and in many ways, way beyond mere borders.

She transcended the World, across continents and even the Space Age.

For many of us she has been our strength and inspiration all our lives, and her grace, dignity, genuine love for her people, and above all, her example of duty, will never be rivalled.

She was quite simply the Queen of the Modern Age and the Modern World - a shining beacon to the world and a uniter of people everywhere.

We will, for the rest of our lives, remember her laughter, humour and brilliant smile and her utter commitment to a role she never expected to inherit, but which she made her own in a way no other monarch ever did - or ever could.

A light has gone out, the like of which will never be known again.

Rest In Peace, Ma'am. You will remain in our hearts forever.


Kim Rye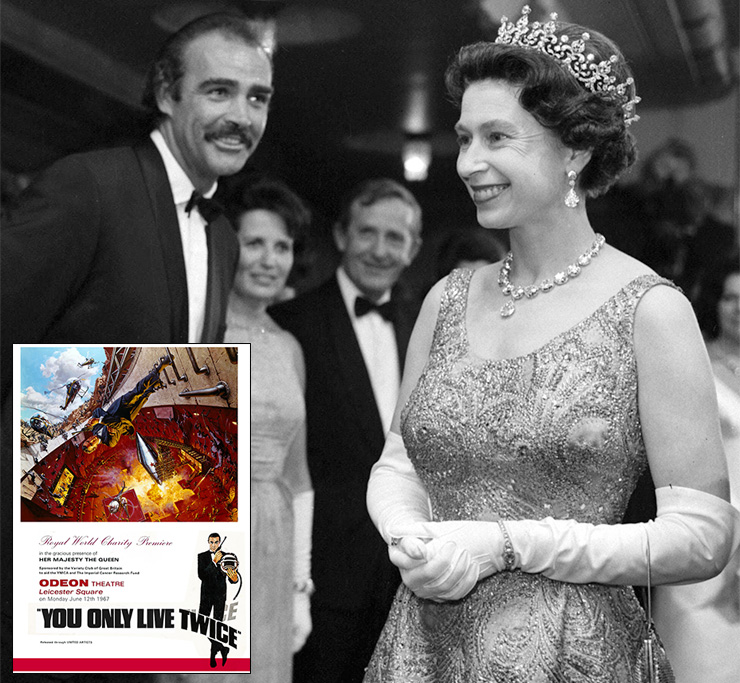 "On Her Majesty's Service"
Elizabeth was the eldest daughter of Prince Albert, Duke of York, and his wife, Elizabeth, Duchess of York. As the child of a younger son of King George V, the young Elizabeth had little prospect of acceding to the throne until her uncle, Edward VIII (1894-1972) [afterward Duke of Windsor], abdicated on December 11, 1936, at which time her father became King George VI and she became heir presumptive. In the summer of 1951 the health of King George VI entered into a serious decline and Princess Elizabeth represented him at the Trooping the Colour and on various other state occasions. On October 7, 1951 Princess Elizabeth and her husband (Philip Mountbatten, later The Duke of Edinburgh) set out on a highly successful tour of Canada and Washington, D.C. After Christmas in England they set out in January 1952 for a tour of Australia and New Zealand, but en route, at Sagana, Kenya, news reached them of the King's death on February 6, 1952 at the age of 56. Elizabeth then aged just 25, now Queen, at once flew back to England. Her Coronation was held at Westminster Abbey on June 2, 1953 - two months after the publication of Ian Fleming's first James Bond novel CASINO ROYALE.

Author Ian Fleming first mentions Queen Elizabeth II in his third novel MOONRAKER published in 1955. The passage was illustrated by John McLusky in the 1959 Daily Express newspaper comic strip adaptation of the novel (composite of strips #234 & #235 above).
The author's first mention of Queen Elizabeth II appears in chapter two of his third novel MOONRAKER, published in 1955. Hugo Drax is Knighted by The Queen after the country accepts his astonishing offer to build an intercontinental atomic rocket that could defend London. Ian Fleming's references to Queen Elizabeth II in his novels firmly established their timeline and contemporary setting. His final mention of Her Majesty is in the last chapter of what turned out to be his final novel, THE MAN WITH THE GOLDEN GUN, in 1965, when James Bond receives a telegram informing him that the Prime Minister proposes to recommend to Her Majesty Queen Elizabeth that he be offered a Knighthood for services to the Allied cause. James Bond respectfully declines the offer. In an alternate universe, the cinematic James Bond had clearly accepted the honour by the time the spoof version of Ian Fleming's debut novel had reached the screen in 1967; in Casino Royale, David Niven plays Sir James Bond, who is reluctantly returned to active service after receiving a letter from Windsor Castle!
ABOVE: Silent colour footage from the first Royal James Bond Charity Premiere You Only Live Twice (1967), held in the gracious presence of Her Majesty The Queen at the ODEON Leicester Square on the evening of Monday June 12, 1967. Sean Connery together with his first wife, actress Diane Cilento; You Only Live Twice screenwriter Roald Dahl was accompanied by his actress wife Patricia Neal and the late Ian Fleming's close friend Ivar Bryce. Also attending were Dick Van Dyke, Sally Ann Howes and Lionel Jeffries, who were then filming Chitty Chitty Bang Bang at Pinewood Studios in the UK. Actor Laurence Harvey, singer Tony Bennett and journalist & broadcaster Alan Whicker (whose TV series Whicker's World had featured a one-hour programme on the making of the You Only Live Twice broadcast on BBC2 on March 25, 1967) also attended the premiere. American actor-comedians Jerry Lewis and Phil Silvers (then filming [Carry On] Follow That Camel (1967) at Pinewood Studios) both clown for the cameras recording the event.
BELOW: (left) Sean Connery presents his actress wife Diane Cilento to Her Majesty The Queen at the premiere of You Only Live Twice, watched by Director Lewis Gilbert and his wife Hilda. (right) Her Majesty is also presented to Producers Harry Saltzman & Albert R. Broccoli, and his wife Dana.

In 1967 Her Majesty Queen Elizabeth II attended the London opening of You Only Live Twice and began the tradition of the Bond Royal Premiere, which continues to this day. In 2002 Die Another Day was selected as the Royal Film Performance, and Her Majesty Queen Elizabeth II attended the spectacular premiere at the Royal Albert Hall (together with HRH Prince Philip The Duke of Edinburgh) to celebrate James Bond's 40th anniversary in the cinema. Daniel Craig's debut as James Bond in Casino Royale (2006) was also chosen as the 60th Royal Film Performance and Her Majesty attended the premiere at the ODEON Leicester Square in London's West End, once again accompanied by HRH Prince Philip The Duke of Edinburgh (1921-2021).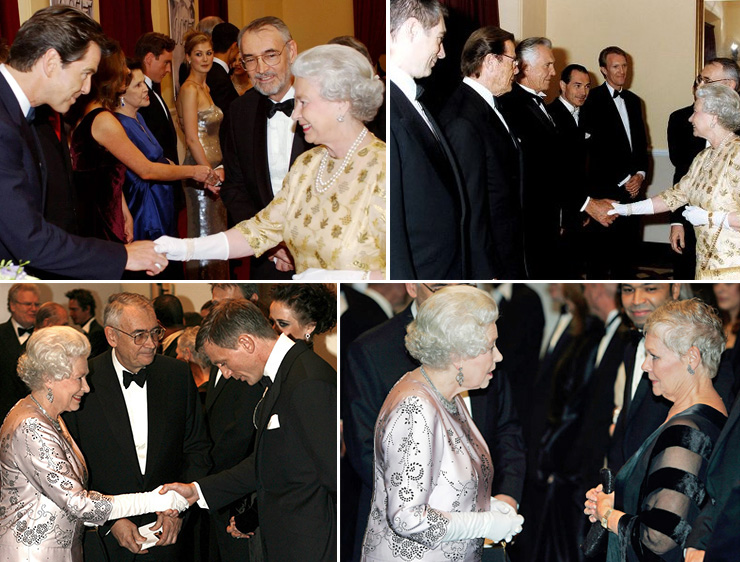 ABOVE: 'Bonding with The Queen' (top left) Pierce Brosnan is presented to Her Majesty The Queen by Michael G. Wilson at the World Premiere of Die Another Day, held at The Royal Albert Hall on Monday November 18, 2002 [pictured in the background are Barbara & Dana Broccoli together with actor Toby Stephens (Sir Gustav Graves in Die Another Day) and Rosamund Pike (Miranda Frost in Die Another Day)]. (top right) Also invited to the Premiere and presented to Her Majesty were former James Bond actors George Lazenby, Roger Moore and Timothy Dalton. (bottom left) Producer Michael G. Wilson presents Daniel Craig to Her Majesty at the World Premiere of Casino Royale, held at the ODEON Leicester Square on Friday November 14, 2006. (bottom right) Playing M for the fifth time in Casino Royale was Dame Judi Dench, who had won the Academy Award for Best Supporting Actress for her performance as Queen Elizabeth I in Shakespeare in Love (1998) and would also play Queen Victoria in Mrs Brown (1997), and again in Victoria & Abdul in 2017. Queen Victoria was the great-great-grandmother of Her Majesty Queen Elizabeth II, and until 2015 was the longest-reigning British Monarch to date.
Her Majesty Queen Elizabeth II would also appear together with James Bond in person in the guise of Daniel Craig in 2012, to make a spectacular entrance at the Opening Ceremony of the Olympic Games in London. The 'Happy & Glorious' segment of the BBC coverage titled 'Isles of Wonder' was directed by Danny Boyle, who was originally slated to helm Craig's swansong as 007 in No Time To Die (2021). Boyle approached Buckingham Palace with an unbelievable request that Her Majesty should join James Bond as they 'both skydive' into the Olympic Stadium with Union Jack parachutes in a nod to The Spy Who Loved Me (1977)! Much to his surprise, Her Majesty agreed to the idea (even adding her own dialogue in the sequence) which was kept secret even from members of the Royal household until it was broadcast on Friday July 27, 2012.