17 November 2019

Terry O'Neill (1938-2019)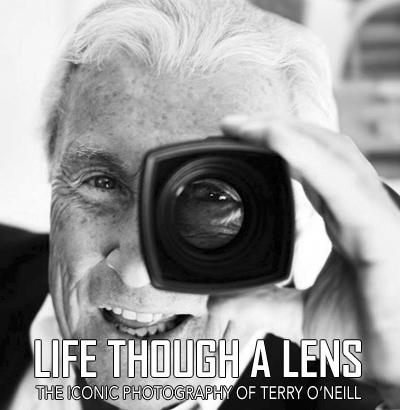 Terry O'Neill was one of the world's most celebrated and collected photographers. His career began at the age of 22 and he soon began freelancing for some of the world's most prestigious publications. He helped create the photographic icons of the 1960s and the buzz that became "Swinging London". His work hangs in galleries and private collections worldwide.

Terry photographed the front lines of fame for over six decades. He documented the lives of emerging rock stars, capturing The Beatles and The Rolling Stones when they were still struggling young bands in 1963, and pioneered backstage reportage with David Bowie, Elton John, and The Who. His work was a vital chronicle of British rock 'n' roll history.
| | |
| --- | --- |
| | Terry O'Neill's long association with the James Bond films began in 1963 when the Daily Sketch newspaper sent him on an assignment to photograph Sean Connery and Daniela Bianchi whilst they were filming the Bond/Tatiana love scene at Pinewood Studios. The resulting newspaper spread, headlined "FOR JAMES BOND – WITH LOVE!" amply illustrates a key component of O'Neill's photographic style, which he defined as 'reportage'; namely the ability to capture his subjects in off-guard moments while they are behaving in an utterly natural and unselfconscious manner. For example, in one of the three shots featured in the Daily Sketch article, Sean Connery is roaring with laughter as he lies on the bed with Daniela Bianchi as they leaf through the From Russia With Love script. It is a photograph that manages to make Connery look incredibly human and real, but no less glamorous. |
O'Neill was re-united with Sean Connery the following year when he photographed the filming of the 'barn scene' between James Bond and Pussy Galore (Honor Blackman) at Pinewood Studios for 1964's Goldfinger. The actress also took part in an iconic photoshoot on a beach in Gozo near Malta, where O'Neill photographed her in a bikini standing beside the word 'Pussy' he'd written in the sand.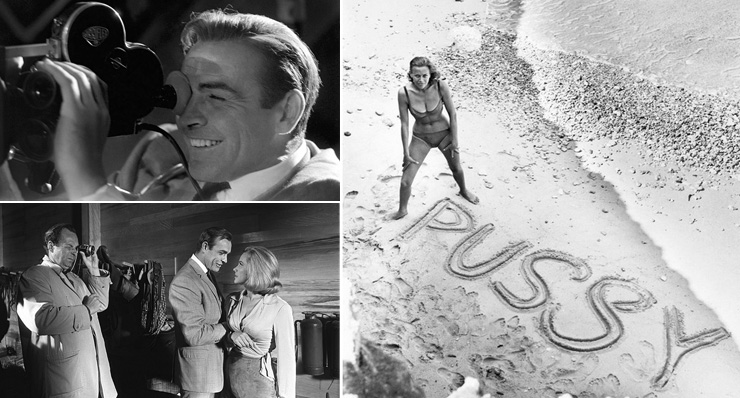 Terry O'Neill was also present on the set of Casino Royale in 1967 where he photographed David Niven (as Sir James Bond) and many of the girls appearing in the spoof 007 film. Several of his shots featured in the February 1967 issue of PLAYBOY magazine, including many from sequences not included in the finished film.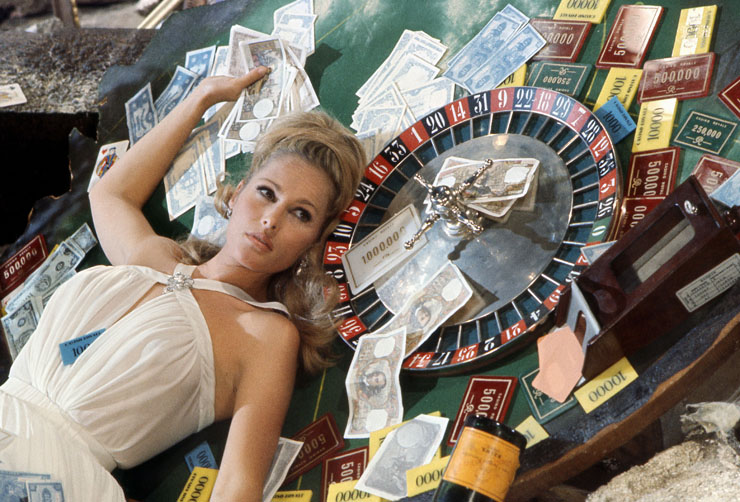 Returning to the official EON Productions series in 1968, Terry photographed new James Bond George Lazenby in a series of iconic images around London, including the shots of the actor posing in front of Big Ben and the Houses of Parliament. O'Neill also photographed Lazenby having fun as he was being fitted for the costume Bond wears whilst impersonating Sir Hilary Bray in On Her Majesty's Secret Service (1969). After filming, the photographer also caught up with George Lazenby with Jill St. John in Las Vegas, where he took several candid shots of the pair relaxing poolside during their short-lived affair. Although Lazenby stepped away from the Bond role in late 1969, Jill St. John would go on to co-star opposite Sean Connery who returned to the role which made him famous in Diamonds Are Forever (1971).
Terry O'Neill also rekindled his friendship with Sean Connery and was present throughout the location filming of Diamonds Are Forever and later at Pinewood Studios, where he photographed the iconic image of the actor playing golf on the moon, in a send up of Apollo 14 Astronaut Alan Shepard's golf swing on the actual lunar surface in February 1971. Connery also posed for many candid photographs on set and with Vegas showgirls, and several where Connery pokes fun at himself during the filming of his last official James Bond film.
One of O'Neill's most famous Bondian photographs is a stylish black-and-white shot of Connery, taken during the filming of Diamonds Are Forever in Las Vegas, looking every inch Ian Fleming's James Bond as he stands with his hands leaning on a Ford Mustang, his image reflected in the bonnet.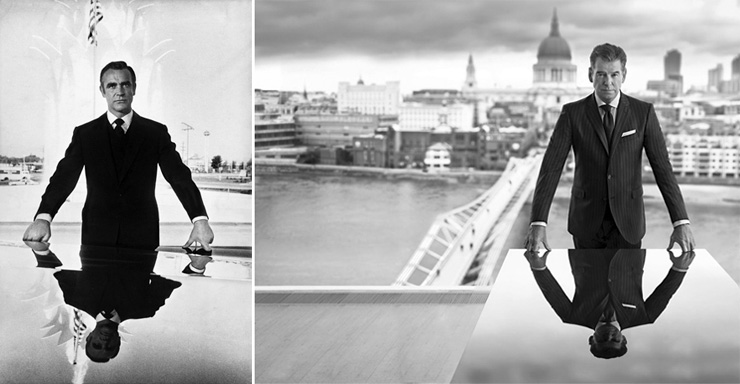 The photograph was used on the cover of O'Neill's 2012 book All About Bond which features most of his James Bond photographs spanning six decades. In 2013 Terry O'Neill recreated two of his famous Sean Connery images with Bond #5 Pierce Brosnan, as part of a photoshoot for menswear retailer Hackett of London. O'Neill cleverly used Sean Connery's reflection in the image of Pierce Brosnan shot against a background of the London skyline.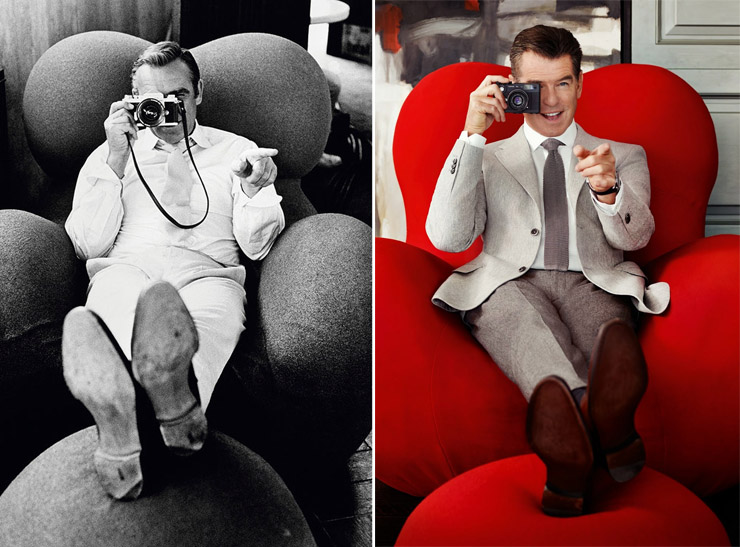 Roger Moore became the third actor to play 007 in the EON series in 1972, and Terry O'Neill was once again present on set during the shooting of Live And Let Die (1973), and also photographed the cast in character for a series of publicity stills used during the promotion of the film.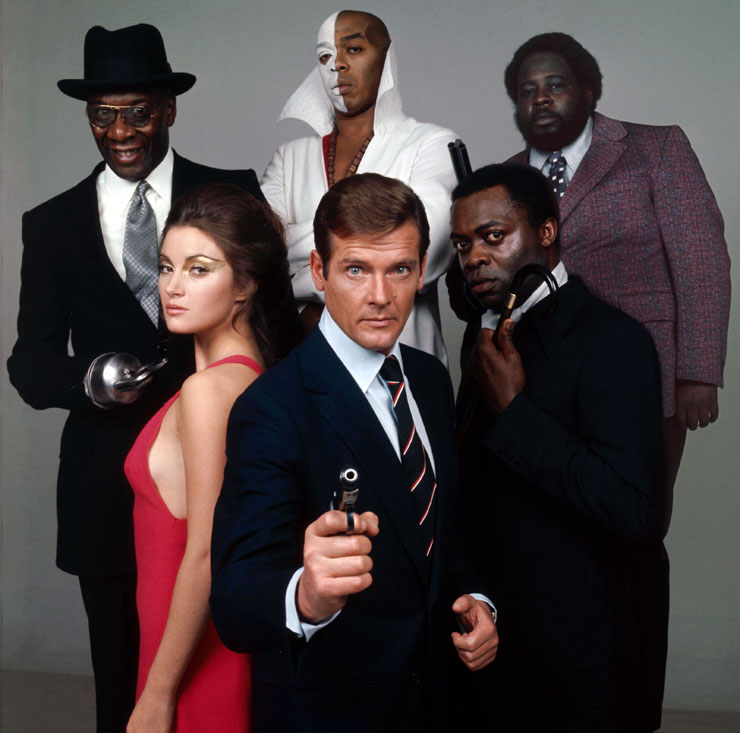 Terry O'Neill was also chosen as the official photographer at the launch of James Bond #5, and his shot of a bearded Pierce Brosnan was the first image released of the new 007 in 1995. O'Neill once more provided iconic images of Pierce Brosnan, Izabella Scorupco and Famke Janssen in a series of publicity stills used during the promotion of GoldenEye (1995). Although GoldenEye turned out to be Terry O'Neill's last James Bond assignment, he did photograph current 007 Daniel Craig in 2012 for an Esquire magazine interview.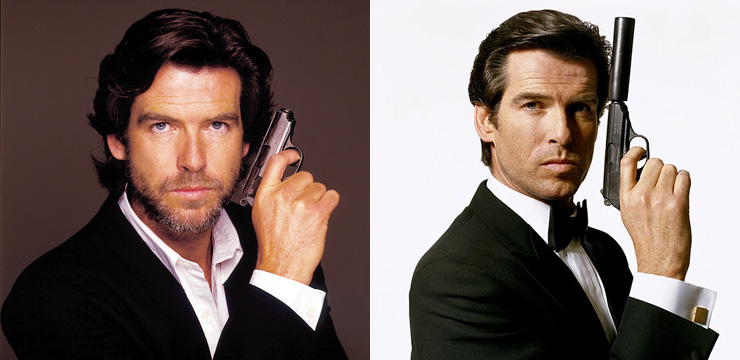 Terry O'Neill's images have adorned historic rock albums, movie posters, magazine covers, and are featured at the National Portrait Gallery in London. His great skill in capturing his subjects candidly or in unconventional settings earned him recognition as one of the great recorders of 20th-century celebrity, and the intimacy of his images gives audiences a rare chance to perceive a natural, more human side of fame - from pop stars to presidents. Terry O'Neill was appointed Commander of the Order of the British Empire (CBE) in the 2019 Birthday Honours for services to photography.