This interview with Bob Dix (1935-2018) was originally available exclusively to subscribers of 007 MAGAZINE OnLine as part of 007 MAGAZINE Issue #50 in November 2006. The article was later included in 007 MAGAZINE FILES Live And Let Die File #1 in March 2011, and now available as part of 007 MAGAZINE OMNIBUS #7 with different images.

STEVE OXENRIDER in conversation with Live And Let Die's CIA agent Hamilton.

Robert (Bob) Dix comes from a proud tradition of acting talent. His father, Richard Dix, was a major leading man at RKO Radio Pictures in Hollywood from 1929 through 1943.

During the silent era Richard Dix played cowboys, clean-cut American heroes and Red Indians (Native Americans), most notably in the epic The Vanishing American (1925). In 1931 he won a Best Actor Academy Award nomination for his performance as the idealist Yancey Cravat in Cimarron.

His son, Bob, was born an identical twin to Richard Jr. Bob Dix's early career as an American character actor included a wide range of musicals, romances, swashbucklers and many Westerns, among them Young Jesse James. His friendship with Roger Moore started back in the mid-50s when both he and Moore were under contract to MGM Studios in Hollywood. Dix appeared with Moore in Interrupted Melody (1955), The King's Thief (1955) and Diane (1956). In 1956 he also played Grey in the sci-fi classic Forbidden Planet. In 1969-1970 Bob teamed with cult horror/crime director Al Adamson to make five movies, including Five Bloody Graves, in which he starred as well as served as associate producer and screenplay writer.
In the early 70s Bob Dix was travelling extensively, writing, producing and making distribution arrangements for independent film productions. 1972 found Bob in Slidell, Louisiana, where he had gone to do research on alligator wranglers. To gain insight into the lifestyle and secrets of these gator hunters, Bob got a job tending bar in a honky-tonk called 'The Happy Hour'. He was soon dubbed 'Bob the Bartender' by the locals. "As a writer of screenplays, I had learned tending bar was like being in a confessional - a great way to get information. I was in the area when Roger and the production company of Live And Let Die arrived in New Orleans (October 1972). I saw his picture in the local paper and called him at his hotel."
The next day Roger introduced Bob to director Guy Hamilton. "Guy discovered that the local actor hired to play CIA agent Hamilton was afraid to do the sequence in the streets of New Orleans. The crowd scared him. He froze up. Guy Hamilton asked me to step in and play the part."

The pre-title sequence of Live And Let Die features one of the most clever and bizarre deaths in the entire 007 series. CIA agent Hamilton, in the French Quarter of New Orleans on the trail of the evil Dr. Kananga, watches as a funeral procession of pallbearers and mourners, accompanied by a brass band, approaches.

"Whose, er…funeral is it?" Hamilton casually inquires of a small black man (veteran jazzman 'Kid' Thomas Valentine in a cameo role). "Yours!" comes the reply as the assassin stabs Hamilton in the stomach. Hamilton falls into the street, the coffin is lowered over his body and in seconds it is 'swallowed mechanically' through the bottom of the coffin. The solemn dirge of the brass band gives way to jazz as the mourners break into dance and the coffin is carried off down Bourbon Street.
To film the scene, a coffin was purchased at a nearby funeral parlour, the bottom removed and the interior properly rigged. Bob recalls, "It had rungs under it, front and back. They dropped it over me in the street, I hooked my feet on the back rung and pulled myself up on the front rung and hung there out of sight. The 'pall bearers' carried me off down the street. I hung inside until I heard 'Cut'. It was like holding a 'chin up' when doing a pull up exercise."

The weather was not in Dix's favour during the four-day shoot. "We were half way through with the killing of my character, Hamilton, and it started to rain. We had to stop production after a day and a half into the sequence. As you know, you cannot start shooting a sequence in 'hard light' and finish in the rain. It won't edit together. So we had to start over after the storm passed."

Roger Moore on Bourbon Street, New Orleans
Bob recounts working alongside legendary greats Cameron Mitchell, Jack Nicholson and, on five separate occasions, opposite John Carradine. "John was the Actor's actor. He could read a page of dialogue once and know his lines. He told me the story of his early days in Hollywood. 'People used to think I was part vampire,' John said, 'because I only went out at night. The truth was I owned only one set of clothes and it was a tuxedo!'"
Bob continues, "In Cain's Cutthroats (1971) John played a preacher who was also a bounty hunter. The last day of principal photography we kept shooting from day for day into night for night. We had been working almost 24 hours and were on the last scene. To combat the cold of the night, John had been nipping on some brandy. In fact, he seemed quite tipsy. But when he was called to perform in the exterior scene on a western street with lots of dialogue, he didn't miss a beat. When the director called 'Cut. Print!' John just about fell over. On the screen, as an audience, you would never have known his condition."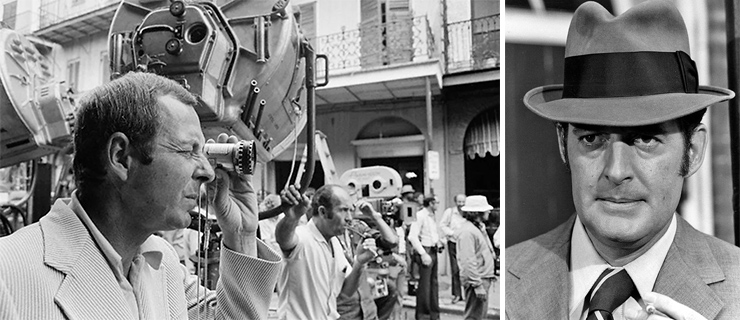 ABOVE: (left) October 26, 1972 Live And Let Die director Guy Hamilton sets up a shot for the first of two jazz funerals filmed on Bourbon Street, New Orleans. (ight) American actor Bob Dix as CIA Agent Hamilton in Live And Let Die (1973).
Bob Dix left Hollywood and acting in the mid-70s. Since then, he and his wife, Mary Ellen, have become active in celebrity collectibles shows and as guest presenters at film festivals across the U.S. Bob is also very involved in community work, in particular sharing his understanding of the Bahá'í World Faith throughout the Los Angeles area. In 1989 he was invited to the Native American Film Festival in Gallup, New Mexico as guest speaker for the first screening in over 60 years of his father's silent movie Redskin, one of the earliest sympathetic portrayals of the Native American.
Roger Moore's 1973 diary of the filming of Live And Let Die.

Roger Moore and Bob Dix remain close friends today*. "Roger was and is a professional, well-prepared actor. We had a good time working together and remembering our youth. I'm really proud of the good work he is doing for UNICEF."

In the book Roger Moore as James Bond, his 1973 published diary account of filming Live And Let Die, Moore remembers reuniting with Bob in New Orleans. "My mother would be absolutely gaga if she could see Bob Dix because he looks exactly like his father who was her favourite screen heart-throb. When I was a child she used to take me to see all his pictures." Years earlier Bob had presented Lily Moore with a framed 1-sheet poster of Richard Dix's 1939 western classic, Man of Conquest. "The poster held a place of honour over her fireplace in England until the day she died," Bob recalls fondly.

Richard Dix
(1893-1949)
*Editor's note: Since this article was written both Roger Moore and Bob Dix have passed away. Roger Moore died at his home in Switzerland on May 23, 2017. Bob Dix died on August 6, 2018 in Tucson, Arizona, aged 83. It should also be noted that British based American actor Shane Rimmer provided the voice of Bob Dix in Live And Let Die when CIA agent Hamilton says the line "Whose, er…funeral is it?"
---
---