I was going to ask you about the technology involved. I donít want to get too technical, but I assume all these elements are fed into the computer system, and somehow you are able to play about with it in all kinds of different ways. Can you explain how this works in nutshell?
In simplified terms what happens is that we film everything on a movie camera and it goes onto a piece of 35mm negative. That negative gets scanned into a computer, but in the computer it doesnít exist anywhere except as numbers on a disk, but it comes on to a screen and you can do an enormous number of varied optical effects on the computer screen. I shoot the elements against blue screen because the computer takes away the blue and inserts a different background. I can make someone smaller or bigger, I can change the colour, I can distort things or change things around, I can have 100 different elements that are on different pieces of film all collaged together in one scene. Youíve got a paintbox device which means if you have got wires or strings or poles you donít want to see, you can retouch them out like you would in photographs, or you can fly things around, or you can add smoke. You can do all sorts of incredible things. The trouble is that itís very expensive, it takes an enormous amount of time to do, and itís very slow. The main reason itís slow is because the computer can only work at its given speed. Itís unlike editing for TV or for adverts or anything like that, which only ends up on tape to go out on TV where picture quality is very low. For film, picture quality is very high. Film has to be projected so it has to be very very detailed. So if youíre saying to the computer, Ďwhat I want to do is make this girl look like sheís got two heads and I want you to make them join together so you donít see the seamí, it takes ages, and thereís lots of complicated work to do. You do all the calculations, work it all out and press go, and then it happens in the computer, but it does it all incredibly slowly and you have to wait ages and ages while itís processing. And thatís just one level. So if youíve got 20, 30, or 40 different levels of things going on, the actual processing of it takes a really long time.
What you donít want to do is to be having ideas and experimenting on this machine, so I took the film into a different type of edit. A type of edit you use for TV, for adverts and special effects for TV programmes, and I basically did the entire title sequence on that system, which is a lot quicker but much lower resolution. Then we went into this computer and said now do it again, so in effect I had to do it twice. The good thing about it is that it means that youíve got complete control and youíre not making things up on this very expensive and slow machine, but the bad thing about it is thereís no way of plugging one machine into the other and saying, sort of, copy this. You have to remake it from the beginning and just use it as a visual match.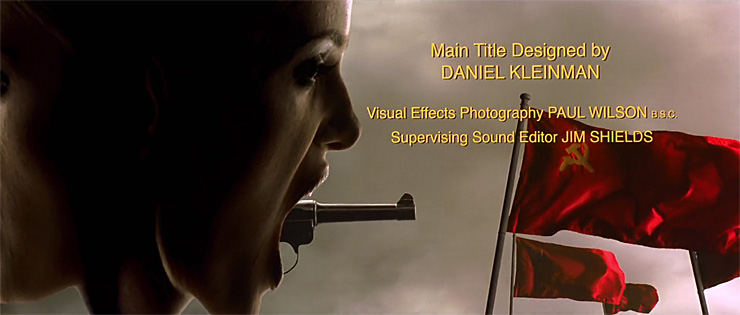 It sounds very frustrating!
It is very frustrating and very time-consuming, so we were working literally around the clock. Even though itís only a 2.5 minute sequence it took several months to do with this new digital technology, which has been used for doing opticals on films as opposed to the old way, which was all done with projectors. It was all kept on film it didnít go to computer. The advantage now is you can see what youíre doing and you have much more control over it, and you can do many more things, the downside of it is it takes a really long time, and itís probably more expensive, but the end result is more spectacular. Itís really amazing technology and itís used for doing film opticals, but I think Iím probably right in saying itís never been used before for doing one sequence which is so long. I should think maybe the longest sequence itís been used for in science fiction or fantasy films might be 10 to15 seconds, and we were doing something which had to end up as being one continuous piece of film for nearly 3 minutes, so in terms of pushing the technology, it was really on the edge.
I noticed in the Tina Turner GoldenEye video there was a Bond silhouette featured. Did you have anything to do with that?
They took a couple of shots from the title sequence and used it in the video but I didnít have anything to do with it.
How long, including all the storyboard work and the preparatory work before you actually get to physically shoot stock and then put it on computer? How long did it take in total to produce the GoldenEye titles?
From the beginning of having the ideas to actually handing over the finished film, I think it might have been three months.
Where did you actually shoot the live action?
It was shot in a studio just outside London, just up the A40, so actually because I wasnít using any sets or any real locations it was all just shooting elements, where it was shot wasnít particularly important.
Do you know if you will be working on the main titles for BOND 18?
I hope they will ask me because Iíd like to have another go. Luckily, everybody seemed to like them. I think a lot of people who work on it and get involved in it....I think itís because theyíre fulfilling their youthful fantasy, it definitely is for me. If Iíd thought when I was 10 years old that I could be filming bits for James Bond, I would be just so ecstatically happy. When I was asked if I wanted to do it I just couldnít possibly turn it down. It was just too good a thing.
Do you consider yourself to be a Bond fan?
Oh yes, absolutely. Itís partly because itís part of film history, which Iím interested in, I actually am interested in Ian Fleming as a character and when I was a kid I collected the bubblegum cards. Iíve still got a set of Thunderball bubblegum cards, Iíve still got my Aston Martin that flies a man out of the roof Ė itís all part of something that men of a certain age did Ė all those things when they were a kid, and I did, and thatís why I love it.