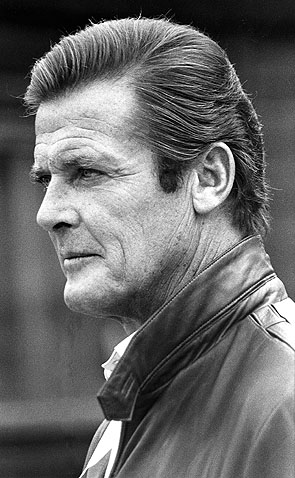 James Bond has thrilled audiences for over 23 years and A View To A Kill is no exception, and this marks the seventh time that Roger Moore has portrayed Ian Fleming's Secret Agent 007. Roger Moore made his debut on television playing Ivanhoe and continued to play suave, heroic, quick-witted adventure seekers. He went on to become Beau Maverick, the fast talking gambler and then struck it big with The Saint where he played man of the world Simon Templar. Following this Roger played Lord Brett Sinclair in The Persuaders and then in 1973 took on the role of James Bond in Live And Let Die. Since then Roger Moore and James Bond seem to have become one, each of them possessing almost the same personalities.
Journalist and author DAVID GIAMMARCO talked with Roger Moore from his home in Beverly Hills, California for 007 MAGAZINE Issue #16 (1987).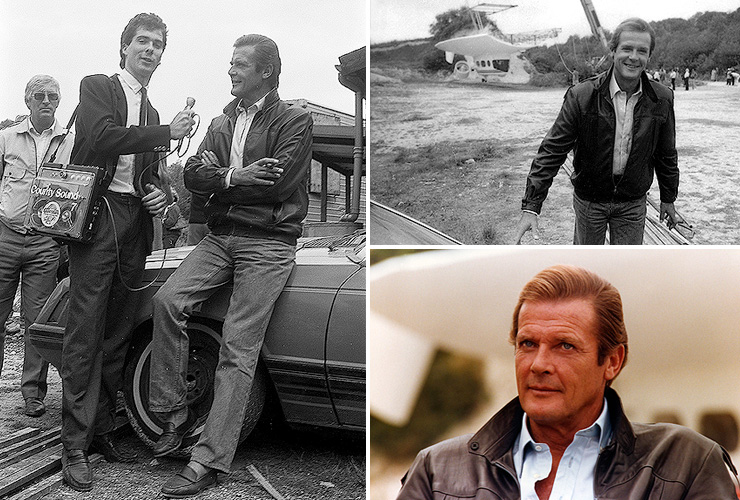 Why do you think the Bond films have lasted so long?
Well I can only think that the audience have come to know and expect a certain type of escapist entertainment, a certain formula, and they know they are not going to get cheated in terms of what is put on the screen, that all the money is up there to be seen.

Each Bond film seems to outdo the previous ones in stunts and action. Is there anything in this film that outdoes the others in your terms?
Well certainly hanging from the front of an airship is entirely different and so is fighting atop the Golden Gate bridge, which had not been done. I think the pre-title sequence of course is sensational and cutting the car in half in Paris has not been done before.

Were there any problems encountered while filming A View To A Kill?
Well the only problem was that we were taken up in the morning to the half way station of the Eiffel Tower, and from that point on the elevators don't stop there on the way down, so it meant walking down, which was about 2000 steps – it was a long long walk!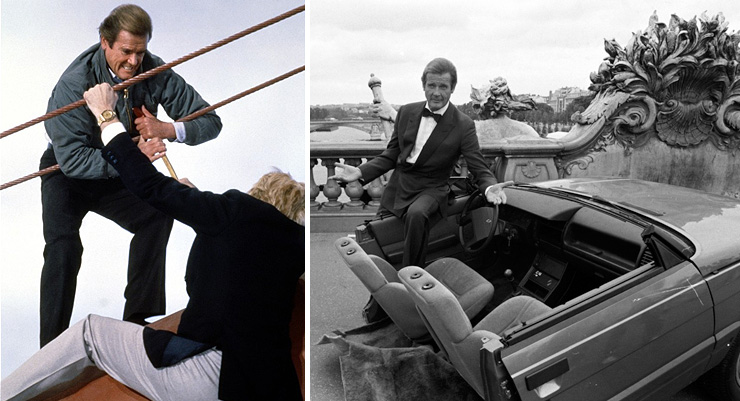 Do you think that you have grown more into the role?
Well I think that starting with The Spy Who Loved Me it became a slightly different type of Bond, although I did not really change the character. We tried to inject a little more humour.

You must get a lot of movie offers. What do you look for in a role?
Well you know I try to find things that are different, not outrageously different but I can tell you what I'm not looking for. I'm not looking for full frontal nudity and I'm not looking for foul language. I'm not looking for anything I would be embarrassed about my kids or anybody else's kids seeing.

Was it true that you were one of the first choices for the Bond role back in 1961?
Well that's what they say in the publicity hand out. I was on the short list of actors who were being considered for the role but I was already doing The Saint anyway.

What is the real Roger Moore like? Is he anything like James Bond?
Well he looks like the fellow who plays James Bond except he does not wear a dinner jacket to breakfast.

Do you ever get into a tight situation where you wish you were Bond in order to get out of it?
Only in interviews!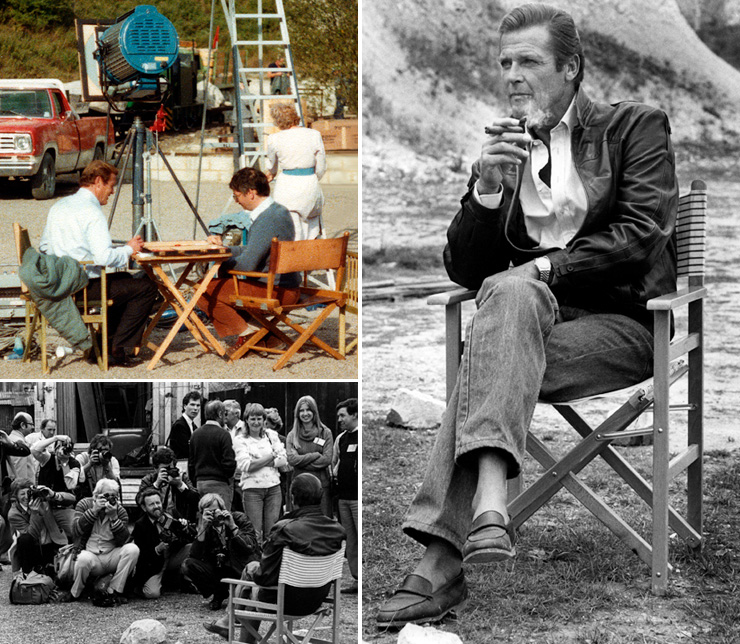 Do you ever get tired of all the public and media attention you receive? Does it bother you at all?
Well you know part of our business is the selling, the advertising. As I have often said it is no good Proctor & Gamble producing a new soap powder and not letting the public know it is in the shops. You have to advertise. Naturally you do get tired of the tremendous publicity drive you get with Bond, and Bond is one of these films where the unit publicist does not have to go out looking for people to come to the set, he is there to control people coming to the set. In fact in one film where they kept a tab, 383 journalists visited the set during shooting and they all want to do an in-depth interview, which means you are not going to get any time to make the film, and of course you do get a little bored talking about yourself.

Your first job was as a cartoonist. Was that what you wanted as a career?
Well yes, but I originally wanted to be an architect, then I wanted to be a painter then I eventually got a job as a cartoonist.

How did you get into acting?
By chance. I was seen in the crowd. I was out of work and somebody took me down on the crowd of a film called Caesar and Cleopatra and I was spotted and asked if I wanted to become an actor and then I was sent to the Royal Academy.

When did you meet Luisa?
I met her in Rome in 1961 and we have been married for 23 years.

Was The Saint something you really wanted to do? Was it true that you tried to buy the rights to the show?
I did try to buy the rights when I was doing the television series Ivanhoe. I figured that I might not ever work again and I better find something of my own to do, so I tried to get the rights because I felt that The Saint would be ideal for television, but at that time Leslie Charteris (the author) was not interested in letting the rights go for television. Later Lew Grade bought it and offered it to me not knowing that I tried to buy it before.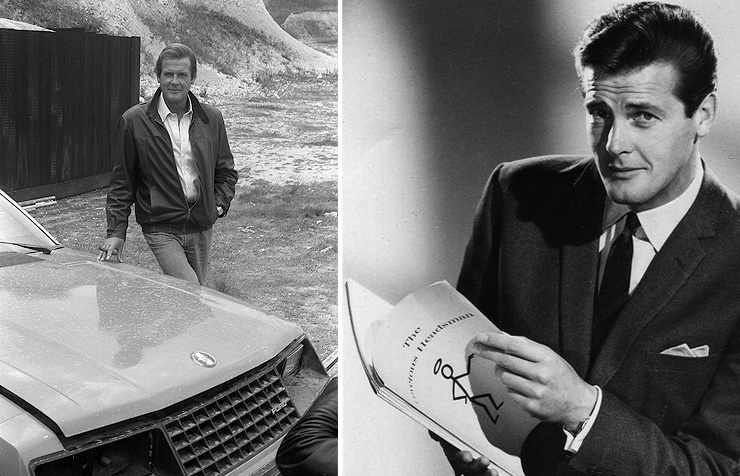 Now I notice when watching The Saint, Simon Templar and James Bond have very similar characteristics and personalities but you played each character differently. Was there a type of walk or certain mannerism you had to learn when starting the Bond role?
Well I try to be different in everything but unfortunately I do sort of look like me. I am not allowed to wear moustaches or false noses or anything and in a way the characters are similar in that they are snappy dressers and suave. I'm a Klutz.

When you did Live And Let Die in 1973 did you think that you would be playing the same character 12 years later?
No, no! I only had a deal for three pictures and that was not a guaranteed three – that was on their side.

Have you ever been seriously injured while working on the Bond films?
Well to the extent of being hospitalised. I have been taken to hospital a few times while filming but I have never held up production.

What were some of those incidents?
Well on the last one (Octopussy) I sort of slithered glass through my hand, in fact in a lot of the scenes, the audiences doesn't see it, but I can see it, I have a plaster on the back of my hand. I remember exactly when I did it. I have also dislocated a shoulder, but you still go on working. I have had holes blown in my back, that was in The Spy Who Loved Me.
Do you ever think you will break out of being type-cast as the suave British spy?
Sure, when they give me a walking stick!

When do you think you will have had enough of playing Bond. When you are old and grey?
Ah that could be today!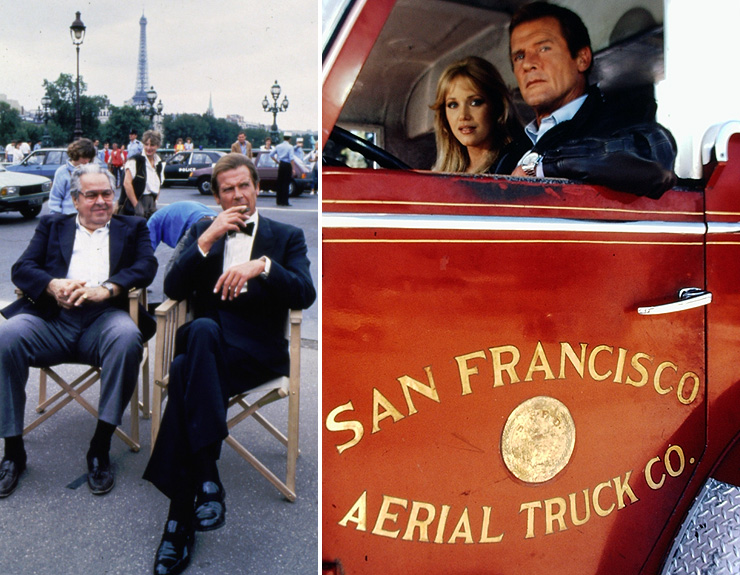 You have been to many exotic locations in the Bond films. What are some of your favourite spots?
Well the sort of picturesque locations are usually very uncomfortable for me to work in because of the heat. Everybody else there is sort of dressed for the occasion and I am over-dressed in a dinner jacket. I like it when we are working in cities. I particularly enjoyed San Francisco, but I prefer best of all working in Paris.

Are there any drawbacks about filming on location?
I know actors should be used to living out of a suitcase but there comes a time when you say 'Oh God not another hotel room.' You know you wake up in the middle of the night to go to the bathroom and you cannot remember where the door is or why the bed is pointing the wrong way. It takes time to orientate yourself.

I have heard that you pull a lot of pranks on the Bond set. What are some of them?
Well I am absolutely evil with Desmond Llewelyn who plays Q because I secretly rewrite all of his dialogue before a scene and get the director to give him whole pages of this terrible technical junk which is impossible to learn. And he still falls for it? Yes, it gets him every time.
On Moonraker when you are in the G-force simulator and your face starts to ripple, how was that done?
We did that with air hoses and a lot of acting.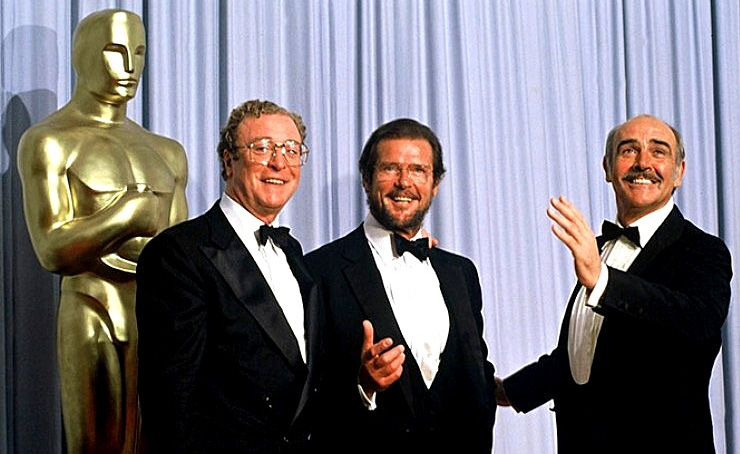 Sean Connery and Michael Caine and yourself are all good friends. Is it true that you are all planning a production company?
Well we have been talking about it when we are all together but the trouble is we are always working on different continents and never get to be in the same place at the same time, but it still goes on. We are still thinking about it.

Have you ever thought of being a comedian?
In most of my performances it is fairly obvious that I am, in my dramatic performances that is.

What do you prefer comedy or drama?
Well I think you need both in life. I would prefer to play comedy all the time.

Now I am sure you have been asked this question before but will this be your last Bond film?
It is always possible.
---