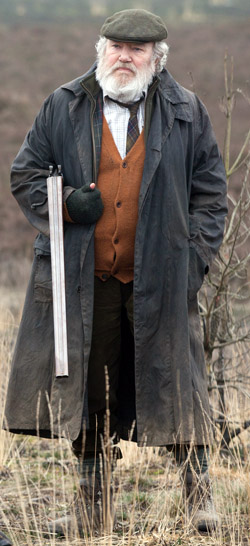 7 February 2019
Albert Finney, who memorably played James Bond's faithful Scottish gamekeeper Kincade in Skyfall (2012) has died at the age of 82.
Born in Salford in 1936, Albert Finney trained as an actor at the Royal Academy of Dramatic Art, where he was in the same class as Alan Bates and Peter O'Toole. Starting his acting career in the theatre in the late 1950's, he originated the role of Billy Liar on stage in 1960. Finney then capitalised on the growing interest in working-class dramas, and was cast in a small role opposite Laurence Olivier in John Osborne's The Entertainer (1960), directed by Tony Richardson. This then led to him being cast as the lead in Saturday Night and Sunday Morning (1960), where he played factory worker and 'angry young man' Arthur Seaton. Finney then screen-tested but later turned down the role of T.E. Lawrence in David Lean's epic Lawrence of Arabia (1962). The part ultimately went to his RADA classmate Peter O'Toole. Director Tony Richardson then cast him as the lead in the bawdy period-comedy Tom Jones (1963) which was a massive world-wide hit, winning four Oscars including Best Film.
In 1968 Finney returned to Manchester to star in and direct Charlie Bubbles. Written by Shelagh Delaney, another key figure in the 1960's 'kitchen sink' movement, Charlie Bubbles was a comedy-drama about a successful writer returning to his home town after achieving success in London. In the 1970's Finney appeared in a variety of different roles including the musical Scrooge (1970), Gumshoe (1971), and memorably as Hercule Poirot in Agatha Christie's Murder On The Orient Express (1974), where he played opposite Sean Connery. Later screen roles included 'Sir' in The Dresser (1983), for which Finney was nominated for an Academy Award; and as Winston Churchill in The Gathering Storm (2002), which earned him a BAFTA, Golden Globe, and Emmy award as best actor. Finney twice turned down official honours in the UK, declining to accept a C.B.E. in 1980, and later a knighthood in 2000. His final film role was as Kincade in Skyfall (2012).