DECEMBER 2020 - Roger Deakins Knighted in New Years Honours list 2021
31 December 2020
Congratulations to Roger Deakins who has been awarded a Knighthood in the New Years Honours List 2021.

Producers Michael G. Wilson and Barbara Broccoli said: "Roger is truly a great visionary of our time. His cinematography always brings depth and humanity to the screen. His uncompromising commitment to the work is unparalleled, he is a wonderful collaborator. We feel incredibly privileged that he created the stunning visual identity of Skyfall. Many, many congratulations to a great master."

Roger Deakins was nominated for an Academy Award and a BAFTA for his cinematography for Skyfall (2012).

Still available: 007 MAGAZINE ARCHIVE FILES - Skyfall
DECEMBER 2020 - Peter Lamont (1929-2020)
18 December 2020
Peter Lamont the noted set decorator, art director, and production designer most famous for working on 18 James Bond films from Goldfinger (1964) to Casino Royale (2006), has died at the age of 91.

Lamont began his career as a draughtsman on such films as The Importance of Being Earnest (1952), then as set decorator on This Sporting Life (1963); and later as art director for the first time on Sleuth (1972) working with production designer Ken Adam. In this capacity he worked on Live And Let Die (1973), The Man With The Golden Gun (1974) and The Spy Who Loved Me (1977), before getting his first 'production designer' credit on For Your Eyes Only (1981).

Peter Lamont's first James Bond assignment was Goldfinger (1964) on which he worked uncredited as a draughtsman, later progressing to the position of set decorator on Thunderball (1965) [also uncredited], You Only Live Twice (1967), On Her Majesty's Secret Service (1969) and Diamonds Are Forever (1971). Throughout his 60-year career, Peter Lamont was nominated for three Academy Awards for his work on Fiddler on the Roof (1971), The Spy Who Loved Me (1977) and Aliens (1986); finally winning the Oscar as production designer for Titanic (1997).
007 MAGAZINE REDUX • EDITION – Issue #29 featuring an exclusive interview with Production Designer Peter Lamont
DECEMBER 2020 - Jeremy Bulloch (1945-2020)
17 December 2020
Three-time James Bond film actor Jeremy Bulloch has died at the age of 75. After drama school Bulloch's first notable film appearance was in the 1963 Cliff Richard musical comedy Summer Holiday. Small roles in British films and television series followed, including BBC TVs long-running Doctor Who with appearances opposite William Hartnell (The Space Museum 1965); and Jon Pertwee (The Time Warrior 1973).

Jeremy Bulloch's first James Bond film appearance was as HMS Ranger Crewman Andrews in The Spy Who Loved Me (1977). His next film role would be the one for which he will be best remembered - the bounty hunter Boba Fett in The Empire Strikes Back (1980). The actor also played an imperial lieutenant [uncredited] and is the only time Bulloch's face was seen in the series until his appearance as Captain Colton in Revenge of the Sith (2005). Bulloch's face was hidden by a mask whilst playing Boba Fett, and he was also re-voiced along with many of the other British actors in the Star Wars films. Bulloch returned to the James Bond series in 1981 to play Q's assistant Smithers in For Your Eyes Only. The character is named in the film but his performance went uncredited. Bulloch reprised the role in Octopussy (1983), this time credited as Jeremy Bullock. The same year Bulloch also returned to the role of Boba Fett in Return of the Jedi. Although the character is killed in the film, Bulloch played the role several times more in Star Wars related spin-offs and short films.
DECEMBER 2020 - Ian Fleming/James Bond in Kent - Paul O'Grady's Great British Escape
Paul O'Grady's Great British Escape Current viewing figures: 4 million
Episode 4: Wednesday, December 2 - 8pm ITV
Ian Fleming/James Bond in Kent

This episode sees Paul visit places long on his Kent bucket list - iconic spots on his doorstep but where he's never set foot before, and in the process at one of James Bond author Ian Fleming's old Kentish haunts, The Duck Inn at Pett Bottom near Canterbury, he meets up with 007 MAGAZINE editor & publisher Graham Rye for a chat with tea and vodka.
NOVEMBER 2020 - Yaroslav Horak (1927-2020)
24 November 2020
Yaroslav Horak, the illustrator who took over from John McLusky as illustrator of the James Bond comic strip, has died at the age of 93.

Born in Harbin, Manchuria (now North-Eastern China) in 1927, Horak was the son of a Czech father and Russian mother. His family emigrated to Sydney, Australia just before World War II where Horak began his career as a portrait painter, and later illustrator for some of the larger Australian magazine publishers. Horak's first comic strips were the detective adventure Rick Davis, and The Skyman (a mysterious costumed flyer) in 1948. Horak illustrated many other comic strips in Sydney and Melbourne, before moving to London in 1962. Horak took over from John McLusky (1923-2006) as illustrator for the Daily Express James Bond comic strip from 1966-1977, which then moved to the Sunday Express and Daily Star from 1977-1979. In total Horak worked on 33 complete James Bond comic strips all adapted by American writer Jim Lawrence. In order to bridge the transition between two illustrators, the final few panels of YOU ONLY LIVE TWICE in January 1966 also included drawings by Horak, although still bearing the credit 'Drawing by John McLusky'. The first James Bond comic strip credited to Horak was the final panel of YOU ONLY LIVE TWICE published on Saturday January 8, 1966 which lead into the lengthy adaptation of THE MAN WITH THE GOLDEN GUN.

Jim Lawrence and Horak would follow the comic strip version of Ian Fleming's final full-length novel with adaptations of the short stories THE LIVING DAYLIGHTS (September 12, 1966 - November 12, 1966), OCTOPUSSY (November 14, 1966 - May 27, 1967) and THE HILDEBRAND RARITY (May 29, 1967 - December 16, 1967). Jim Lawrence (1918-1994) was given permission by the Ian Fleming estate to write new original stories for the comic strip, the first of which was THE SPY WHO LOVED ME which ran from December 18, 1967 to October 3, 1968. Two further original stories The Harpies and River of Death followed before the pair adapted Robert Markham's COLONEL SUN; the final original James Bond novel to be given the comic strip treatment, and published in the Daily Express from December 1, 1969 to August 28, 1970. All subsequent stories were original creations by Jim Lawrence with the majority illustrated by Horak. Four stories drawn by Horak between 1977 and 1979 were syndicated outside the UK before John McLusky returned to illustrate the strip in the Daily Star from 1981-1983. The first of the five Daily Star stories Doomcrack (February 2, 1981 - August 19, 1981) was drawn by Mad Magazine illustrator Harry North. Horak illustrated three final stories in 1983/84 but these were only syndicated outside the UK. All James Bond comic strips illustrated by these three artists have been published in the UK by Titan Books in various compilations, starting with the Jim Lawrence/Horak adaptations of THE MAN WITH THE GOLDEN GUN and THE LIVING DAYLIGHTS in 1987.

After a long career Yaroslav Horak retired to Australia. In 2005 007 MAGAZINE Editor & Publisher Graham Rye arranged for Horak to return to the UK, and attend a special signing at The Cinema Store. It was then on to Kettners' restaurant in Soho where 007 MAGAZINE had sponsored a special reception for Horak, and where he was reunited with his old colleague from The Daily Express, Sydney Jordan, creator and illustrator of space hero Jeff Hawke.
NOVEMBER 2020 - BBC Radio 4 James Bond season
24 November 2020
BBC Radio 4 is re-broadcasting a short season of their acclaimed adaptations of Ian Fleming's novels starring Toby Stephens as James Bond. The season began on Saturday 14th November with a repeat of THUNDERBALL, featuring Tom Conti as Largo and Alfred Molina as Ernst Stavro Blofeld. This was followed on Saturday 21st November by MOONRAKER with Samuel West as Sir Hugo Drax and Katherine Kingsley as Gala Brand. The series concludes with DIAMONDS ARE FOREVER at 14.45 on Saturday 28th November. American actor Stacy Keach takes on the role of Ernie Cureo, with John Standing reprising his role as M. All three broadcasts will be available for 30 days.
NOVEMBER 2020 - New James Bond Video Game Announced
19 November 2020
IO Interactive is currently developing Project 007 (Working Title)

James Bond will once again be coming to a console and computer screen near you. IO Interactive (Hitman), in collaboration with MGM, EON Productions and Delphi announced today that they are developing the very first James Bond origin story with the working title Project 007. Project 007 will feature a wholly original Bond story exclusively as a video game.
NOVEMBER 2020 - OHMSS 1969 Mercury Cougar XR7 offered for first time at auction
The Bond Street Sale - Important Collectors' Motor Cars
16 December 2020 - London, New Bond Street
Estimate £100,000 - £150,000

[Update 17 December 2020 - Sold for £356,500 inc. premium]

A 1969 Mercury Cougar XR7 convertible, which had a starring role in the classic James Bond film On Her Majesty's Secret Service, will be offered for the first time at auction, fittingly at the Bonhams Bond Street Sale on 16 December, following a nut and bolt restoration.
NOVEMBER 2020 - Several important James Bond props and costumes up for auction
Entertainment Memorabilia Live Auction - London - 1st & 2nd December, 2020 12:00 PM GMT

Several important James Bond props are featured in the live auction including Honey Ryder's (Ursula Andress) conch shell and a set of black-and-white photographs from the first Bond film Dr. No (1962). This unique screen-used item is from the collection of the production's prop master Patrick Weymouth (1910-1981). [sold for £5,500]

Among the other significant props and costumes included in the auction are a grey suit jacket worn by Sean Connery in Diamonds Are Forever (1971) [unsold], the Hamilton Pulsar P2 2900 LED watch worn by Roger Moore in Live And Let Die (1973) [unsold], Sir Christopher Lee's personal annotated first draft script from The Man With The Golden Gun (1974) [sold for £8,500], Topol's navy double-breasted blazer [sold for £800] and a white jacket worn by his co-star Julian Glover in For Your Eyes Only (1981) [sold for £1,100]. A prop spear-gun used by Timothy Dalton in Licence To Kill (1989) [unsold], the AKS-74U Assault Rifle used by Pierce Brosnan in the pre-credit sequence of GoldenEye (1995) [sold for £6,000], along with his Walther PPK with silencer and holster [unsold] from the same film are also highlights of the auction. Daniel Craig's midnight blue Tom Ford tuxedo [sold for £18,000], and his MI6 training suit from Skyfall (2012) [sold for £15,000] are the most recent costumes featured in the sale. Perhaps the most unusual item in the auction is the Wetbike delivery bag used in The Spy Who Loved Me (1977) [sold for £1,700]. Many other lots went unsold.
NOVEMBER 2020 - Original Walther PP used by Sean Connery in Dr. No up for auction
Icons And Idols: Hollywood - December 3, 2020
Just two weeks after the death of Sean Connery at the age of 90, comes the news that an original Walther PP handgun used by the actor in the first James Bond film Dr. No, is to be sold in the USA by Julien's AUCTIONS.

Lot 1359 - Estimate: $150,000 - $200,000 Starting: $37,500
[Update December 4, 2020 - Sells for $256,000]

The auction will include nearly 600 important artefacts taken out of the vault and production archives of Hollywood's greatest films from its Golden Age to today's box office classics, as well as pieces rarely seen or coming to the auction block for the first time, celebrating the famous and influential from film, television, stage and more. The marquee highlight of the event is the Walther PP handgun used by Sean Connery in the very first James Bond film Dr. No (1962).
OCTOBER 2020 - Sir Sean Connery (1930-2020)
31 October 2020
The actor who is still considered by many to be the definitive screen James Bond, has died at the age of 90. Sean Connery's panther-like movement and look of an ever-ready sexual predator, made his interpretation of James Bond worthy of the title coined by Italian cinemagoers – Mr. Kiss Kiss Bang Bang!

With the screen rights to Ian Fleming's James Bond novels acquired by the producing partnership of Harry Saltzman and Albert R. 'Cubby' Broccoli in 1961, the search was on to find the actor to play one of the most coveted roles in cinema history. After many high-profile names were mentioned, the producers were convinced that they needed to cast an unknown personality as their hero, and Sean Connery became the main contender.

Taken under his wing by director Terence Young, Sean Connery was moulded into the character of James Bond, and the pair formed a friendship which lasted until Young's death in 1994. When asked what were the three main ingredients for the success of James Bond, Young replied "Sean Connery", "Sean Connery" and "Sean Connery".

FULL OBITUARY 007 MAGAZINE looks back at the distinguished career of Sean Connery – Bond and Beyond.
OCTOBER 2020 - BOND ON BOND ST. - Sotheby's to auction rare James Bond Books & Posters
James Bond: A Collection of Books and Manuscripts, The Property of a Gentleman
Bidding Opens: 28 October 2020 • 3:00 PM GMT • London View lots

The sale features inscribed first editions of every James Bond book including: LIVE AND LET DIE inscribed to Winston Churchill [sold for £189,000]; MOONRAKER to Raymond Chandler [not sold], THE SPY WHO LOVED ME to Robert Kennedy [sold for £56,700], and FROM RUSSIA, WITH LOVE to Fleming's wife [sold for £47,880].

Highlights also include the final revised typescript for DIAMONDS ARE FOREVER [sold for £136,600], a number of pre-publication proofs, and the copy of CASINO ROYALE [sold for £5,292] that first put James Bond on screen. Beyond Bond, a remarkable selection of books from Fleming's own library, also feature.

James Bond Film Posters
Bidding Opens: 5 November 2020 • 2:00 PM GMT • London View lots

007 is back on Bond Street. From Dr. No [original quad crown poster sold for £52,920] to the soon to be released No Time To Die [advance teaser quad crown poster sold for £5,292], this collection of almost 200 original film posters, photographs and promotional material is dedicated to Britain's most renowned secret service agent, spanning 60 years and covering all twenty-five films in this highest-grossing film series of all time.
OCTOBER 2020 - Yves Thos (1935-2020)
13 October 2020
Yves Thos, the celebrated French painter and illustrator has died at the age of 84. Born in Paris, Thos began his career painting posters for French cinema distributor Pathé-Cinema.

In 1969 Yves Thos painted the full-length figure of George Lazenby holding a pair of skis that was seen on the French posters for On Her Majesty's Secret Service, replacing the Robert McGinnis version used in the UK and USA; although Frank McCarthy's action background was retained. The Yves Thos illustration of George Lazenby was also used on posters in other European countries. This same image was also seen on the UK double-crown teaser posters for film and appeared in the gatefold of the original vinyl soundtrack album, and on door panels displayed at the ODEON Leicester Square during the original West End engagement. Yves Thos later repainted the Robert McGinnis figure of Sean Connery from the You Only Live Twice (1967) advertising campaign and added a semi-nude girl at his feet. This version was used extensively on US festival posters and those for French re-issues of the Sean Connery films in the early 1970s under the 'Viva James Bond' banner.
007 MAGAZINE ARCHIVE FILES James Bond Promotional Posters & Artwork
OCTOBER 2020 - Margaret Nolan (1943-2020)
5 October 2020
Margaret Nolan, the English actress and glamour model who appeared as the golden girl in Robert Brownjohn's iconic main titles for Goldfinger (1964), has died at the age of 76. In addition to being immortalized in the film's main titles, Nolan also appeared on the international advertising campaign posters for Goldfinger (also designed by Brownjohn), and had a small role in the film as Dink, Bond's 'girlfriend' in Miami.

Beginning her career as a glamour model in the early 1960s (when she also used the name Vicki Kennedy), Nolan soon turned to acting, appearing in small roles in the television series The Saint (1963) starring Roger Moore, and The Beatles' first film A Hard Day's Night (1964). When influential American graphic designer Robert Brownjohn (1925-1970) was looking for a model to appear in the title sequence of Goldfinger, he looked no further than Margaret Nolan, whose ample figure was painted gold, and had scenes from the film projected onto her buxom body. Unlike his titles for From Russia With Love (1963), which had the actual film credits projected onto the body of dancer Julie Mendes (and other models), Brownjohn used carefully chosen scenes from the film itself, and brief shots from Dr. No (1962) and From Russia With Love, with the addition of flashing neon lights to create the iconic title sequence. The titles also featured fragments of a Q branch scene deleted from Goldfinger, and an alternate shot of Sean Connery as he is chased by the SPECTRE helicopter at the climax of From Russia With Love, which Brownjohn used to 'flag' the audience he was the guy who'd also created the titles for the previous James Bond film.
Although Margaret Nolan was credited for her role as Dink in Goldfinger, the public generally assumed it was Shirley Eaton, painted gold for her part as Jill Masterson in the film, who appeared in the titles and on posters too. On Thursday October 8, 1964 the Daily Mirror ran a full page story which revealed the truth behind the misconception. Margaret Nolan is reported as saying "I am very hurt about it, as everyone says it's Shirley Eaton." The 20-years old Irish born Margaret went on to say "They've left my name off the poster because I refused to go on a publicity tour with the film." Margaret said she spent seven hours a day for a week being painted gold and being photographed. "Yet when Shirley did it for the actual picture all that nonsense was created about it being dangerous." she complained. "It didn't hurt at all - apart from a slight tingle." Co-producer of the film Albert R. Broccoli said: "No one has ever stated it was Shirley Eaton on the posters. And there has been no attempt to deceive the public. There was no secret, and there was never intended to be. Our art director dealt with the posters and material of that kind and used Margaret Nolan. That simply is why it is not Shirley Eaton. For the poster atmosphere we only wanted a golden girl."

Regardless of the controversy, Margaret Nolan's appearance as the golden girl in the titles and on posters for Goldfinger, remains perhaps the single most iconic and instantly recognisable image in the whole James Bond series. Nolan's fully nude torso was also used on the PAN paperback film tie-in cover for Goldfinger and on later re-release posters. After Goldfinger, Nolan returned to glamour modelling and small film and television roles, including an appearance in Michael Reeves' ground-breaking Witchfinder General (1968), where she was listed as Maggie Nolan in the end credits. A bawdy tavern scene was filmed twice with Nolan and the other models going topless for the Continental version. Nolan was also photographed for the November 1965 issue of PLAYBOY Magazine, as part of a retrospective pictorial essay 'James Bond's Girls' by 007 screenwriter Richard Maibaum. Margaret Nolan was often cast for her figure rather than her acting skills, and made full use of this in several British sex comedies and a handful of Carry On films. In her later career Nolan did take on more serious roles in theatre and television. In 2014 Margaret Nolan was interviewed exclusively by 007 MAGAZINE for the 'GOLDFINGER portfolio', in which she speaks candidly about her unforgettable contribution to the 1964 classic.
OCTOBER 2020 - Bikini worn by Ursula Andress in Dr. No up for auction
Icons & Legends of Hollywood Auction November 12 & 13, 2020
The white bikini worn by Ursula Andress in one of the most iconic scenes in the first James Bond film Dr. No 1962, could sell for up to $500,000 at auction. The bikini is one of several important James Bond items to be sold by Profiles in History at their Icons & Legends of Hollywood auction on November 12 & 13, 2020. [Update: Unsold]

Among the other items up for auction are a bathing suit worn by Claudine Auger in publicity for Thunderball (1965), and a prop miniature flare gun from the same film; four prop gold bars from Goldfinger (1964), Roger Moore's monogrammed 'JB' pyjamas from and Jane Seymour's Solitaire headdress and cape Live And Let Die (1973), Charles Gray's Blofeld jacket from Diamonds Are Forever (1971), a Ken Wallis 'Little Nellie' autogyro from You Only Live Twice (1967). and Roger Moore's Royal Navy uniform jacket from The Spy Who Loved Me (1977). From Never Say Never Again (1983) are Sean Connery's hero Walther P5 pistol, and a prop cruise missile warhead that was originally part of the 007 MAGAZINE ARCHIVE.

FULL STORY & IMAGES [Many lots did not reach their reserve price]
SEPTEMBER 2020 - Ian Fleming's family shaken after vandals target the author's grave
29 September 2020
Vandals have targeted the grave of James Bond author Ian Fleming at St James' Church, Sevenhampton in Wiltshire. The grave is final resting place not just of Fleming, who died from a heart attack in 1964 aged 56, but also of his wife Ann (1913-1981), and of the only child they had together, Caspar (1952-1975).

Lying just a few yards from Warneford House (which Fleming rebuilt and named Sevenhampton Place in 1960), the grave is marked by a stone obelisk bearing slate plaques memorialising all three. It is the plaque to Fleming, inscribed 'Omnia perfunctus vitae praemia marces' - 'having enjoyed life's prizes, you now decay' which has now been torn out.

Ian Fleming's step-daughter, Fionn Morgan, fears that the attack was perpetrated by someone gripped by the erroneous belief that the Flemings owed their fortune to slavery.

"It could be the work of an extreme Bond fan who wants to keep it," reflects Fionn, whose father Lord O'Neill, was killed in action in 1944. Her mother married Fleming eight years later. "Or, less likely, it could have been stolen by someone thinking it would sell for a large sum."

But she believes it 'very likely' that the grave was desecrated by someone who concluded that Fleming and his family were beneficiaries of the slave trade, simply because he made his home in Jamaica.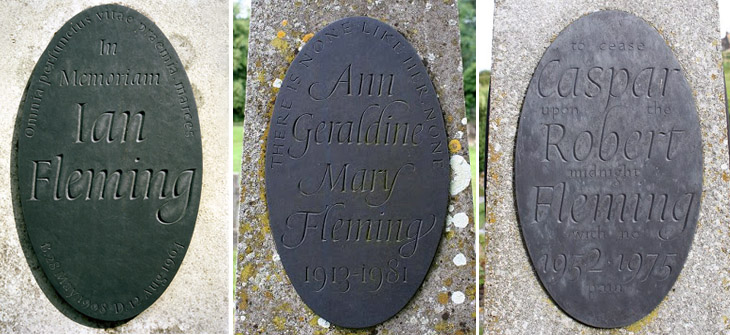 SEPTEMBER 2020 - Michael Lonsdale (1931-2020)
21 September 2020
Michael Lonsdale, the Anglo-French actor who memorably portrayed Sir Hugo Drax in the 1979 James Bond film Moonraker, has died at the age of 89. Lonsdale was born in Paris on 24 May 1931, son of English Army officer Edward Lonsdale-Crouch and his half-French, half-Irish wife Simone Béraud. Sometimes billed as Michel Lonsdale, he made his screen debut in 1956 and appeared in a handful of French films in the 1960s & 1970s before taking the role of Deputy Commissioner Claude Lebel in The Day of the Jackal (1973) directed by Fred Zinnemann from Frederick Forsyth's best-selling 1971 novel. Starring opposite Edward Fox [M in Never Say Never Again (1983)], Michael Lonsdale was nominated for a BAFTA award as Best Supporting Actor.

In 1978 it was decided that Moonraker would be an Anglo-French film, and under the terms of the production agreement a number of French cast and crew were engaged. The role of Hugo Drax went to Michael Lonsdale, although Louis Jourdan who would later play Kamal Khan in Octopussy (1983) was also considered. Lonsdale was cast primarily because he could speak English.

In 1986 Michael Lonsdale would appear in Jean-Jacques Annaud's masterful medieval murder-mystery The Name of the Rose, playing the Abbot opposite original 007 Sean Connery as the Franciscan friar William of Baskerville.
SEPTEMBER 2020 - Dame Diana Rigg (1938-2020)
10 September 2020
Dame Diana Rigg, the acclaimed actress best known to James Bond fans for playing Comtesse Teresa di Vicenzo [known as Tracy], the ill-fated wife of one-time 007 George Lazenby in On Her Majesty's Secret Service (1969), has died at the age of 82.

Rigg's career in film, television and the theatre was wide-ranging, including roles in the Royal Shakespeare Company between 1959 and 1964. Her big break came when she took over from Honor Blackman in the hit UK TV series The Avengers, co-starring opposite Patrick Macnee from 1965-1968. Like her predecessor Diana Rigg left the series to star in a James Bond film hoping it would bring her more recognition in the USA. Her other films from this period include The Assassination Bureau (1969) where she starred opposite Telly Savalas and Curt Jurgens, Julius Caesar (1970) with Charlton Heston in the title role, The Hospital (1971) a Paddy Chayefsky satire directed by Arthur Hiller and co-starring George C. Scott; and Theatre of Blood, the cult 1973 horror/comedy where she played Vincent Price's daughter opposite an all-star cast of British thespians.

Many stage, television and film appearances followed, and in 2013 she appeared in an episode of Doctor Who in a Victorian-era based story called 'The Crimson Horror' alongside her daughter Rachael Stirling. The same year saw Rigg secure the recurring role of Lady Olenna Tyrellin in the third season of the cult HBO series Game of Thrones. Diana Rigg was made a Commander of the Order of the British Empire (CBE) in the 1988 New Year Honours, and a Dame Commander of the Order of the British Empire (DBE) for services to drama in the 1994 Birthday Honours.
SEPTEMBER 2020 - Arthur Wooster (1929-2020)
1 September 2020
2nd unit director and cameraman Arthur Wooster has died at the age of 91. Starting his career as a camera operator in the late 1950s, Arthur Wooster joined the James Bond series in 1981 as 2nd unit director on For Your Eyes Only, and also assisted Maurice Binder with the filming of the main titles featuring singer Sheena Easton.

Wooster then served as 2nd unit photographer for director Fred Zinnemann on Five Days One Summer (1982) which starred Sean Connery. Returning to the James Bond series as 2nd unit director on Octopussy in 1983, Wooster then performed the same duties on A View To A Kill (1985), The Living Daylights (1987) and Licence To Kill (1989), which included much of the spectacular tanker chase sequence filmed in Mexicali.

Arthur Wooster also worked as additional unit director on GoldenEye (1995), The World Is Not Enough (1999) and Die Another Day (2002) which all starred Pierce Brosnan as 007.
AUGUST 2020 - OMEGA Goes Platinum-Gold For New James Bond Watch
16 August 2020
Cutting-edge style and innovation have always been essential parts of the James Bond story. In keeping with that legacy, OMEGA has now delivered a brand new Seamaster Diver 300M James Bond Numbered Edition, offering plenty of high-tech details for 007 fans to enjoy.

OMEGA has been equipping James Bond with its Seamaster timepieces since GoldenEye in 1995. This special new release is a proud celebration of that partnership, and provides a new addition to the 007 collection.

FULL STORY AND MORE IMAGES
AUGUST 2020 - Walter 'Chunky' Huse (1940-2020)
15 August 2020
Walter Charles Huse, known to all as 'Chunky' has died at the age of 80. In a career spanning over 50 years, Chunky worked in the camera and electrical department as Key Grip on many high-profile titles including five James Bond films - Moonraker (1979), For Your Eyes Only (1981), Octopussy (1983), The Living Daylights (1987) and Licence To Kill (1989). In addition to his work behind the camera, Chunky occasionally appeared uncredited as an extra on screen; firstly as a sailor in St. Marks Square in Moonraker, and more prominently as a monk in For Your Eyes Only.


PHOTOGRAPHS/KEITH HAMSHERE
ABOVE: "Happy memories with dear Chunky on For Your Eyes Only (1981) in Meteora playing a monk, with Mike Frift by the camera and Director John Glen in the background. Chunky was always so supportive in my job and always a lot of fun! My eyes would light up if I saw Chunky was on the film I was working on, especially a James Bond Movie, as he would always have a harness and plexiglass at hand to make sure I was protected during scenes with explosions and gun fire, so as I could get my shots. His talent and inventiveness was second-to-none and he was always happy to help out, even playing a part in the movie if asked, which sometimes I'm sure had a little regret from the powers-that-be as the crew could not keep a straight face at Chunky's delivery of the role in hand. Everyone would muster around Chunky after hours as he was the life and soul, worked hard, played hard. His exuberant personality and huge grin will live on in everyone's minds forever."
Keith Hamshere – Stills Photographer

"Chunky was the type of character who has made the film industry GREAT!"
John Richardson – Special Effects Supervisor
JULY 2020 - Aston Martin DB5 production resumes after 55 years
11 July 2020
Dubbed 'the most famous car in the world' and renowned as being among the most desirable and sought-after classic Aston Martin models, the DB5 has become a byword for timeless style and sports car desirability. Fewer than 900 saloon examples were built by the brand between 1963 and 1965, with by far the most famous of the original owners being the world's best-known secret agent – James Bond – who first drove the car that is today inextricably linked with him in the 1964 film, Goldfinger.

Now, 55 years after the last new DB5 rolled elegantly off the production line at Aston Martin's then global manufacturing base in Newport Pagnell, Buckinghamshire, work is once again under way there on a strictly limited number of new DB5 models. Created in association with the producers of the James Bond films, EON Productions, and featuring a broad suite of working gadgets first seen on screen in the 1964 film, the Aston Martin DB5 Goldfinger Continuation cars are history in the making.
JULY 2020 - Earl Cameron (1917-2020)
3 July 2020
Earl Cameron, one of the first black actors to forge a successful career in British film and television, has died at the age of 102. Originally considered for the role of Quarrel in the first James Bond film Dr. No (1962), he would eventually play Pinder in Thunderball (1965) opposite Sean Connery as 007. The pair were reunited when they both appeared in in Cuba (1979) directed by Richard Lester.

Born in Bermuda in 1917, Cameron settled in London in 1939 after a short time in the British Merchant Navy. He began his long acting career on the London stage and made his screen debut in Pool of London (1951) winning much critical acclaim for his part of Johnny Lambert, considered to be the first major role for a black actor in a British mainstream film. Later a familiar face in many British television series throughout the 1960s including Doctor Who (The Tenth Planet 1966), Danger Man (several episodes 1964-1966) and The Prisoner (1967). Cameron continued to act in films until 2010 when he appeared in a small role in Christopher Nolan's Inception. Earl Cameron was appointed Commander of the Order of the British Empire (CBE) in the 2009 New Year Honours.
MAY 2020 - 007 x SPYSCAPE Now available online for free
15 May 2020
SPYSCAPE have announced their James Bond exhibition DRIVEN: 007 x SPYSCAPE is now available online for free, saving fans the $23 ticket price to visit the physical exhibition in New York City.

The exhibition explores the creative process behind the 007 films, and reveals the secrets of James Bond's iconic Aston Martin DB5. Visitors can investigate gadgets in Q's lab, examine original concept art in Oscar®-winning Production Designer Sir Ken Adam's studio and peek behind the scenes of Skyfall's explosive finale.

The online exhibition contains unique and creative content, including animations of iconic gadgets, and interviews with some of the key production team from Skyfall. Explore the reimagined Q's Lab and Sir Ken Adams's Studio, and a specially commissioned video homage to the 50 year relationship between 007 and his Aston Martin.

Fans can visit the online exhibition for free at SPYSCAPE.COM/007, and test their own spy skills – with exercises developed by a former Head of Training at British Intelligence – to receive an authentic profile of their own spy skills, and discover the spy role they're best suited to.

Tickets for the physical exhibition, featuring Bond's real Aston Martin DB5 from GoldenEye and unique immersive experiences, will go on sale again when the COVID-19 situation allows, priced at $23 for adults and $18 for children, at SPYSCAPE HQ in New York City.
APRIL 2020 - John McLaughlin (1927-2020)
20 April 2020
John McLaughlin, known to all as "Big John", has died at the age of 93. John was a deep sea diver, marine engineer, underwater cinematographer, marine mammal trainer, coast guard certified master diver, demolition instructor, and deep sea salvage for the U. S. Navy. He was also a stunt performer and underwater cameraman working on many James Bond films from Dr. No (1962) to Licence To Kill (1989). John also worked again with Sean Connery on his comeback as James Bond in Never Say Never Again (1983). A lengthy interview with "Big John" was published in 007 MAGAZINE #51 in August 2009 and now available as part of 007 MAGAZINE OMNIBUS #3.

LEFT: "Big John" McLaughlin pictured with Sean Connery during the making of Never Say Never Again (1983).
APRIL 2020 - Join Esquire and Pierce Brosnan for a live GoldenEye watchalong
The Bond legend will be answering your questions from 7pm (BST) Sunday April 19, 2020.

We have no doubt that film fans across the world are currently bingeing on Bond classics to make up for the absence of No Time To Die, which was expected to drop this month. And while that's a very commendable back-up plan, Esquire thought you could do with some company. That's why they have asked smooth-talking Bond legend, Pierce Brosnan, to join them for a watchalong of his game-changing 007 debut, 1995's GoldenEye, live on Esquire UK's Facebook, Twitter and YouTube feeds this Sunday 19th April at 7pm BST (2pm ET for American viewers.)

The 66-year-old screen icon be taking us all behind the scenes of the spy epic, discussing his time in the tuxedo and how it felt to take up the mantle, as well as interacting with his legions of fans – which, of course, is where you come in. Head on over to Esquire's Twitter, Instagram and Facebook feeds right now to submit questions, and make sure to tune in on Sunday 19th April at 7pm on YouTube too.
APRIL 2020 - Own a piece of James Bond History!
BONHAMS LONDON - Ending 29 April 2020
The BLUE Auction in aid of NHS Charities COVID-19 URGENT APPEAL

Bid on a clapperboard from the 25th James Bond film, No Time To Die featuring the signatures of the music artist, key cast and crew:

Daniel Craig (James Bond)
Naomie Harris (Eve Moneypenny)
Cary Joji Fukunaga (Director No Time To Die)
Léa Seydoux (Madeleine Swann)
Lashana Lynch (Nomi)
Ana De Armas (Paloma)
David Dencik (Valdo Obruchev)
Billy Magnussen (Logan Ash)
Dali Benssalah (Primo)
Billie Eilish (Co-writer/Performer 'No Time To Die')
FINNEAS (Co-writer 'No Time To Die')
Linus Sandgren (Director of Photography No Time To Die)
Michael G Wilson (Co-Producer No Time To Die)
Barbara Broccoli (Co-Producer No Time To Die)

Generously donated by EON Productions [Sold for £13,000]
APRIL 2020 - Honor Blackman (1925-2020)
6 April 2020
Honor Blackman the British actress who memorably played Pussy Galore in Goldfinger (1964) has died at the age of 94.

Blackman started her acting career with an uncredited role in the 1947 drama Fame Is The Spur. Other small roles followed throughout the Fifties, culminating in substantial parts in A Night To Remember (1958) and Jason And The Argonauts (1963). Blackman joined the popular TV show The Avengers for two series from 1962-1964, where she played Dr. Cathy Gale opposite Patrick Macnee as John Steed. The character was hugely popular leading to Blackman being offered the role of Pussy Galore in Goldfinger. She left The Avengers at the end of the third series, but a reference to her character appeared in the series four episode Too Many Christmas Trees, broadcast on December 25, 1965. John Steed receives a Christmas card from Cathy Gale - looking at the envelope Steed remarks "Whatever can she be doing at Fort Knox...?" - an in-joke reference to Blackman's appearance in Goldfinger. Ian Fleming's suggestive character name was going to be changed to 'Kitty Galore' in order to appease American censors, but a photograph of Blackman meeting Prince Philip at the 1964 Royal Film Performance, made the front page of the Daily Mail with the headline 'Pussy and the Prince'. The name was retained for the film, and Blackman tried to mention it as much as she could during many interviews she gave for the American press. Following the blockbusting success of Goldfinger, Blackman continued to alternate film roles with work in theatre and television.

Honor Blackman was reunited with Sean Connery for the 1968 Western Shalako. The same year Blackman appeared at the Palace Theatre in London in Mr. & Mrs. - a musical based on the plays of Noel Coward. Blackman also released a record of songs from the show. Blackman had also sang on the 1964 recording 'Kinky Boots' with her Avengers co-star Patrick Macnee which was a surprise hit. It resurfaced on the UK chart in 1990, peaking at number five. In 2006 Blackman embarked on her own one-woman theatre tour World of Honor where she sang popular torch-songs from the shows, and reminisced about her long career. The show was revived several times and Blackman herself returned to the West End stage well into her eighties to appear in Cabaret and My Fair Lady. Always frank and outspoken, Blackman was a role model for many women, and in 1965 even published her own book inspired by her judo-fighting alter-ego Cathy Gale. Honor Blackman's Book of Self-Defence was co-written with wrestler, Martial Arts expert and stuntman Joe Robinson [Peter Franks in Diamonds Are Forever (1971)] and his brother Doug, and reprinted many times.
APRIL 2020 - Bond: Photographed by Terry O'Neill is now available as an online exhibition
2 April 2020
Iconic Images Gallery announces that Bond: Photographed by Terry O'Neill is now available as an online exhibition

Unable to open due to the Coronavirus pandemic, Iconic Images Gallery have announced that their new exhibition, Bond: Photographed by Terry O'Neill, will be available to view online. Through a virtual walk-through app, online catalogue and new original content and stories from the book of the same name – fans will be able to virtually walk-through a tour of some of Terry O'Neill's greatest images that captured the world of James Bond.

Timed to coincide with the launch of the book, Bond: Photographed by Terry O'Neill, The Definitive Collection, edited by James Clarke and published by ACC Art Books, this exhibition is sure to enthral fans and celebrates the collaboration of two great icons: Terry O'Neill and James Bond.

The Iconic Images website will be updated throughout the coming weeks with excerpts from the new book as well as further original content from film historian James Clarke.
MARCH 2020 - THE MAN WITH THE GOLDEN GUN is the new BBC Radio 4 James Bond drama
14.45 Saturday 14 March 2020

14 March 2020 - THE MAN WITH THE GOLDEN GUN
Ian Fleming's psycho-political Cold War thriller, written in 1964 and dramatised by Archie Scottney. James Bond's obit appears in the Times. But suddenly he's back in London with murder on his mind. Brainwashed by the Russians?

M gives him one more chance - terminate international assassin, Francisco Scaramanga.

Bond infiltrates the killer's Jamaican HQ. But 007 has a conscience. Can he eliminate the butcher in cold blood? Will his cover be blown?

A stellar cast includes Toby Stephen's return as 007. Cuban/American star Guillermo Diaz excels as psychopath Scaramanga and Janie Dee returns as Moneypenny, with John Standing as M and Moira Quirk as a feisty Mary Goodnight.

Martin Jarvis directs and is the voice of Ian Fleming in a dazzling Caribbean soundscape with specially composed music by A-Mnemonic.
MARCH 2020 - Talenthouse James Bond fan art competition finalists revealed
11 March 2020
In December 2019 Talenthouse offered young artists the chance to create a unique, eye-catching and undeniably Bond poster. It had to be inspired by the Daniel Craig films, while celebrating the design legacy of James Bond.

Selected Creators & Finalists have now had their work published on the Talenthouse website.




MARCH 2020 - Ian Fleming in Kent and 007 MAGAZINE HQ featured in episode of BBC's Flog It!
9 March 2020
Series 17: Episode 35 of the BBC TV series Flog It! comes from Dover Castle in Kent. Antique experts James Lewis and Jonathan Pratt search for items to take off to auction. James finds a hefty hunting club, and Jonathan unearths a lighter that is also a ruler. Paul Martin uncovers the story of author Ian Fleming, who created James Bond.

Also includes an interview with 007 MAGAZINE Editor & Publisher Graham Rye at the Kent HQ of the world's longest-running James Bond publication.




MARCH 2020 - Max von Sydow (1929-2020)
8 March 2020
Max von Sydow, the Swedish born actor who played Ernst Stavro Blofeld in Never Say Never Again (1983) has died at the age of 90.

Making his screen debut in 1949, von Sydow then went on to appear in 11 films directed by Ingmar Bergman including The Seventh Seal and Wild Strawberries in 1957. Cast as Jesus Christ in George Stevens' epic The Greatest Story Ever Told (1965), von Sydow then alternated roles in American films with those in his native Sweden, maintaining the collaboration with Ingmar Bergman until 1971. Many more high profile roles in American films followed in the 1970s, including his iconic performance in William Friedkin's groundbreaking The Exorcist in 1973. In 1980 von Sydow played Ming The Merciless in Flash Gordon opposite future James Bond Timothy Dalton, and Topol who would go on to appear in For Your Eyes Only (1981). Sydow's brief appearance in Sean Connery's comeback film as James Bond is unusual in that Blofeld is seen with a white cat - an invention of the EON series and not part of any script or story created by Ian Fleming or Kevin McClory. Modern audiences will best remember von Sydow from his appearances in Star Wars: The Force Awakens (2015) and three episodes of the popular US TV-series Games of Thrones (2016).
MARCH 2020 - SWATCH unveils new Limited Edition Q Watch
5 March 2020
Q is the brains behind every great design at MI6, and that now includes a new limited edition Swatch! Being the creator of all James Bond's gadgets - from tracking devices to the most unbelievable secret weapons - sounds like a tough job, but he handles it all with style and a cup of his favourite Earl Grey tea in hand.

Matching his personality and style, Q's watch in No Time To Die is a stainless steel SKIN Irony with a tartan plaid brown leather strap, sharp red edges and a sun-brushed dial showing off the complex mechanism, joining Swatch and Q at 6 o'clock. A timeless mix of tradition and futuristic innovation. Just like the man himself.

FEBRUARY 2020 - Royal Mail reveals images of new stamps... Bond stamps
•

Royal Mail will release 10 stamps to celebrate the James Bond films and coincide with the release of the 25th Bond movie No Time To Die starring Daniel Craig in his final appearance as 007

•

The stamps take inspiration from the classic opening title sequences and feature the six actors who have played James Bond

•

A further four stamps celebrate some of Q Branch's most well-known vehicles

•

The Q Branch stamps include hidden features, revealed when using a UV light – and each stamp includes a special 007 perforation

•

James Bond is the longest-running film franchise of all time, spanning almost 60 years

•

A full set of all 10 stamps, available in a Presentation Pack retails at £12.20

•

The stamps and a range of collectible and limited-edition products can be pre-ordered now at www.royalmail.com/jamesbond and by phone on 03457 641 641

•
The stamps will be available on general sale from 17 March 2020
FEBRUARY 2020 - SWATCH announce seven new Limited Edition James Bond watches
1 February 2020
Swiss Watchmaker Swatch have announced seven new watches ahead of the release of the new James Bond film No Time To Die starring Daniel Craig as 007.

Six of the new timepieces draw their design inspiration from classic James Bond film posters representing each actor to play 007. These include Dr No, On Her Majesty's Secret Service, Moonraker, Licence To Kill, The World Is Not Enough, and Casino Royale.

The seventh new Swatch James Bond inspired watch is yet to be unveiled. It has been designed alongside Suttirat Anne Larlarb, costume designer for No Time To Die, and will only to be offered in limited numbers.

The watch features in the upcoming film and is worn by Q, played by Ben Whishaw.

The Swatches are housed in retro VHS video style packaging and will be available from late February. No Time To Die opens cinemas in the UK on 2nd April, followed by the US release on April 10, 2020.