21 November 2020

On Her Majesty's Secret Service 1969 Mercury Cougar Convertible XR-7 offered for the first time at auction
The Bond Street Sale - Important Collectors' Motor Cars • 16 December 2020 • London, New Bond Street
Estimate £100,000 - £150,000 [Update 17 December 2020: Sold for £356,500 inc. premium]
A 1969 Mercury Cougar XR7 convertible, which had a starring role in the classic James Bond film On Her Majesty's Secret Service, will be offered for the first time at auction, fittingly at the Bonhams Bond Street Sale on 16 December 2020, following a nut and bolt restoration.
In the motion picture, the Cougar was owned by 'Bond Girl' Contessa Teresa (Tracy) di Vicenzo played by the late Dame Diana Rigg, and famously driven on ice in a high-speed car chase scene.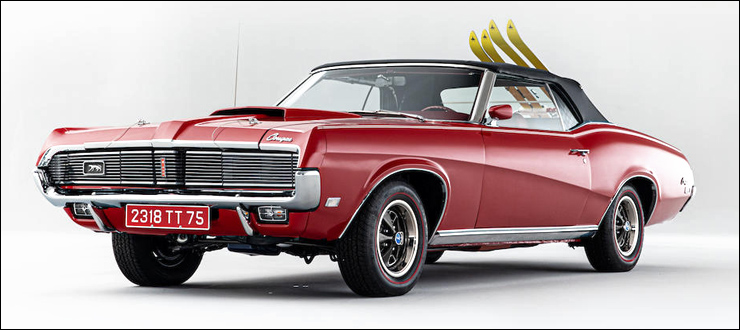 The filmmakers EON Productions procured three identical Cougars from Ford's luxury division Mercury, for the film in 1969. Early research suggests that the example offered was used in the 'barn scene' when James Bond, played by George Lazenby in his only outing as 007, proposed to Tracy (Diana Rigg) as they sheltered in the car from a blizzard.

The Cougar was built on 6 February 1969 as a special order and was registered in the UK a week later. One of only 127 XR7 convertibles powered by the desirable Jet Ram V8 engine built in 1969, this example was finished with red paintwork, matching leather interior and steel wheels.

For its film role, it was also fitted with a rack for Kneissl skis – the must have skis of the time – and red French temporary 'visitor' registration plates.

However, the Cougar was in a far from red carpet condition when it was purchased by the vendor, initially for its engine, from an advertisement in the classified advertising magazine Exchange and Mart in the late 1980s. Upon discovering the car's illustrious past, he embarked on a 'nut and bolt' restoration, bringing the Cougar up to concours standard over a 30-year period.

Tim Schofield, Head of Department, Bonhams Motor Cars UK, said: "We're delighted to offer this unique Cougar which is not only an important piece of film history but also a stunning example of a 1960s muscle car. We are sure it will leave the saleroom stirred if not shaken."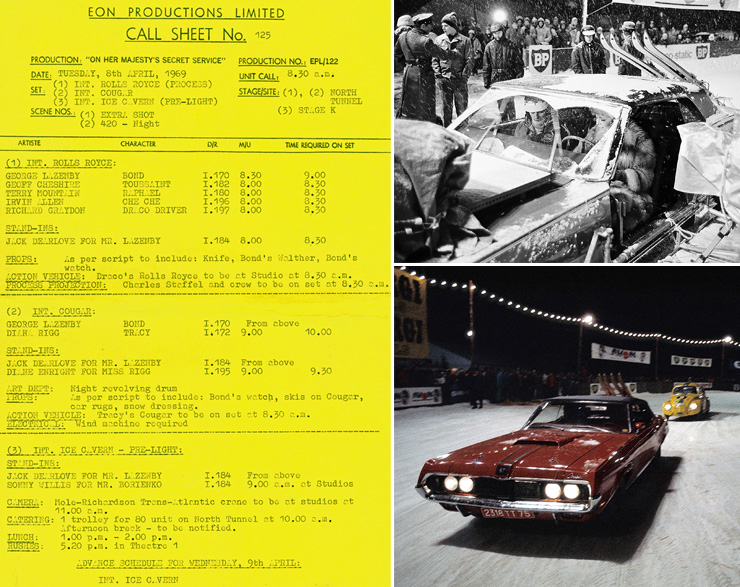 ABOVE: (top left) Call sheet for Tuesday April 8, 1969 supplied to cast and crew by assistant director Frank Ernst (1918-1999). The call sheet shows that George Lazenby and Diana Rigg filmed interiors shots in the Mercury Cougar in the North Tunnel at Pinewood Studios. (top right) Diana Rigg did much of her own driving during stock car sequence filmed on a frozen car park in Lauterbrunnen, Switzerland. (bottom right) The Mercury Cougar in action during the stock car sequence.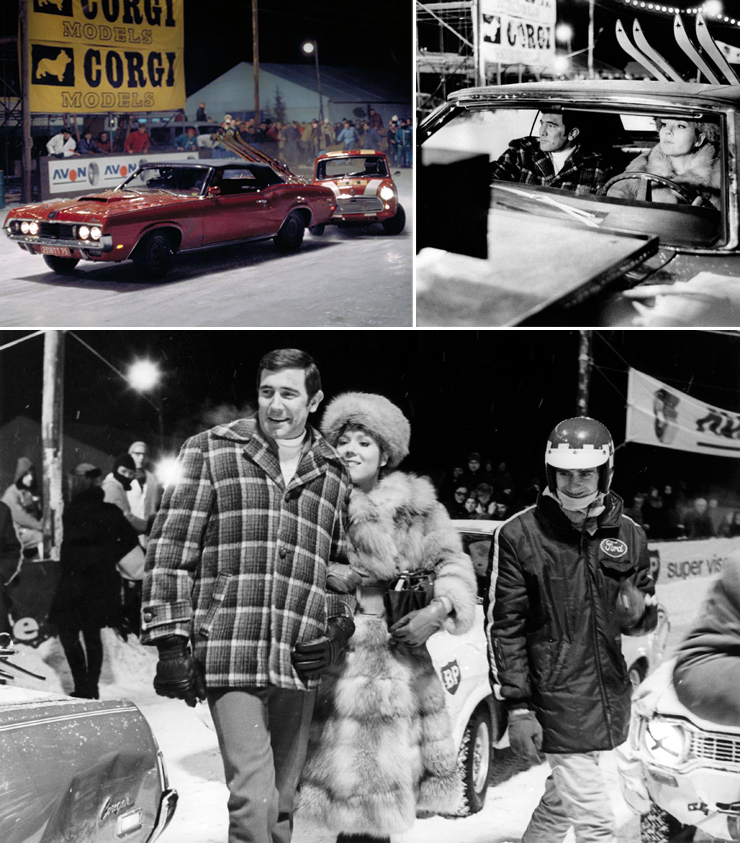 ABOVE: (top left) The Mercury Cougar in action in On Her Majesty's Secret Service (1969) during the stock car sequence directed by Anthony Squire (1914-2000). (top right) George Lazenby with co-star Diana Rigg in the Mercury Cougar during the filming of the stock car sequence, and (bottom) with stunt driver Erich Glavitza.
007 MAGAZINE On Her Majesty's Secret Service 126-page Special Issue – the Definitive edition!
Includes over 300 rare and never-before-seen images relating to the film, many of them exclusive to the 007 MAGAZINE ARCHIVE. Price £24.99 (plus p&p)

This issue is being offered with 3 different covers:
[A] Mr. & Mrs. James Bond (George Lazenby & Diana Rigg)
[B] Comtesse Teresa di Vicenzo (Diana Rigg)
[C] Ernst Stavro Blofeld (Telly Savalas)
(please note that the content inside the magazine is identical)