11 October 2020

Bikini worn by Ursula Andress in Dr. No up for auction
The white bikini worn by Ursula Andress in one of the most iconic scenes in the first James Bond film Dr. No 1962, could sell for up to $500,000 at auction. The bikini is one of several important James Bond items to be sold by Profiles in History at their Icons & Legends of Hollywood auction on November 12 & 13, 2020.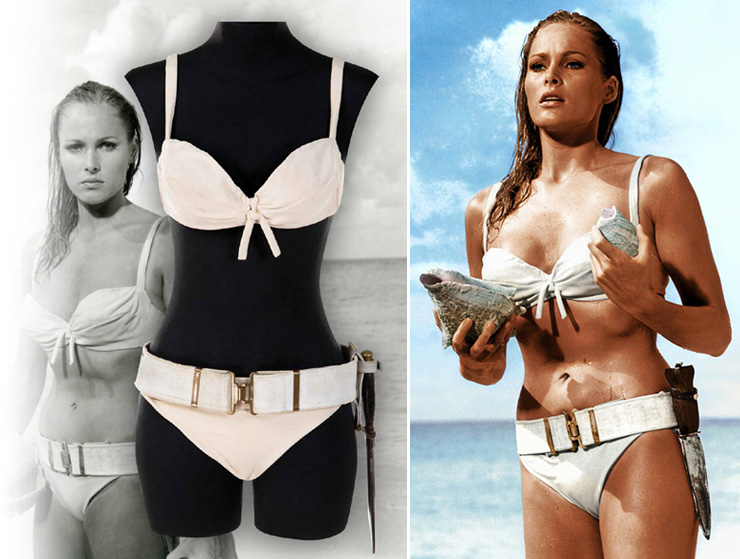 Lot 253. Ursula Andress signature 'Honey Ryder' bikini from Dr. No (EON Prod., 1962)
One of the most memorable scenes ever in the James Bond franchise and perhaps in the history of cinematic imagery, is Ursula Andress as 'Honey Ryder' - the first Bond girl - emerging from the ocean in this bikini. This ivory cotton two piece swimsuit includes one bikini top constructed upon Andress' personal under-wire bra covered in ivory cotton with the cups darted and ruched panels, gathered and cinched in the center by a decorative bow tie. Integral back strap fastens with hook and eye closure with two fabric arm hoops and one pair of matching bikini briefs, lined in sheer cotton and ornamented with pleated fabric and hoop detail on both hips and with hook and eye closure on the left hip. Andress, herself, collaborated on the bikini design with director Terence Young and costume designer Tessa Prendergast to create something that properly fit her 5' 6", 36-24-36 frame. The costume was made, as a one-off, on location in Jamaica by a West Indian dressmaker. The legendary bikini is accompanied by a replica wide white British Army web belt with brass buckles and fittings, and a US military scabbard on the left side holding an actual steel diving knife with leather wrapped grip and brass pommel. This Dr. No bikini is instantly recognizable by multi-generations of Bond fans and is widely acknowledged as the most famous bikini of all time and a groundbreaking moment in cinematic a fashion history. Andress herself has been quoted as saying "This bikini made me into a success." Exhibiting production wear, age and minor soiling. In vintage fine condition. Provenance: The property of Ursula Andress, Christie's, South Kensington, James Bond Auction, February 14, 2001, Lot 291. $300,00 - $500,000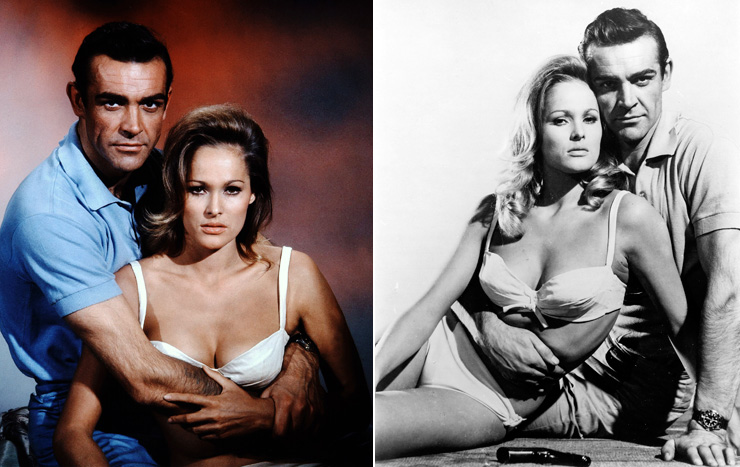 Other important James Bond items in the auction are a bathing suit worn by Claudine Auger in publicity material for Thunderball (1965), and a miniature flare gun prop used by Sean Connery in the same film. Four prop gold bars from Goldfinger (1964), actually constructed of solid cast plaster each measuring 10 X 3 X 1.5 inches, and a Browning M2 Aircraft Machine gun prop from You Only Live Twice (1967) are also on offer.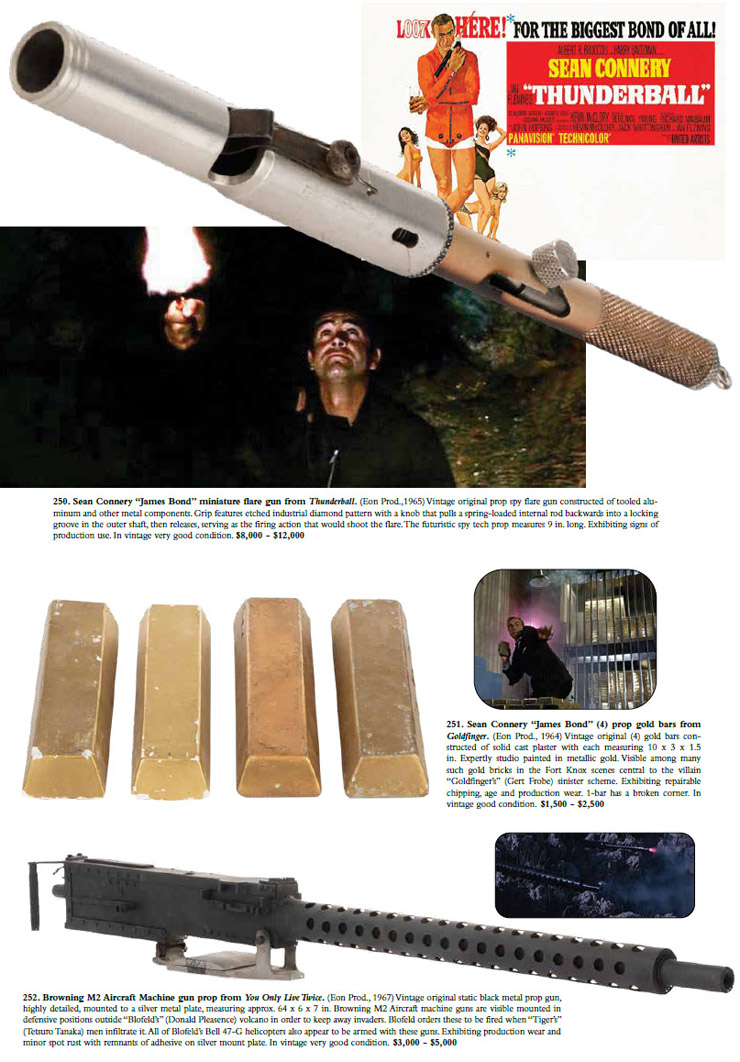 Also from You Only Live Twice is Wallis Autogyros Ltd. 'Little Nellie' commissioned WA-116 exhibition aircraft, which could sell for $150,000.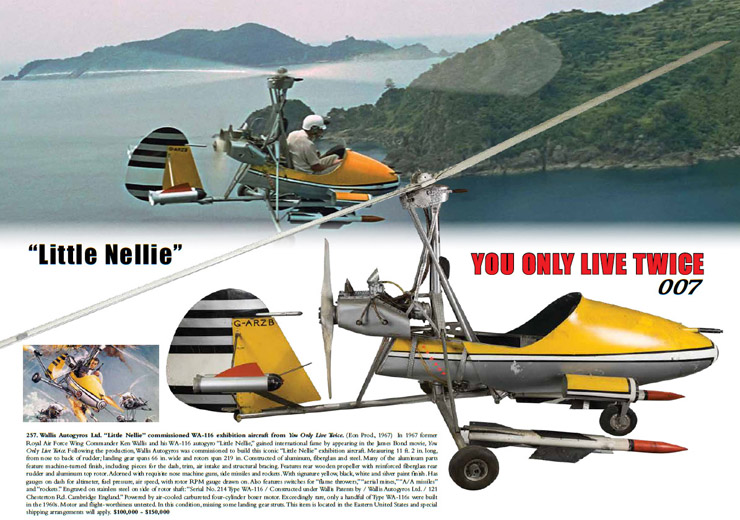 A prop SIG SG 510 battle rifle prop from On Her Majesty's Secret Service (1969), and Charles Gray's signature Blofeld jacket from Diamonds Are Forever (1971) are also included in the auction. From Live And Let Die (1973) are Roger Moore's monogrammed 'JB' pyjamas, and the psychic medium cape and headdress worn by Jane Seymour as Solitaire. Futher items include Roger Moore's Royal Navy uniform jacket and a two-piece Stromberg Submarine crew uniform from The Spy Who Loved Me (1977); a prop Drax and U.S. Marine astronaut laser rifle from Moonraker (1979), and the poison pen and accessories used by Lois Chiles as Holly Goodhead in the film. Lynn-Holly Johnson's red ski suit from For Your Eyes Only, a set of Casino Monaco chips and playing cards used in the baccarat game in GoldenEye (1995), a prop revolver from A View To A Kill (1985), a suit worn by Jonathan Pryce in Tomorrow Never Dies (1997), and a jacket work by Julius Harris as Tee Hee in Live And Let Die (1973) round off the lots from the official EON Productions film series.
From Never Say Never Again (1983) are Sean Connery's hero Walther P5 pistol, and a prop cruise missile warhead that was originally part of the 007 MAGAZINE ARCHIVE.
Icons & Legends of Hollywood Auction - November 12 & 13, 2020 View the catalogue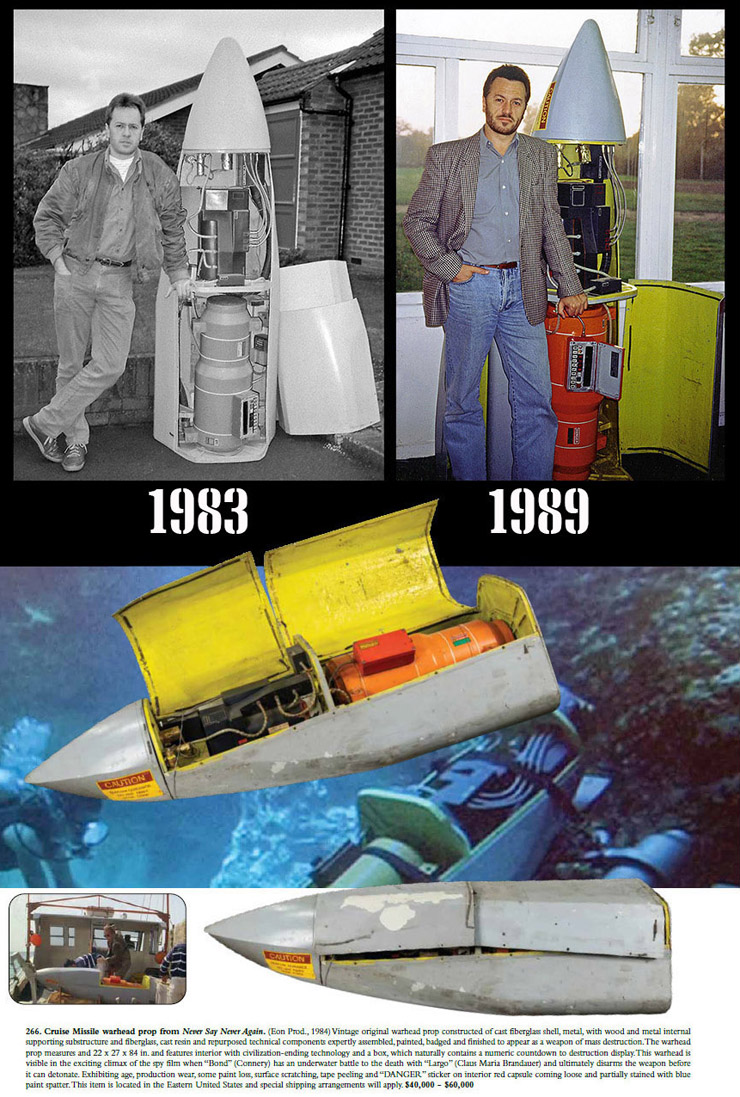 Never Say Never Again prop cruise missile warhead pops up again!
Originally featured in 007 MAGAZINE issue #16 (June 1987) when we offered it for sale – but no one put in a bid! The dummy warhead had originally been on display in London in the foyer of the Carlton cinema, Haymarket. When Never Say Never Again finished its run at the Carlton, Warner Bros. were unsure what to do with the prop, so phoned 007 MAGAZINE publisher Graham Rye with an offer: "If you can remove it this week you can have it!" It was an offer he couldn't refuse. The very large and heavy prop warhead then sat in various storage facilities until it came to the attention of the producers of Planet Hollywood, prior to their first restaurant opening in 1991. A deal was struck and the prop cruise missile took up permanent residence in one of Planet Hollywood's US-based restaurants. With Planet Hollywood eventually downsizing their global operation over the last three decades, it is believed that much of the major movie memorabilia that once adorned the restaurants' walls is now being sold off in auction. In September 2019 the Moon Buggy that was originally discovered by Rye and which he had restored, and had been a main feature in Planet Hollywood Las Vegas, was sold in auction by 'Profiles In History' for $400,000. FULL STORY HERE