31 October 2020

Sir Sean Connery 1930-2020
The actor who is still considered by many to be the definitive screen James Bond, has died at the age of 90. Sean Connery's panther-like movement and look of an ever-ready sexual predator, made his interpretation of James Bond worthy of the title coined by Italian cinemagoers – Mr. Kiss Kiss Bang Bang!
KEVIN HARPER looks back at the distinguished career of Sean Connery – Bond and Beyond.
Part 1: The rise to stardom
Born in Edinburgh, the son of a truck driver, Sean Connery worked at a variety of odd jobs – from milkman to bricklayer – before landing a part in the chorus of the 1951 British stage production of South Pacific, which began his career in showbusiness. Before James Bond, Sean Connery was still a little-known actor, and although he had had some starring roles he was still suffering from continual miscasting. He got his big break on television when director Alvin Rakoff decided to give the young actor his first chance in a leading role, and cast Connery as Mountain McLintock in the BBC production of Requiem For A Heavyweight (re-titled Blood Money) in 1957. Supporting roles in British films Hell Drivers and Action of the Tiger (directed by Terence Young) followed later in the same year. In 1958 Connery had a major role opposite Hollywood legend Lana Turner in the melodrama Another Time, Another Place, and then began alternating between film and television work, including a starring role in the 1959 Walt Disney musical-comedy Darby O'Gill and the Little People. This was followed by a substantial role as Hotspur in five episodes of The Age of Kings (1960), the well-respected BBC television adaptation of William Shakespeare's cycle of historical plays. Connery would later appear opposite Claire Bloom in the 1961 BBC production of Anna Karenina, and also co-starred with Alfred Lynch in the British film comedy set during World War II, On The Fiddle (1961). On The Fiddle was not released in the USA until 1965, where it was re-titled Operation SNAFU. Sean Connery can also be seen in a very small role as Private Flanagan in the all-star WWII epic The Longest Day (1962).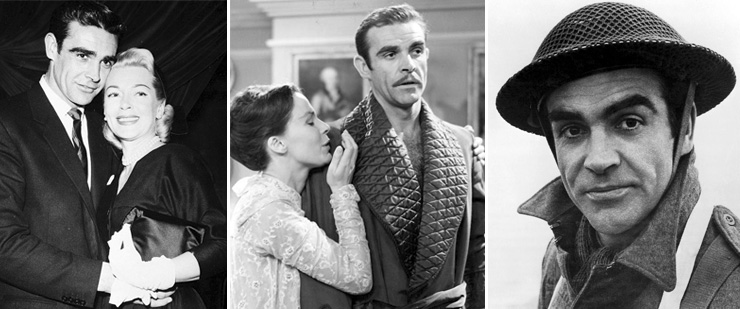 With the screen rights to Ian Fleming's James Bond novels acquired by the producing partnership of Harry Saltzman & Albert R. 'Cubby' Broccoli in 1961, the search was on to find the actor to play one of the most coveted roles in cinema history. After many high-profile names were mentioned, the producers were convinced that they needed to cast an unknown personality as their hero, and Sean Connery became the main contender for the role after Broccoli asked his wife Dana to see the actor's latest film, Walt Disney's Darby O'Gill and the Little People (1959). After a meeting in their London office Saltzman and Broccoli were sure they had found the right man, however distributor and financiers United Artists were not convinced by the choice of Sean Connery and urged the partners to keep looking. Undaunted Saltzman & Broccoli offered the role to Connery and his casting was announced in the world press on November 4, 1961. With a budget of $1-million, the first James Bond film Dr. No began shooting in Jamaica in January 1962... and the rest is history!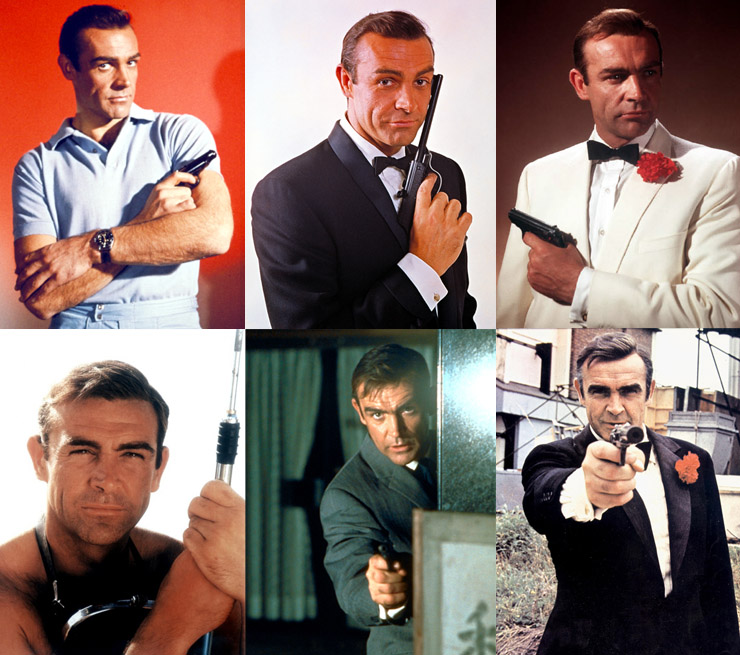 Taken under his wing by director Terence Young, Sean Connery was moulded into the character of James Bond, and the pair formed a friendship which lasted until Young's death in 1994. When later asked what were the three main ingredients for the success of James Bond Young replied "Sean Connery", "Sean Connery" and "Sean Connery". Ian Fleming also took some convincing that the young Connery was the right choice to play his hero, but his mind was made up when the box-office receipts for the first two films in the series surpassed all expectations, and the author was finally receiving the recognition and financial reward he had longed for. Sean Connery and Ian Fleming also remained friends up until the authors' death in August 1964, and the pair had several meetings on the sets of the first three James Bond films, eventually developing a mutual respect for one another despite Fleming's original misgivings.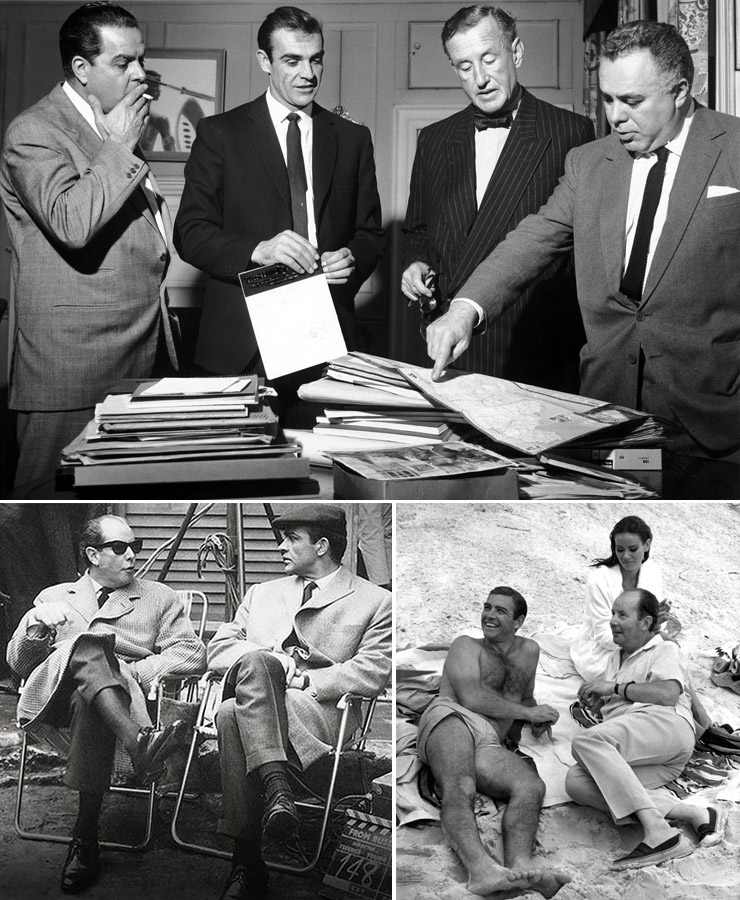 ABOVE: (top) Producers Albert R. Broccoli and Harry Saltzman study maps of Jamaica with Sean Connery and James Bond author Ian Fleming prior to the shooting of Dr. No (1962). (bottom left) Sean Connery on location in Istanbul for From Russia With Love (1963) with director Terence Young, and (bottom right) on location in the Bahamas with the director and co-star Claudine Auger for Thunderball (1965).
Following the success of the first two James Bond films, Sean Connery was offered the lead role in Alfred Hitchcock's Marnie (1964). Originally to have starred Grace Kelly in her comeback role following her marriage to Prince Rainier of Monaco, Kelly was forced to decline the offer, and the female lead went to Hitchcock's new discovery 'Tippi' Hedren. Although the film opened to mixed reviews it further established Connery as a leading international star, and his reputation was further enhanced when he played James Bond for a third time in the iconic Goldfinger (1964) directed by Guy Hamilton. In 1964 Connery also appeared in Basil Dearden's thriller Woman Of Straw, but was second-billed below Italian star Gina Lollobrigida (1927-2023).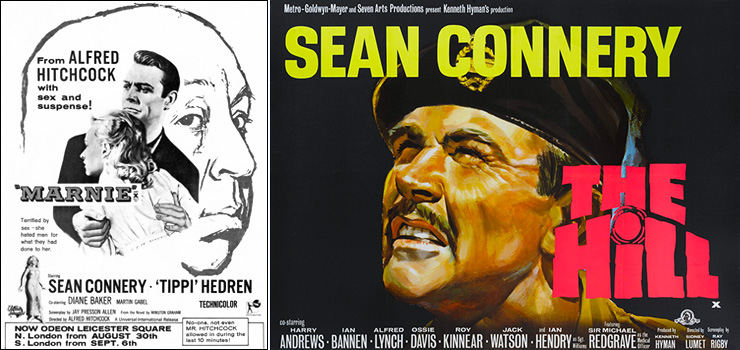 Keen to avoid becoming typecast as James Bond, Connery then played Sergeant-Major Joe Roberts in The Hill (1965) - an uncompromisingly gritty black-and-white drama set in a North African military prison during World War II. Directed by Sidney Lumet, this would be the first of five films Sean Connery made with the acclaimed American director. The Hill received unanimous critical praise but was something of a box-office disappointment following its debut at the Cannes Film Festival in 1965. The film re-united Connery with Alfred Lynch with whom he had co-starred in On The Fiddle (1961), and also fellow-Scot Ian Bannen who he had met in 1955 when they were both members of the 'Q' Theatre company. Their first play together was Point of Departure by French dramatist Jean Anouilh (1910-1987) which ran from Tuesday 22nd - Sunday 27th November, 1955. The 'Q' Theatre was located near Kew Bridge in Brentford, West London, and operated between 1924 and 1958. The small independent theatre company took risks by producing many new and experimental plays which were thought to be commercially unviable on the West-End stage. Several well-known British actors including Dirk Bogarde, Joan Collins and Vivien Leigh all gained valuable early experience with the company. Sean Connery and Ian Bannen would later memorably reunite once more in The Offence (1972) which was also directed by Sidney Lumet.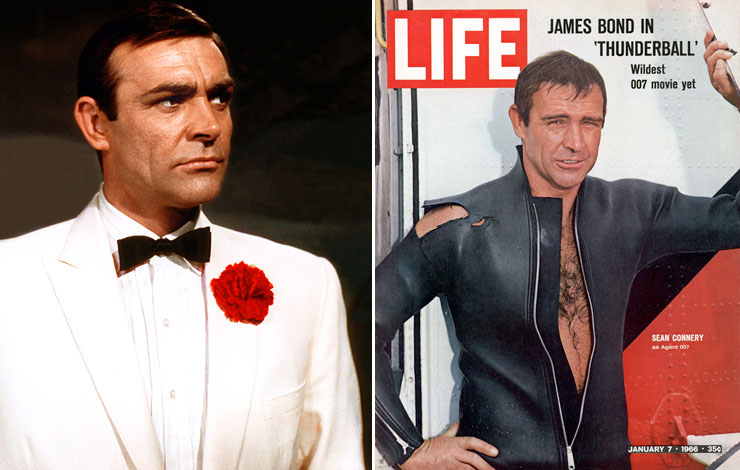 Following The Hill, Sean Connery then appeared in Thunderball (1965), his fourth film as James Bond, and the one which is still the most commercially successful of the series when adjusted for inflation. 'Bondmania' was at its height but Sean Connery was now beginning to tire of the role and his frustration with the financial imbalance between what he was being paid, and what the producers were making from him. For his first James Bond film Sean Connery was paid an up-front fee of £6,000 (just £700 more than co-star Joseph Wiseman), and although payments for subsequent Bond films were substantially higher, they were nowhere near what Harry Saltzman & Albert R. Broccoli were making from the series. Despite his dissatisfaction, Connery was now one of the biggest film stars in the world, and the success of Thunderball propelled him even further into the public consciousness, even making the cover of LIFE Magazine in the USA in January 1966. Connery's name was now inextricably linked to the character of James Bond despite his attempts to break free from the typecasting. Following the release of Thunderball even the Financial Times were questioning how much longer the cult would last. With most of Ian Fleming's best stories already filmed and Sean Connery only under contract for one more film, it seemed doubtful that the public would accept another actor in the role - a factor that had already delayed the filming of the rival production Casino Royale in 1966.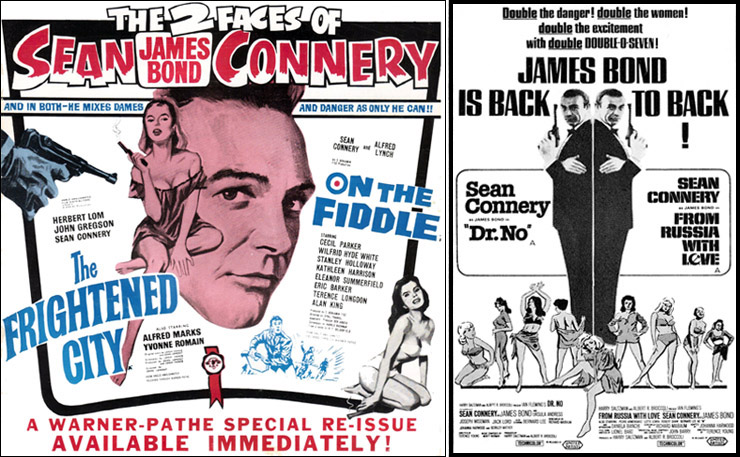 Sean Connery's three James Bond films directed by Terence Young were more or less in permanent release across the UK throughout 1966, with the Dr. No/From Russia With Love double-bill still playing in many cities as they awaited the arrival of Thunderball. Warner-Pathe also took the opportunity to pair two of Sean Connery's earlier films to capitalise on the Bond success. The Frightened City (1961), in which Connery had a supporting role, was re-issued with On The Fiddle (1961) in the UK in early 1966 with the tag-line 'The 2 Faces of Sean [James Bond] Connery'. The enormous pressure upon Sean Connery and press attention he received during filming in Japan was the straw that broke the camel's back, and the star announced in July 1966 that You Only Live Twice would be his last James Bond film. By April 1967 with Casino Royale already in cinemas, United Artists had instigated a huge advertising campaign in an attempt to remind the public that there was another James Bond film about to be released. Sean Connery hated this campaign and had no desire for his name to be linked to the character, insisting that advertising at the premiere was changed or he would not attend. Although billboard posters across London still proclaimed 'Sean Connery IS James Bond', all advertising outside the ODEON Leicester Square was hastily changed to read 'Sean Connery AS James Bond'. Such was the power that the star wielded at the peak of his career. Despite Connery's protestations most advertising reverted back to the original tagline after the premiere. You Only Live Twice was nevertheless a huge box-office success and the hunt now on to find a new James Bond. Meanwhile Sean Connery looked to further his own career with roles far removed from Ian Fleming's superspy.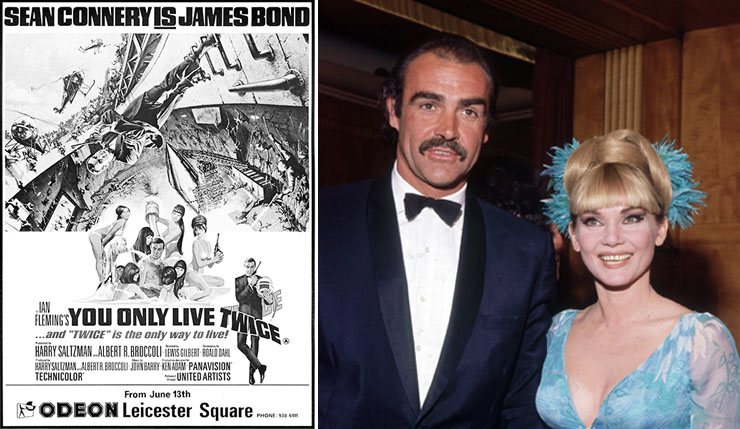 ABOVE: (left) Trade advertisement announcing the opening of You Only Live Twice at London's ODEON Leicester Square following its Royal World Charity Premiere on June 12, 1967 (right) Sean Connery with first wife and actress Diane Cilento (1933-2011) at the premiere of You Only Live Twice (1967). The couple married in 1962 and divorced in 1973. Their son Jason was born in 1963.