31 October 2020

Sir Sean Connery 1930-2020
Part 2: Beyond Bond
In 1966 just after the release of Thunderball, Sean Connery filmed A Fine Madness in New York with director Irvin Kershner (who also directed Never Say Never Again in 1983). Starring opposite Paul Newman's wife Joanne Woodward, Connery took on the comedy in another attempt to break free from the mantle of James Bond. Now largely forgotten, the film was not very well-received and proved somewhat of a box-office failure.
ABOVE: (left) A Fine Madness (1966) Sean Connery with director Irvin Kershner with whom he would reunite in 1983 to make Never Say Never Again. (right) Original UK artwork by renowned British poster artist Tom Chantrell (1916-2001) for Shalako (1968) Sean Connery's first film made after his departure from the James Bond Series.
Sean Connery's first film after his departure from the Bond series was Shalako (1968), a western directed by Edward Dmytryk. Set in New Mexico in 1880 (although filmed in Almeria, Spain like so many other 1960s westerns), the film co-starred Brigitte Bardot, and reunited Connery with Honor Blackman and Goldfinger cinematographer Ted Moore. The action scenes were arranged by Bob Simmons, who had performed the same duties on four of Connery's five James Bond films. Working on Shalako, Simmons was therefore unable to arrange the stunts for newcomer George Lazenby, who was then shooting On Her Majesty's Secret Service in Switzerland. Although Shalako performed well at the box-office and was very popular on its original release, this film too ended up losing money because of its high production costs.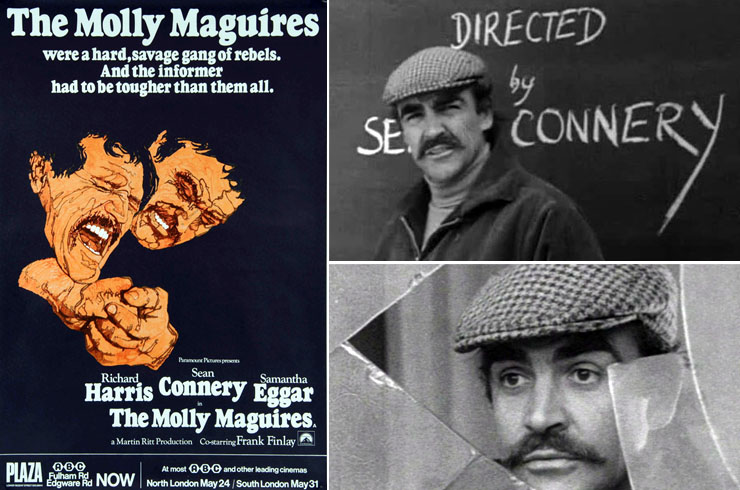 In 1970 Sean Connery starred in The Molly Maguires as the leader of a secret organization of Irish coal miners in nineteenth century Pennsylvania, who fought against oppressive mine owners. Directed by Martin Ritt and co-starring Richard Harris, the film was once again a box-office disaster, although it rekindled Connery's interest in labour relations, which had begun in 1967 when he directed the documentary The Bowler and the Bunnet for Scottish Television. The one-hour black-and-white film was Connery's only directorial effort, and was a critical examination of the Fairfield Experiment, focussing on the new working practices introduced at the Fairfield shipyard in Glasgow.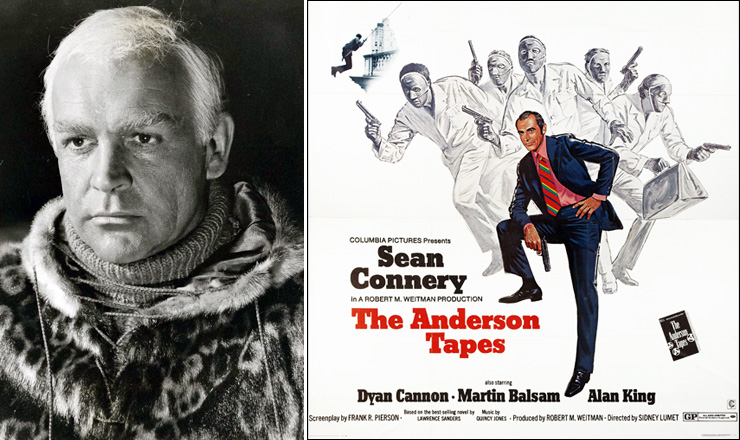 ABOVE: (left) Sean Connery played heroic Norwegian explorer Roald Amundsen (1872-1928) in the rarely-seen 1969 Soviet/Italian co-production The Red Tent which was not released in the USA until 1971. (right) Poster artwork for Sidney Lumet's The Anderson Tapes (1971) which features Sean Connery in a James Bond-like pose - the image was used in several US newspapers to advertise re-releases of his 007 films in the mid-1970s.
Although top-billed in The Red Tent, Sean Connery played what amounted to a supporting role as Roald Amundsen in the joint Soviet/Italian film directed by Mikhail Kalatozov. Filmed in 1969, The Red Tent was not shown in the USA until 1971, when it was released in a version 37-minutes shorter than the Russian original. Rarely seen since its original release, The Red Tent remains another curiosity in Sean Connery's varied body of work. Reunited again with director Sidney Lumet in 1971, Connery then took on the starring role of burglar John "Duke" Anderson in the crime thriller The Anderson Tapes. Co-starring Dyan Cannon and Martin Balsam, with a young Christopher Walken making his screen debut, The Anderson Tapes was a modest commercial success and finally restored Sean Connery as a major box-office star in the USA.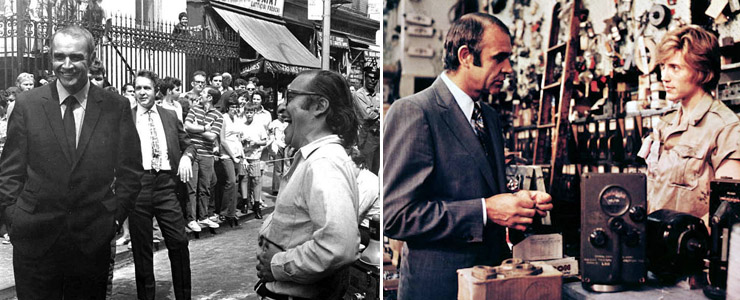 The release of On Her Majesty's Secret Service in 1969 had been a big gamble on the part of EON Productions and distributor United Artists. Although the sixth James Bond film was a box-office success, it was nowhere near as popular as the five Sean Connery films that preceded it. With newcomer George Lazenby proving difficult during the shooting of the film, and ultimately resigning from the role of 007 before the film was even released, United Artists knew that if they were to make another successful Bond film there was only one man for the job, and that man was Sean Connery.