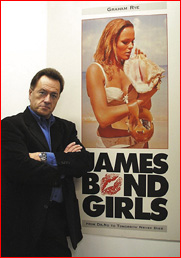 GRAHAM RYE has been the driving force behind 007 MAGAZINE for over 25 years, and his fascination with the James Bond character began at the tender age of 11 when his father took him to see the first 007 film Dr. No on its original theatrical release in 1962. In 1964, with the release of the third Bond film, Goldfinger, he read Ian Fleming's novels for the first time – and his interest in 'all things Bond' has persisted ever since.

After amassing myriad material over three decades during a career in design and photography, Rye opened 007 MAGAZINE & ARCHIVE as a commercial business in 1988. The following year he authored and designed the official book The James Bond Girls, which was successfully updated and reprinted for a decade. As one might imagine, after 45 years immersed in the world of James Bond, his knowledge of the subject is second to none.

On August 1st 2006, Rye launched the new 007 MAGAZINE OnLine in the subscribers' area of the 007 MAGAZINE website, where Bond enthusiasts around the world can now gain access to literally everything anyone could ever want to see or read about their favourite secret agent – and all for less than .007 pence a day!
With the theatrical release of the 25th James Bond film No Time To Die starring Daniel Craig in 2021, the future looks set to continue as hectic as ever for Rye, with TV & Radio interviews and print media enquiries relating to the latest 007 actor and the classic retrospective Bonds – plus ongoing creative and archival content for the subscribers' area of the 007 MAGAZINE website.

With Graham Rye at its creative head, 007 MAGAZINE & Archive has become THE definitive worldwide focal point for all enquiries relating to the James Bond phenomenon, providing the ultimate organisation for James Bond enthusiasts worldwide, and a unique picture agency and information centre for the world's media.
Nobody does it better!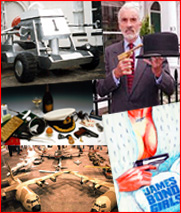 GRAHAM RYE
Complete illustrated James Bond-related professional biography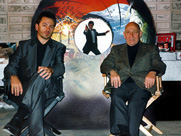 At his two-day 007 event in 1990, GRAHAM RYE poses on Pinewood's 'B' Stage with legendary Bond film credit title designer MAURICE BINDER.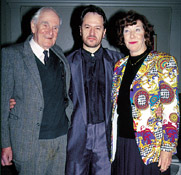 GRAHAM RYE reunited DESMOND Q LLEWELYN and LOIS 'Moneypenny' MAXWELL for his 1993 007 Christmas lunch at Pinewood Studios.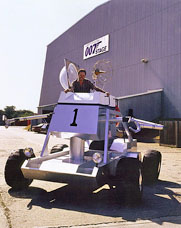 GRAHAM RYE in the refurbished Diamonds Are Forever Moon Buggy at Pinewood Studios in 1993 - the Buggy was later purchased by Planet Hollywood in a 2004 auction at CHRISTIE'S.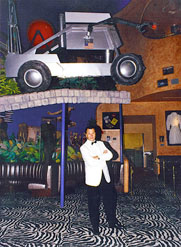 GRAHAM RYE attends the grand opening of Planet Hollywood at Caesar's Palace, Las Vegas, Nevada in 1994.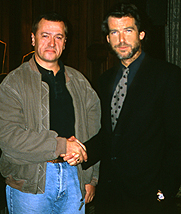 GRAHAM RYE congratulates PIERCE BROSNAN on winning the James Bond role in June 1994.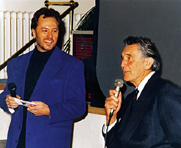 GRAHAM RYE shares the stage with GEORGE LAZENBY at his 1994 007 Christmas Lunch held at Pinewood Studios.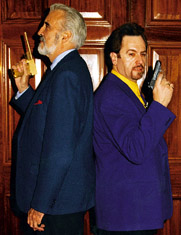 At his 1996 007 Christmas lunch held at Pinewood Studios, GRAHAM RYE 'faces off' against the man with the golden gun – CHRISTOPHER LEE.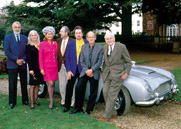 GRAHAM RYE poses with his guests: CHRISTOPHER LEE, SHIRLEY EATON, TANIA MALLET, GUY HAMILTON, OSCAR-winner NORMAN WANSTALL, and DESMOND LLEWELYN at Pinewood Studios for his 1996 007 Christmas lunch.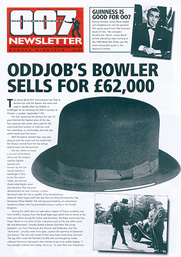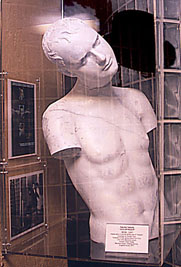 In 1998 the 007 MAGAZINE ARCHIVE's sale of Oddjob's steel-rimmed bowler hat at CHRISTIE'S set a record for the highest priced individual Bond prop ever to sell in auction – a record which remains unbroken!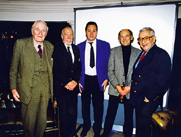 GRAHAM RYE poses on stage with his guests DESMOND LLEWELYN, KEN WALLIS and OSCAR-winners NORMAN WANSTALL and SIR KEN ADAM at his 1998 007 Christmas lunch.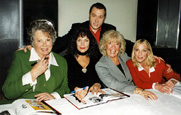 GRAHAM RYE poses with his guests, ex-James Bond Girls MOLLIE PETERS, MARTINE BESWICKE, JAN WILLIAMS, and stuntwoman SARAH DONAHUE at his 1999 James Bond Girls book launch event at the Café de Paris in London's Piccadilly.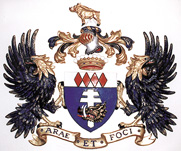 The 007 MAGAZINE ARCHIVE sold the original Blofeld Coat of Arms from On Her Majesty's Secret Service (1969) in auction at CHRISTIE'S in 2004.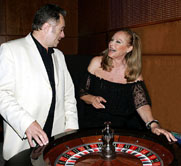 GRAHAM RYE arranged for the original Bond Girl URSULA ANDRESS to headline the AUTOGRAPHICA event in 2005.