The 1960s
GRAHAM RYE's fascination with the James Bond character began at the age of 11 when his father Frank, a keen cinemagoer and amateur photographer, took him to see the first Bond film Dr. No on its original theatrical release in 1962. In 1964, with the release of the third Bond film, Goldfinger, Graham read Ian Fleming's novels – and his interest in all things Bond has persisted ever since. As a schoolboy he would regularly cycle from his home in Southall to Pinewood Studios in Buckinghamshire, on the off chance of spying some 'Bond action'.
This eventually led to a brief meeting with Sean Connery and a visit to production designer Ken Adam's fantastic volcano set for the 1967 Bond film You Only Live Twice. It was an event that would have a profound and lasting effect.
Graham 'escaped' school at 16 with just one 'O' level in art and the headmaster's boot print still fresh on his backside, to begin his working life in the West End of London in an advertising art studio which produced artwork and photography for many of the leading advertising agencies of the day. Starting as a messenger boy, he worked his way up to become a studio manager with his own set of accounts, working in collaboration with many of the art directors from the major advertising agencies in London's West End, including Masius, Wynne-Williams, JWT, Royds, Downton Pulford, Hobson Bates, Crawfords, Saatchi & Saatchi, Young & Rubicam, Dorlands, Erwin-Wasey, and Ogilvy, Benson & Mather.
.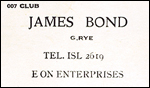 Graham Rye's membership card from the 007 CLUB he organised while at school in 1964.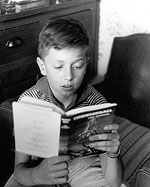 Aged 11, Graham tackles the THUNDERBALL novel for the first time.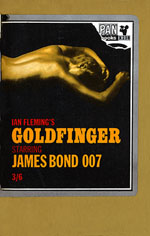 Pan Books 1964 film tie-in paperback.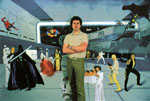 1978 wall mural.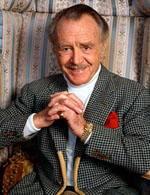 John Mills by Graham Rye.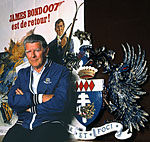 Bond production designer Syd Cain by Graham Rye.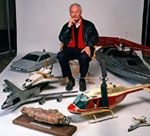 Special effects miniatures expert Derek Meddings by Graham Rye.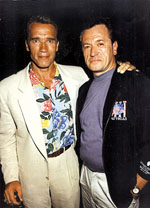 During the premiere party for True Lies in 1994, Graham assures Arnold Schwarzenegger that Bond will be back – and bigger than ever!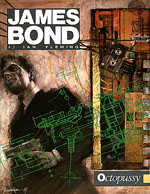 Titan Books 1988 edition of the Daily Express OCTOPUSSY comic strip.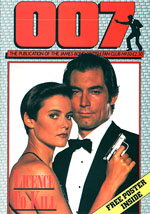 During 1989, 007 MAGAZINE issue #20 appears for sale throughout every cinema in the UK.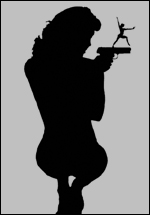 .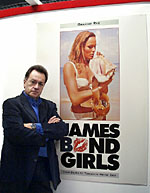 First published in 1989, Graham Rye's book The James Bond Girls became the best-selling volume on the subject through eight editions for a decade.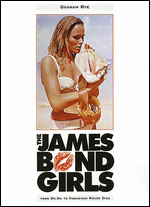 The 1997 UK edition.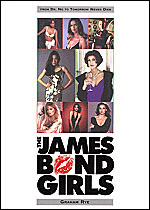 The 1997 US edition.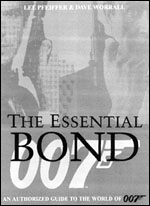 The original design concept for
The Essential Bond.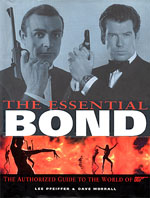 The final 1998 cover design for
The Essential Bond.
The 1970s/80s
His creative apprenticeship in advertising, combined with his 'natural eye', led him into graphic design, and later, as a professional photographer, taking advertising photographs and working in the studio darkrooms.
During a sabbatical in 1978, Graham was 'persuaded' to paint an 8-foot by 12-foot wall mural for a neighbourhood household where the children were both Star Wars and James Bond crazy!
Rye eventually moved into magazine publishing as a photographer and designer until turning freelance in 1985, when among his celebrity photographic assignments subjects included actors Sir John Mills, Pat Phoenix (Coronation Street's Elsie Tanner), Keith Michell, Joan Collins, and Irish singer/harpist Mary O'Hara. Other photographic assignments included film premieres, glamour, food, wildlife, travel, lingerie, and commercial and industrial subjects. Later in his 007 career he would photograph many Bond personalities, including Syd Cain and Derek Meddings. Graham took over The James Bond British Fan Club (as it was then known) in 1983, when he ran the organisation in his spare time.
As the Club grew it occupied so much of his time that it became necessary to make it his full-time occupation. And in 1988 he established its studio headquarters in Woking. "It had become a greater challenge than my freelance work – and far more satisfying," he says. His professional background as a photographer and designer enable him to produce 007 MAGAZINE to the standard one would expect to find in any publication on sale in newsagents. 007 MAGAZINE is now read in over 40 countries worldwide.
Working from his base in the Kent countryside, Rye produces the publication 007 MAGAZINE, and markets its impressive archive (the largest in the world available to the media), and the content of the 007 MAGAZINE web-site. He is often in demand by the media and companies alike as a consultant to anything that is 'James Bond'. During his 007 career, Graham Rye has been fortunate to meet all the actors who have portrayed James Bond and many other film celebrities, and has interviewed many of the directors, production designers, stunt arrangers and major production personnel who have worked on the Bond films past and present – together with many of the Bond girls! To date, Graham has been responsible for designing and publishing several thousand pages dedicated to Secret Agent 007, and his interest, which has spanned over four decades, has left him with a knowledge of the subject which is second-to-none. Rye's photographic memory for imagery has proved invaluable in building his unique 007 MAGAZINE Archive, in addition to which he also owns an archive of rare and unique material relating to the life and career of Sir Sean Connery.
But James Bond is just the tip of the iceberg! Rye's encyclopaedic knowledge of cinema history stems from a childhood love of stories told well: "I should have either square or cinemascope shaped eyes," explains Rye. "I spent most of my formative years devouring everything of worth in entertainment on television, in cinema and in print, and in those days there was a lot of it! I visited the twelve amazing local cinemas in the surrounding area at least four times a week, sometimes on a Saturday sitting through the same programme twice!" Although his professional expertise in the entertainment world is aligned to the world of James Bond, his first love has always been, and remains, westerns. "No other film genre is able to capture every conceivable aspect of human drama and mould it into such masterful entertainment, John Ford's The Searchers being its zenith."
During his tenure as Creative Director of The James Bond International Fan Club (1983-2002), Graham Rye was also involved in many other varied 007-related projects. In 1987 he was asked by Titan Books to write the introduction for their compilation album of James Bond comic strips which originally appeared in the Daily Express during the Fifties and Sixties, of which he also compiled the definitive history for 007 MAGAZINE in 1987.
In 1988, Graham Rye became the first fan-based organiser to enter discussions with 007 filmmakers EON Productions and Ian Fleming (Glidrose) Publications. After a meeting with representatives of both companies, 007 MAGAZINE became available for sale as an unlicensed product throughout newsagents in the UK, including W. H. Smith and John Menzies, selling 30,000 copies over its first 12 months of publication. Later in 1989, 007 MAGAZINE was also sold throughout the Rank/ODEON cinemas and the Cannon cinema chain to tie in with the sixteenth James Bond movie Licence To Kill. Also in 1988, Rye was approached by the publishers Boxtree to produce a cover concept for the book The James Bond Bedside Companion, after an initial design had been rejected. Subsequently he designed and photographed the final cover. Another commission for Boxtree followed when he designed and photographed the cover of The Complete Avengers, a book detailing the history of the popular British TV secret agent series. His association with Boxtree eventually led to the publication of his first book, The James Bond Girls, in June 1989 (Boxtree's first all-colour volume), which he wrote, designed, and picture researched from the archives of 007 MAGAZINE and the filmmakers EON Productions, re-filing their picture archive in the process. A new edition of his book was published in the UK, Germany, and the USA during 1995 to coincide with the release of GoldenEye, since when various other editions have been published to coincide with the release of Tomorrow Never Dies (1997), and The World Is Not Enough (1999), when the launch party was held at the Café de Paris in London with a bevy of ex-Bond girls in attendance. The 1999 edition of The James Bond Girls was updated and published with over 200 all-new photographs from the 007 MAGAZINE Archive. Over 25,000 copies of The James Bond Girls have sold to date. Although now out of print, the 1999 edition of The James Bond Girls book by Graham Rye remains one of the two most signed James Bond-related publications at autograph and movie collector fairs around the world.