5 October 2022

"James Bond has only one father – Ian Fleming."
Screenwriter JOHANNA HARWOOD's important role in the first two James Bond films has for too long been brushed aside in many 007 histories. Author FRÉDÉRIC ALBERT LEVY [with additional research by KEVIN HARPER] sets the record straight in this exclusive interview conducted in the 60th anniversary year of the James Bond film series.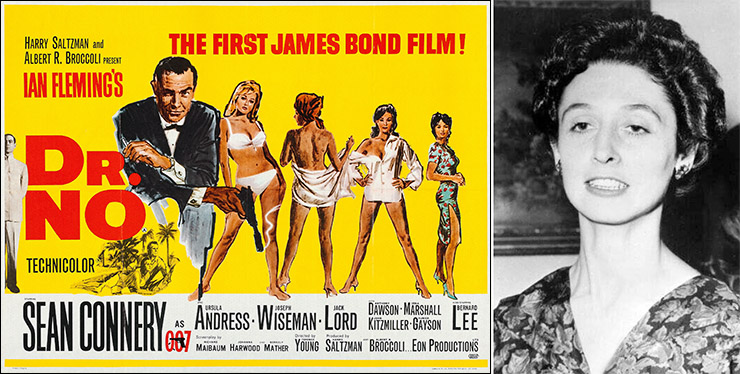 What made you decide to go and study film at the Paris IDHEC (Institut des Hautes Études Cinématographiques)? Weren't there such film schools in English-speaking countries? Was it your film studies in Paris that made you become bilingual or were you already bilingual?
I went to Paris because there was no film school in England at the time. There was one in Italy – at Cinecittà – but I didn't speak a word of Italian. There were also courses in some American universities, but for me going to the States was out of the question: the costs were far too high.
I still don't consider myself bilingual! I learned the basics of French at school, with a year of modern French at the University of Lausanne as a complement. That was enough to understand the teachers at IDHEC. Some of them, moreover, accepted papers handed to them in English.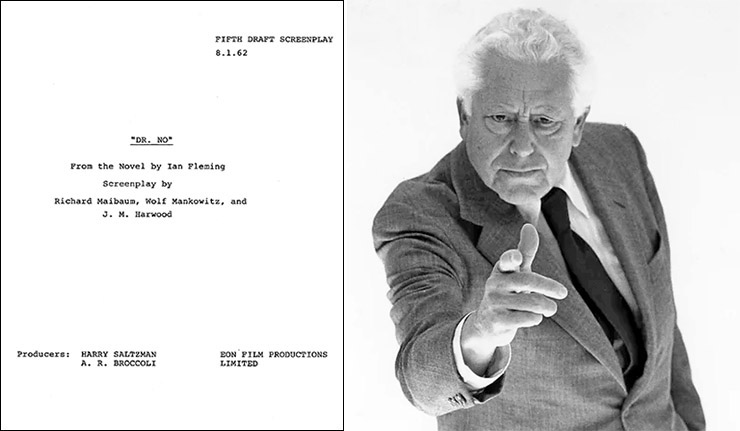 ABOVE: (left) Dated January 8, 1962 the fifth draft screenplay of Dr. No was credited to Richard Maibaum, Wolf Mankowitz and J. M. Harwood. Mankowitz was paid £7,000 for his contribution to the screenplay although he ultimately withdrew from the project, and did not receive credit on the finished film. Johanna Harwood was paid just £300 for her work on Dr. No, and subsequently worked on the screenplay for EON Productions next two films, Call Me Bwana and From Russia With Love, both released in 1963. (right) American screenwriter Richard Maibaum who would be credited on 13 James Bond films 1962-1989.
As the 'legend' goes, you left the Bond series after From Russia With Love because of Terence Young and Richard Maibaum's outrageously sexist behaviour. Did Maibaum really object to your name being mentioned in the credits?
I never worked with Richard Maibaum – or even met him. So, he could never be "outrageously sexist" with me. As I had left EON long before From Russia With Love was released, I only recently learned that he had objected to me being credited.
As for Terence Young, we only worked together for one afternoon. Harry Saltzman had asked us to work together to rewrite my first draft for Russia (Maibaum had not joined the party yet). With my script open on the table, pencil in hand, Young worked all afternoon without speaking to me, then he put down his pencil, pushed the script away and said, "There! That's better, don't you think?" The question was purely rhetorical.
I immediately went to tell Harry Saltzman that if I stayed, he would have to pay two salaries instead of one for the same result, since collaboration was a word that obviously didn't belong in Terence Young's lexicon. It was a line of reasoning Saltzman understood perfectly well! However, I wouldn't say that Young's behaviour was particularly sexist. He just thought he was better than everyone else. After I left, it was Maibaum who took over.

ABOVE: (left) Pinewood Studios March 1962 - Director Terence Young (1915-1994) goes over the script of Dr. No with American actor Joseph Wiseman (1918-2009) who played the titular villain in the first James Bond film. (right) English writer and playwright Wolf Mankowitz (1924-1998) pictured on stage with two chorus girls during a rehearsal of his new musical Belle (or The Ballad of Dr Crippen) at the Strand Theatre in London in May 1961. The Music-Hall show co-written with Dr. No composer Monty Norman (1928-2022) and closed after just 44 performances. One of the financial investors of Belle was Albert R. Broccoli (1909-1996), who despite the show's critical and commercial flop promised to work with Monty Norman again.
Once interviewed by a journalist who said, "You're one of the fathers of James Bond", Terence Young abruptly interrupted him to rephrase his sentence: "No, the father of James Bond". What do you think of this claim?
Young claimed to be the father of James Bond. I think you have the essence of the man in his line. James Bond has only one father – Ian Fleming.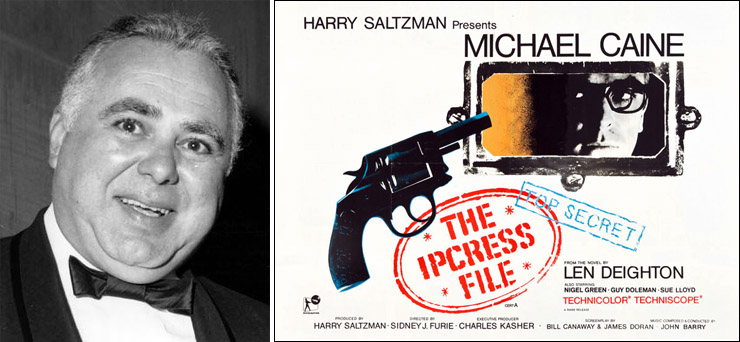 ABOVE: (left) Canadian producer Harry Saltzman (1915-1994) who took out an option on Ian Fleming's James Bond novels in 1961. Saltzman would partner with Albert R. Broccoli and formed EON Productions - the company still responsible for making the James Bond films. Saltzman parted company with Broccoli in 1975 as a result of personal financial difficulties. (right) The UK quad-crown poster for The Ipcress File (1965) designed by Eric Pulford (1915-2005) - the first of the 'Harry Palmer' (un-named in the Len Deighton source novels) series of films starring Michael Caine. The screen rights to the 'Harry Palmer' novels are still retained by Saltzman's family, and a new ITV Television adaptation of The Ipcress File was broadcast in 2022.
Harry Saltzman, it seems, was much more courteous to you than Young and Maibaum. Why did you work uncredited on The Ipcress File? And, given your ties to France, didn't you work on Costa-Gavras' Shock Troops, also produced in 1967 by Saltzman?
Courteous is not a word that could be applied to Harry Saltzman. But he wasn't a sexist either. He was only interested in the results. He didn't care where they came from. I wrote the first script for The Ipcress File long before the film was made. The same goes for Shock Troops. When these two films were finally made, I was no longer part of the production and did not follow the shooting.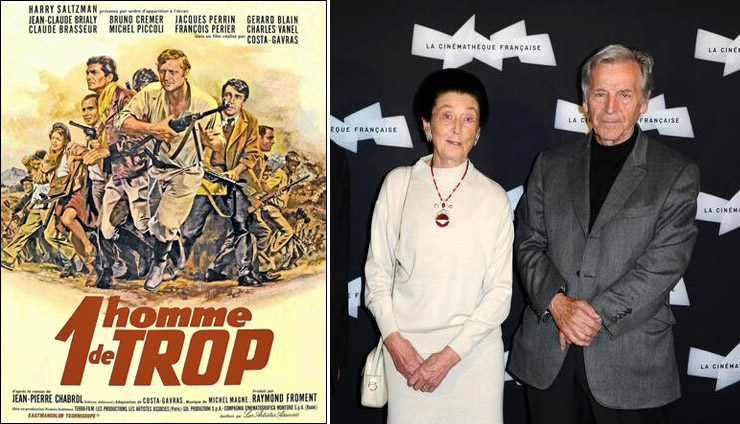 ABOVE: (left) Produced by Harry Saltzman Un homme de trop (released in the USA in 1968 as Shock Troops) was a 1967 French-Italian action drama film directed by Greek-born Costa-Gavras. The poster art was by celebrated Italian artist Jean Mascii (1926-2003), who had painted the stylish French posters for the early James Bond films starring Sean Connery. (right) Johanna Harwood and Constantin Costa-Gavras (1933- ) [pictured above right] attended a special screening of the restored print of Plein Soleil (1960) at Cinematheque Francaise in Paris, France June 3, 2013. Plein Soleil (1960) [released in the UK and USA in 1961 as Purple Noon] which was directed by Johanna's husband René Clément (1913-1996).
PHOTOGRAPH/AURORA MARECHAL
What was your relationship like with Albert R. Broccoli?
I saw very little of Broccoli. He was more concerned with management issues, with the administrative aspects of the production, while Saltzman was the big producer, getting involved in all the little details.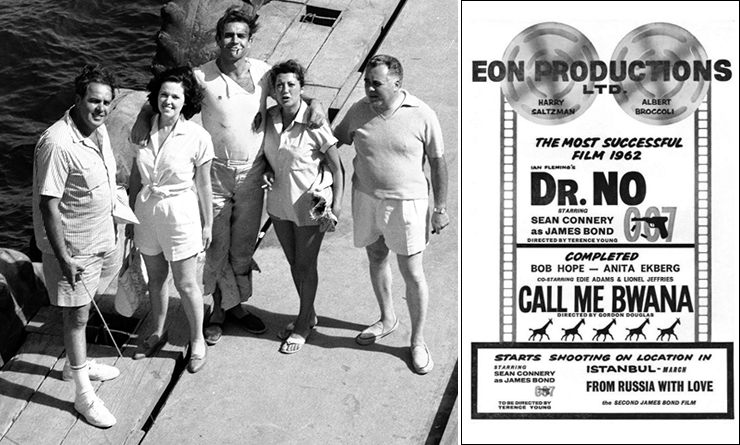 ABOVE: (left) [L-R] Dr. No co-producer Albert R. 'Cubby' Broccoli, his wife Dana, actor Sean Connery, and Jacqueline Saltzman with her husband Harry on location at Reynold's Bauxite docks in Jamaica, which stood in for the fictional Crab Key hideout of the villainous Doctor No. (right) Variety Trade magazine advertisement announcing the start of production on the second James Bond film From Russia With Love (1963) and completion of the two previous EON Productions titles. Screenwriter Johanna Harwood worked on all three productions.
Why do quite a few seemingly reliable sources claim that you worked on Goldfinger when this wasn't the case?
I had absolutely nothing to do with Goldfinger. I think these "reliable sources" you speak of are wrong from time to time. And, once information is published, it is easier for others to copy it than to verify it – hence the repeated errors.

What exactly was your contribution to Dr. No and From Russia With Love? Did you ever meet Ian Fleming? Were you already familiar with Fleming's novels before they were adapted for the screen?
I wrote the first screenplay for Dr. No, which enabled EON Productions to obtain a distribution contract and a financial advance from United Artists, and thus to hire two well-known screenwriters to rework my script – Richard Maibaum, who had already worked for Broccoli on The Red Beret, and Wolf Mankowitz, a very popular English writer at the time. They were the ones who made Doctor No a monkey! Faced with this bad surprise, the producers asked me to rewrite my first script, incorporating everything that could be saved from the Maibaum/Mankowitz version.
At one point there was a version of Dr. No in which Doctor No was an ape! Maibaum and Mankowitz took on this heavy responsibility as best they could! Mankowitz, once the film turned out to be a success, spread the rumour that he had expressly asked not to be credited! Richard Maibaum fared better. By the way, if I had known that he was going to contest the presence of my name in the credits of From Russia With Love, I could have contested his presence for Dr. No.

ABOVE: (left) British writer John Evan Weston-Davies (1909-1996), known as Berkely Mather. (centre) Mather's second novel The Pass Beyond Kashmir (1960) was glowingly endorsed by James Bond author Ian Fleming, with the film rights later purchased by Harry Saltzman & Albert R. Broccoli for Columbia Pictures in 1963. The proposed film would have starred Sean Connery and Honor Blackman, and gone into production in late 1964 after they had completed Goldfinger (1964) - with Berkely Mather also writing the screenplay. (right) American screenwriter Richard Maibaum (1909-1991) chats with author Ian Fleming (1908-1964) as The Duke and Duchess of Bedford look on. The meeting took place at Pinewood Studios on April 1, 1963 at a party hosted by EON Productions to celebrate the start of filming on From Russia With Love, and publication of Ian Fleming's 10th James Bond novel ON HER MAJESTY'S SECRET SERVICE.
My second script seemed to be satisfactory, since it was the one used to prepare the shooting. But then I learned that Berkely Mather, a writer who had just published The Pass Beyond Kashmir, a best-selling novel about the British in India, had been asked to "masculinise" the dialogue. It should be noted that I had always used Ian Fleming's dialogue from his book. Mather "enhanced" my script by introducing so much vulgar dialogue that Saltzman gave it back to me and asked me to cut out everything I didn't like. Which I did! This third draft is the one that was shot. (Of course, some small changes were made, as always, during the shooting.) When he agreed to rewrite the dialogue, Mather asked not to be credited, but his agent, after attending a private screening of the film before its release, convinced him to change his mind!
As for From Russia With Love, only the first script was my own. I never met Ian Fleming – he played no part in the writing of the scripts – but yes, I had read most of his books long before they were ever considered for film.
Some Are Born Great
Although she never met James Bond creator Ian Fleming (1908-1964), Johanna Harwood does have the distinction of being the first author to parody his writing style. The James Bond pastiche Some Are Born Great, was first published in the 3 September 1959 issue of Nursery World magazine, then later reprinted in the Spring 1960 issue of publisher Jonathan Cape's in-house magazine Now & Then [pictured right]. Credited to J. M. Harwood (with apologies to Ian Fleming), the short 415-word story details an intense card game, with James Bond facing off against an unseen opponent - who turns out to be his nanny. It is revealed that the pair have been playing the children's card game 'SNAP'!
Did the choice of Sean Connery entail any adjustments in the script of Dr. No? Did you follow the crew to Jamaica during the shooting?
The choice of Sean Connery did not entail any changes in the script of Dr. No. However, it was reworked a little when Ursula Andress (imposed by United Artists) was cast, because her physique did not match Fleming's heroine at all. I didn't follow the crew to Jamaica. I stayed home in Paris, writing the first script for Russia, which was already scheduled to be shot in the wake of Dr. No.

Have you followed the Bond series over the last 60 years? What do you think of its evolution? In what direction would you go today if you had to imagine a new Bond adventure?
I've followed the Bond series somewhat randomly through television programmes. Not enough to judge its evolution. I'm not surprised by the scale of the Bond phenomenon: the Broccoli family has managed to keep the same intangible qualities from film to film. I won't allow myself to imagine a new Bond adventure. To each his own!
"Beyond Bond"
Johanna Harwood was born in County Wicklow in the Republic of Ireland in 1930, and entered the film industry in 1949, after training at Institut des Hautes Études Cinématographiques (IDHEC) in Paris, France. Starting as a continuity supervisor, she received her first film credit in this role for Return To Glennascaul (1952), a short film starring Orson Welles. The 23-minute modern-day ghost story was written and directed by Hilton Edwards (1903-1982), and filmed in Ireland. Harwood was then employed as assistant continuity on The Red Beret, a 1953 British-made WWII film starring Alan Ladd (1913-1964). The Red Beret was co-produced by Albert R. Broccoli (with his then partner Irving Allen), and directed by Terence Young from a script co-written by Richard Maibaum. This was followed by Hell Below Zero (1954), once starring Alan Ladd, and produced by Broccoli & Allen, this time directed by American Mark Robson (1913-1978), from a screenplay adapted by Richard Maibaum. Johanna Harwood did not receive a screen credit on these two productions. In 1954 Harwood also worked on the British-French comedy drama film Knave of Hearts, directed by René Clément, who she would then marry. In 1955 Johanna Harwood took on the job of script clerk (incorrectly credited as Johanna Horward) on Mr. Arkadin (known in Britain as Confidential Report) for legendary director Orson Welles.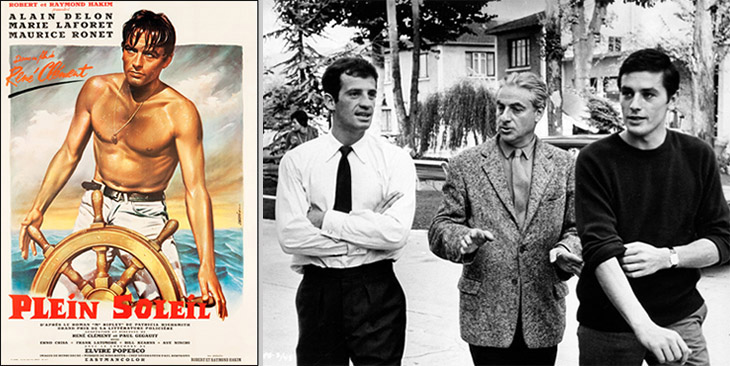 ABOVE: (left) Poster for the original French release of Plein Soleil (1960) painted by Jean Mascii. Starring Alain Delon, the crime-thriller was loosely based on the 1955 novel The Talented Mr. Ripley by Patricia Highsmith. (right) [L-R] Jean-Paul Belmondo, director René Clément, and Alain Delon during the filming of Is Paris Burning? (Paris brûle-t-il?) in 1966.
René Clément was a French film director and screenwriter who made two films that won the Academy Award for Best Foreign Language Film - The Walls of Malapaga (1950) (Au-delà des Grilles), and the second two years later for Forbidden Games (Jeux Interdits). Clément had great international success with Plein Soleil (1960), released in the USA as Purple Noon (1961). Co-written by Clément and starring Alain Delon (1935- ) as Tom Ripley, the crime-thriller was loosely based on the 1955 novel The Talented Mr. Ripley by Patricia Highsmith. The film featured another striking poster painted by Jean Mascii, a title sequence by future James Bond title designer Maurice Binder (1918-1991), and a score by Nino Rota (1911-1979). Clément was reunited with Alain Delon for his next major film - the star-studded 1966 epic Is Paris Burning? (Paris brûle-t-il?), written by controversial author Gore Vidal (1925-2012) and future film director Francis Ford Coppola (1939- ). The three-hour black-and-white epic about the 1944 liberation of Paris by the French Resistance and the Free French Forces during World War II, was a costly box-office failure. Starring Jean-Paul Belmondo (1933-2021) - then partner of Ursula Andress (1936- ), and featuring a number of stars in supporting roles including Orson Welles (1915-1985), and Charles Boyer (1889-1978). All four would appear in the spoof James Bond film Casino Royale in 1967. Is Paris Burning? also featured Gert Frobe (1913-1988) as the military governor of Paris. Clément began directing the British war film Play Dirty (1969) [also know as Written in the Sand] starring Michael Caine, but left early in production due to disputes with producer Harry Saltzman. The film was completed by Hungarian-American film director Andre de Toth (1913-2002).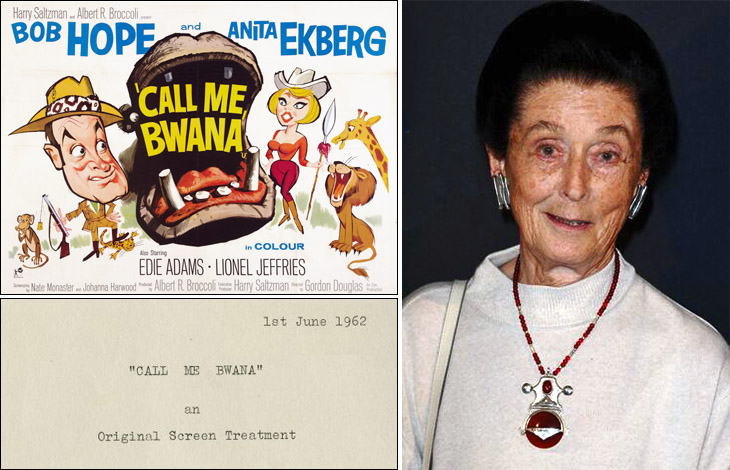 In the late 1950s Johanna Harwood was working for the talent agency Famous Artists in London. The American agency was founded by Charles K. Feldman (1905-1968), who in 1955 would acquire the screen rights to Ian Fleming's first novel CASINO ROYALE from director/producer & actor Gregory Ratoff (1893-1960), and produce the 1967 spoof film version. When this agency closed its London office and Harry Saltzman took over the tenancy, Harwood remained as his secretary and reader, even writing two unfilmed scripts during his years at Woodfall Productions. After working on Dr. No (1962), Johanna Harwood then wrote the original screen treatment [and shared screenplay credit with Nate Monaster (1911-1990)] for Call Me Bwana (1963) made by EON Productions, and directed by American Gordon Douglas (1907-1993). Although set in Africa, the film was shot at Pinewood Studios. The credits for the comedy starring Bob Hope and Anita Ekberg reads like a 'who's who' of 1960s James Bond film alumni: produced by Harry Saltzman & Albert R. Broccoli, associate producer Stanley Sopel, Director of Photography Ted Moore, edited by Peter Hunt, Art Direction by Syd Cain, assistant director Clive Reed, dubbing editor Norman Wanstall, special effects by John Stears, main titles by Maurice Binder, and with music & songs by Monty Norman. Even voice artiste 'Nikki' van der Zyl (uncredited) dubbed Anita Ekberg as she had done for Ursula Andress in Dr. No (1962). Call Me Bwana was memorably 'plugged' in EON Productions' next film From Russia With Love (1963) during the sequence where Kerim Bey (Pedro Armendariz) assassinates Russian agent Krilencu (Fred Haggerty), as he attempts to escape through a window situated behind Anita Ekberg's mouth on the wall-sized poster of his Istanbul hideout.
In 2007 Harwood created the Fondation René Clément to commemorate her husband who died in 1996.
"Double or Nothing"
In the year the cinematic James Bond franchise celebrates its 60th Anniversary, 2022 also saw the publication of a new spin-off novel by Kim Sherwood. The first in a trilogy of novels introducing a new generation of Double-O agents, DOUBLE OR NOTHING was published in September 2022. Among the many 'Easter Eggs' scattered throughout the novel for die-hard Bond fans, is the name of one of the new Double-O agents - 003 - a certain Johanna Harwood! The real-life Johanna Harwood is one of the few surviving members of the original Dr. No (1962) production team, and the first female screenwriter of the 007 series. It is fitting that one of the chief architects of the James Bond series, and someone who played an important part in the success of the first two films, can now be recognised for her lasting contribution to the long-running franchise.