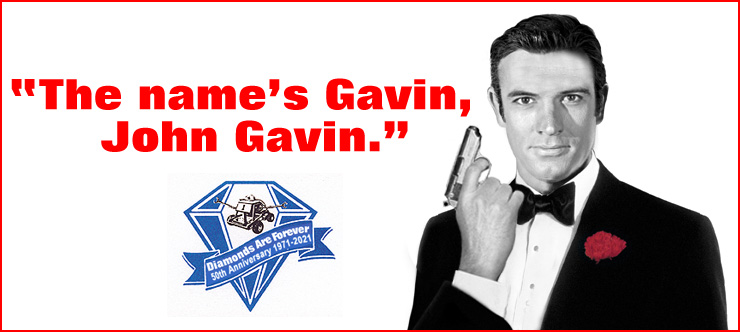 KEVIN HARPER investigates the one actor who remarkably was actually
signed and paid to play James Bond but never made it in front of the camera.
Long before the short-lived casting of Pierce Brosnan as James Bond in 1986, only to be let down by the last-minute renewal of his Remington Steele television contract, there was another actor who was signed to play 007, but unlike Brosnan he never got the chance to appear in front of the cameras. After George Lazenby's departure from the series in late 1969 before On Her Majesty's Secret Service had even been released, producers Harry Saltzman & Albert R. Broccoli began another long search for a new James Bond. After many British actors were interviewed and screen-tested throughout 1970, with no one name standing out, the producers began to reluctantly cast their net a little wider and considered some American names.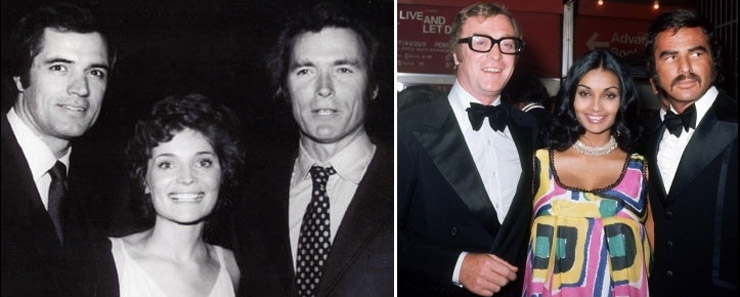 ABOVE: (left) John Gavin [who was actually signed to the role of 007 in 1970], model and TV-host Susan Stafford with Clint Eastwood who was also approached by United Artists to play Bond in 1972 after Sean Connery's departure from the role. (right) Michael Caine and wife Shakira with Burt Reynolds at the London premiere of Live And Let Die at the ODEON Leicester Square July 5, 1973. Reynolds had also tested for the role of James Bond at the same time as John Gavin, and was director Guy Hamilton's first choice to play 007.
Two American actors interviewed and screen-tested for the role were Burt Reynolds (1936-2018) and John Gavin (1931-2018). Both actors passed away within six months of each other in 2018, but few of their obituaries mentioned the James Bond connections. Although Reynolds was seriously considered for the role of James Bond and favoured by Diamonds Are Forever director Guy Hamilton, it was John Gavin who was offered the part and signed a contract in December 1970. In the days before the Internet and up-to-the-minute reporting of entertainment news, the only way to find out what was going on was to read the daily gossip columns that appeared in national and local newspapers. Gavin's announcement as James Bond went largely unnoticed by the UK media, but American newspapers did carry some interesting stories surrounding the casting of the new James Bond. On December 30, 1970 the San Francisco Examiner revealed that producer Cubby Broccoli had tested both Reynolds and Gavin and the producer thought "either could handle the part, but I'll make one more effort at signing an English actor before casting the role." On January 3, 1971 the Palm Beach Post followed up with "Rumour has it that the next James Bond may be an American. Would you believe John Gavin? Well then, would you believe Jackie Gleason?" The second name was clearly a joke, but it shows that even then an American James Bond was still something of a hard concept to sell, even to Americans.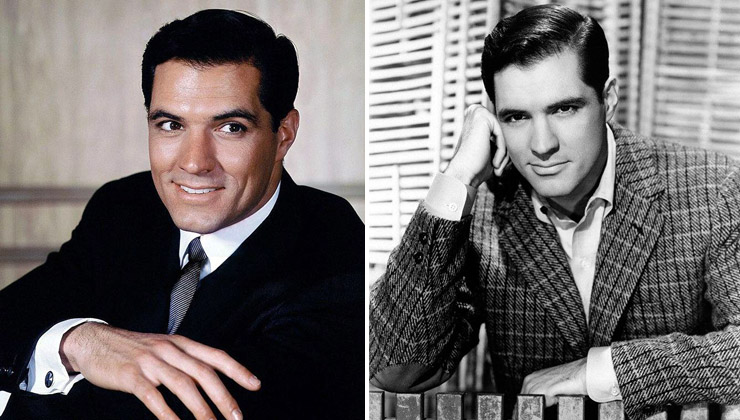 John Gavin was of Mexican, Chilean and Spanish descent, and was born Juan Vincent Apablasa Jr., in Los Angeles, California on April 8, 1931. His ancestors were early Californian landowners when it was still under Spanish rule. As a result of this heritage Gavin was fluent in Spanish, and after attending St. John's Military Academy in Los Angeles, and Villanova Preparatory School in Ojai California, he then went on to earn a bachelor's degree in Economics and Latin American Affairs from the prestigious Stanford University. He furthered his academic achievements with Senior Honors work in Latin American Economic History. Gavin was commissioned in the U.S. Navy during the Korean War and served aboard the USS Princeton, where he was an air intelligence officer from 1951-1953. As he was fluent in both Spanish and Portuguese, this led Gavin to be assigned as Flag Lieutenant to Admiral Milton E. Miles until the end of his military service in 1955.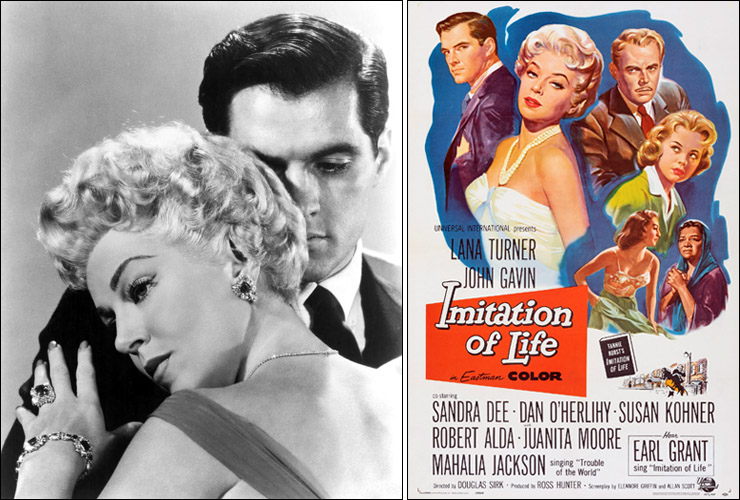 Although he initially had no interest in an acting career, Gavin ended up having a screen test and was offered a contract with Universal-International, which he turned down due to his lack of acting experience. Encouraged by his father and the amount of money on offer, Gavin ultimately accepted the offer and began taking on small roles in several unmemorable films in the late 1950s. His first breakthrough role was as the lead in A Time To Love and A Time To Die (1958) directed by Douglas Sirk. The influential director also cast Gavin in Imitation of Life (1959) opposite Lana Turner, which turned out to be a huge box-office sensation, leading to Gavin being voted as most promising male newcomer by Motion Picture Exhibitor magazine. A year earlier, Lana Turner had co-starred with up-and-coming young actor Sean Connery in the British melodrama Another Time, Another Place.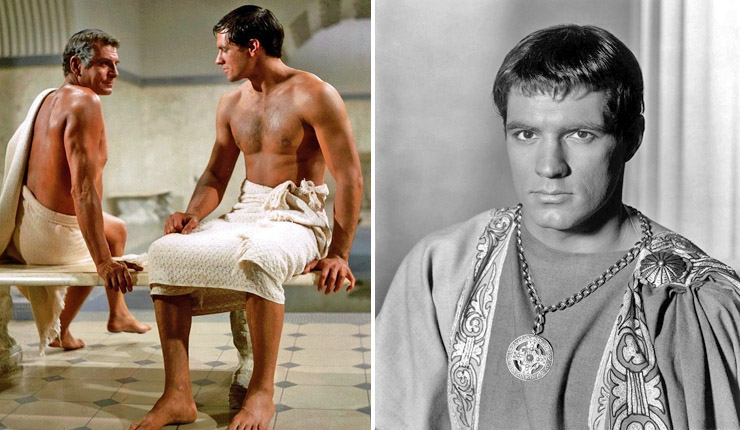 In 1960 John Gavin was cast in the key supporting role of Julius Caesar in Stanley Kubrick's epic Spartacus, holding his own against major stars Kirk Douglas and Laurence Olivier (pictured above left), and the scene-stealing Charles Laughton. In the same year he was cast as Sam Loomis in Alfred Hitchcock's ground-breaking Psycho, which probably remains Gavin's single-most important contribution to cinema. Although the star had reservations about the role, it was his bare-chested lunchtime meeting with doomed co-star Janet Leigh that helped to break down barriers and attitudes towards sex in the morally repressed early 1960s.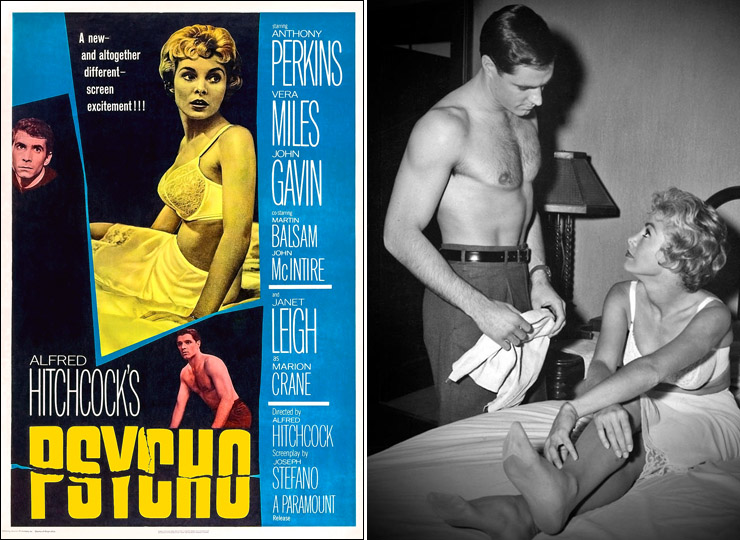 | | |
| --- | --- |
| After these two critical and commercial successes, Gavin continued to play the good-looking leading man opposite the likes of Doris Day and Sophia Loren, in several forgettable Universal thrillers and comedies in the early 1960s. Gavin left Universal in 1962 to go freelance and headed off to Europe, with little success, returning to the USA in 1964 to play the lead in the short-lived Western TV series Destry, based on the classic 1939 film Destry Rides Again, which had starred James Stewart. The series lasted for one season before being cancelled. Gavin then returned to Universal and appeared in another TV series Convoy, a World War II drama in which he starred as Dan Talbot, commander of a Navy Destroyer escort ship during the battle of the Atlantic. This series was also cancelled after one season. Gavin then appeared in the Mexican film Pedro Páramo (1967), that turned out to be something of which he was proud. In a 1966 Los Angeles Times interview Gavin stated, "In Mexico, Pedro Páramo is as important as Don Quixote is in Spain. This may sound grandiose, but it can be compared with Dante's Divine Inferno or Goethe's Faust. It is the journey of a young man in search of his father but, as an allegory, it is man in search of himself... It's the biggest Mexican film ever made." | |