"Your link was officially the most successful link we have EVER had going from any website to our own." "May I say personally what a pleasure it has been working with the 007 MAGAZINE website."

Martin McKenzie
Sales & Marketing Project Manager
BUCKINGHAM COVERS
Folkestone
Kent
England
Should any company or organisation wish to arrange commercial promotions in this area of the 007 MAGAZINE website please contact us at
editor@007magazine.co.uk
TASCHEN - The Ken Adam Archive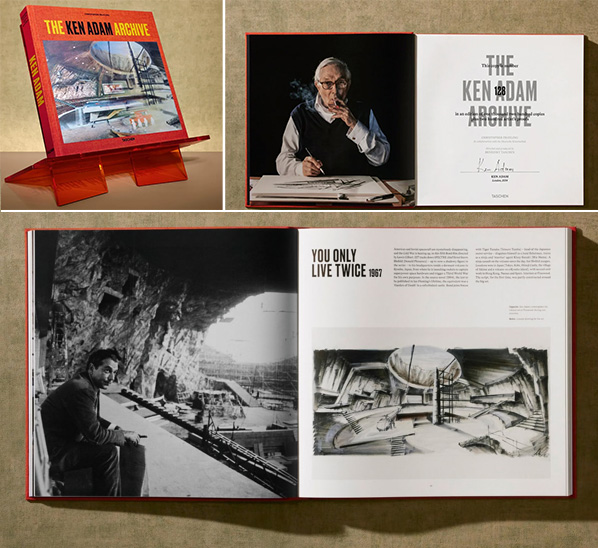 The Ken Adam Archive
Edition of 1,200
Hardcover bound in iridescent bicolor fabric with tipped-in, four-phase lenticular, 36 x 36 cm (14.2 x 14.2 in.), 3.88 kg (8.54 lb), 360 pages, with acrylic, engraved bookstand.
£850
Edition: English
PURCHASE HERE
A giant of production design, Sir Ken Adam was the architect of Cold War satire with Dr. Strangelove and the inspiration behind the sinister lairs of James Bond's adversaries. Featuring an unmatched wealth of material from his archive of sketches, concepts, and photographs held by the Deutsche Kinemathek, this signed edition honors an indelible, decorated career.

Collector's Edition of 1,200 numbered copies, each signed by Sir Ken Adam, with acrylic, engraved bookstand
Note from TASCHEN:
"The concept between the cooperation of TASCHEN and Sir Ken Adam was simple, to create a complete overview of his work in order to put his legacy on print. A project that had the support of both parties, but which took much longer than expected.

In 2014, Sir Ken Adam already signed 1.200 separate pages, which would be bound into the final book.

As already stated it took longer than expected because new additions were made continuously to this book. To make a complete overview one kept searching for older drawings and designs of Ken Adam. With the passing away of Adam in 2019 the nature of the project changed. From a general overview of his work, the Edition now became a post mortem tribute of his work that spun more than 50 years.

During the production of this Collectors edition in 2022, the pages signed in 2014 were bound into the book. In this way the books are signed.

TASCHEN tends to publish a non-limited (and therefore lower-priced) version of Collector's Edition titles years after publication. However, there are currently no fixed plans to print a non-limited edition of this title. But as plans can always change we recommend you to keep an eye on our homepage."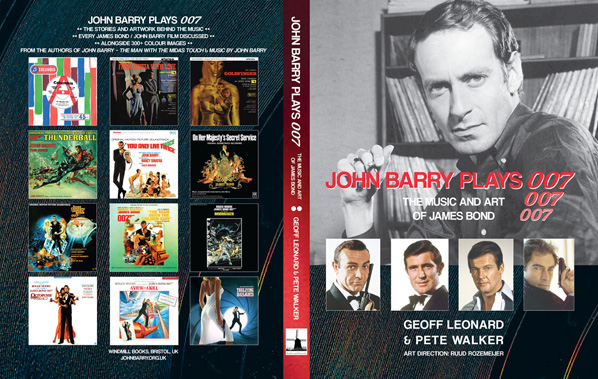 The stories and artwork behind the music of every James Bond film scored by John Barry alongside 300+ colour images.

Details
Publication Date: Oct 27, 2022
Language: English
By Geoff Leonard and Pete Walker
Cover design or artwork by: Ruud Rozemeijer
007 X GWP - Iconic Limited Edition Prints from Greg Williams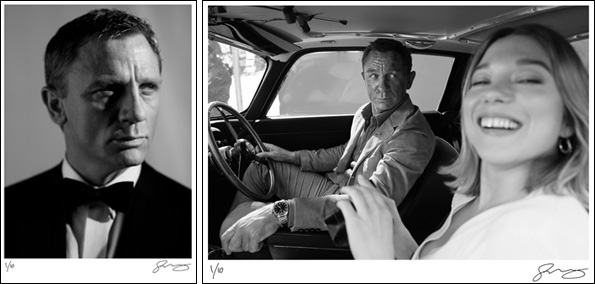 Celebrating the forthcoming release of No Time To Die, Greg Williams Photography and EON Productions have announced the launch of 25 limited edition black & white prints, available to buy now for the first time.
Spanning Daniel Craig's tenure as Bond, the photographs give a unique insight into the film-making process and feature Daniel alongside other cast members. Of the prints, Greg Williams says: "I'm immensely proud to have worked with Michael G. Wilson and Barbara Broccoli and be a guest on their incredible movie sets for over 20 years. During that time I have had the opportunity to document Daniel Craig's remarkable journey as James Bond. From his original screen test through to the poster shoot on No Time To Die, these 25 photographs are some of my absolute favourites".
Each print is studio stamped for authenticity and released in a choice of two size formats, with signed editions also available. Discover the collection at the Greg Williams Photography Store and 007store.com now.
---
The making of OHMSS50
136-page commemorative photo booklet about the 2019 OHMSS50 event, celebrating the 50th anniversary of the James Bond film On Her Majesty's Secret Service. Detailing how the event came about and what happened from day to day, from the perspective of the organizer.

Includes personal words from cast & crew members George Lazenby, Joanna Lumley, Terence Mountain, Catherine Schell, Helena Ronee, Vic Armstrong, Eddie Stacey, John Glen, Michael Reed, Sylvana Henriques and Steven Saltzman.

Written by Martijn Mulder, Photographed by Sascha Braun
136 pages, full colour, 21cm x 21 cm PRICE: €25
---
The Man with the Golden Eye: Designing the James Bond Films - Peter Lamont & Marcus Hearn
Oscar-winning production designer Peter Lamont worked behind the scenes on 18 James Bond films, beginning with the 1960s classics starring Sean Connery and George Lazenby. From the 1980s onwards he was the production designer of the films starring Roger Moore, Timothy Dalton, Pierce Brosnan and Daniel Craig. Along the way, he worked with director James Cameron and contributed to The Ipcress File and Chitty Chitty Bang Bang, some of the other films made by Bond producers Albert R Broccoli and Harry Saltzman. The Man With the Golden Eye is a richly illustrated memoir that provides an unparalleled insight into some of the best-loved films ever made. FULL DETAILS
---
The James Bond Archives 007 - Edited by Paul Duncan
"Having read a variety of negative comments in some Bond fan forums concerning the £135 retail price of this book, I firmly believe that had this volume cost twice as much it would still be a bargain. Not one to miss under any circumstances!"

Graham Rye
Editor & Publisher
007 MAGAZINE

Read Graham Rye's review:
The James Bond Archives 007 - Edited by Paul Duncan


| | |
| --- | --- |
| New updated version including No Time to Die available now. | |
---
JON AUTY reviews the latest important autobiography of a man who put much of the action and excitement into the James Bond movie series.

It is indeed a refreshing change to read an autobiography that actually tells you something about the subject. How many times have we seen the best-seller list filled with 'z' list celebrities cashing in on their 15 minutes of fame by talking nonsense for 200 pages? Here we have a man who has lived so much in the last 40 years that 340 pages doesn't seem like enough... READ THE FULL REVIEW

Purchase The True Adventures of the World's Greatest Stuntman

---
TWO NEW BOOKS FROM DORLING KINDERSLEY: 'THE BOOK OF BOND' and 'BOND CARS & VEHICLES'

Aimed firmly at the mainstream market and retailing at £9.99 each they are terrific value, beautifully produced, nicely designed and packed with pictures.

Another classy collectable for all Bond fans' bookshelves.
MORE DETAILS AND IMAGES
---
ROBERT McGINNIS: Painting The Last Rose Of Summer
"Paul Jilbert has produced a relaxing 78-minute eye opening celebration of the work of one of America's greatest living artists, and in the process has guaranteed the astonishing artwork of Robert McGinnis will be seen by the wider audience it so richly deserves. This is one DVD that no lover of movie poster art, or for that matter, art lover, should be without. Remarkable work lovingly showcased."

Graham Rye
Editor & Publisher
007 MAGAZINE OnLine
---
To Russia With Love

The book Sign 007: On Her Majesty's Secret Service was published in Moscow earlier this year, the first ever complete publication in Russia about James Bond, his creator Ian Fleming, as well as the various directors and casts since its conception.
---

The 'Algerian Love Knot' designed by Sophie Harley and worn in the film Casino Royale by Eva Green
---