| | |
| --- | --- |
| | As Diamonds Are Forever celebrates its 50th anniversary, KEVIN HARPER takes a look back at the production of the seventh James Bond film, which saw Sean Connery return to the role of 007 after a four-year absence. |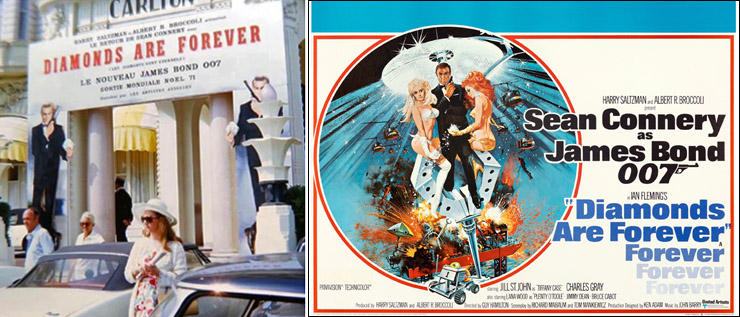 ABOVE: (left) YOU ONLY LIVE TWICE? The worldwide Christmas release of Diamonds Are Forever was promoted at the Carlton Hotel during the 24th Cannes Film Festival 12-27 May, 1971. As no publicity material featuring Sean Connery was yet available, the display used illustrator Yves Thos' adaptation of the Robert McGinnis poster art from You Only Live Twice (1967), replacing Bond's space helmet with a handful of diamonds. (right) The final UK quad-crown poster also featured artwork by Robert McGinnis; this was an amended version of his original artwork and was altered to position James Bond's head and shoulders higher than the two girls - earlier concept versions had all three figures on the same level.
Following the disappointing box-office receipts for On Her Majesty's Secret Service (1969) when compared with the first five films in the series, and the less than enthusiastic critical reception afforded newcomer George Lazenby, distributor United Artists were keen to lure Sean Connery back to the role which had made him an international star - and the studio a lot of money! Believing their time with Connery was over and following the departure of George Lazenby before On Her Majesty's Secret Service had even hit cinemas, James Bond producers Harry Saltzman & Albert R. Broccoli began a search for another actor to play 007. Throughout 1970 they started looking for a new Bond and along with director Guy Hamilton and associate producer Stanley Sopel, travelled to the USA and even tested several American actors for the role including Burt Reynolds (1936-2018). The clear favourite was John Gavin (1931-2018), best-known for playing Julius Caesar in Stanley Kubrick's epic Spartacus, and Sam Loomis in Alfred Hitchcock's Psycho, both released in 1960. A screen test was filmed at Universal Studios in November 1970, and after negotiations Gavin was offered the role and signed a contract on January 29, 1971. Rumours of Gavin's screen-test had begun to circulate in several US newspapers in early 1971, and his casting was formally announced in the press on February 10th. Filming on Diamonds Are Forever was scheduled to begin in Las Vegas in March 1971, and at this stage the seventh James Bond film was to be shot entirely on location in America and at Universal City Studios in Hollywood.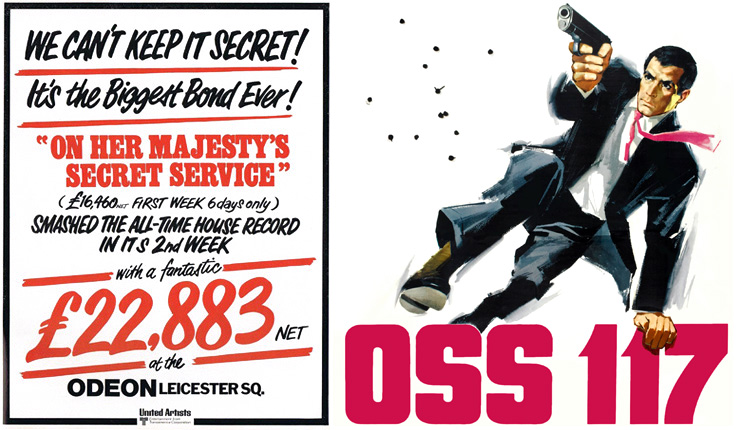 ABOVE: (left) PREMIUM BOND - United Artists were proud to announce that On Her Majesty's Secret Service (1969) had broken the all-time house record at London's ODEON Leicester Square in its second week of release. George Lazenby's only James Bond film was far from being a failure on its original release, and went on to become the most popular film of 1970 at the UK box-office. (right) WOULD BE BOND - Poster artwork for the French/Italian 007 spoof OSS 117 – Double Agent (1968) [also known as No Roses for OSS-117], the fifth film in a series based on fictional secret agent Hubert Bonisseur de La Bath created by the prolific French author Jean Bruce. The first novel in the series Tu parles d'une ingénue (Ici OSS 117) was published in 1949, predating Ian Fleming's CASINO ROYALE by four years. The previous film in the series Tokyo pour OSS 117 (Terror in Tokyo) released in 1966 and starring Frederick Stafford as OSS 117 (who played the part twice), had an original screenplay by three-time James Bond director Terence Young. In OSS 117 – Double Agent (1968) John Gavin starred opposite future James Bond villain Curt Jurgens [Stromberg in The Spy Who Loved Me (1977)], and former Bond Bad-Girl Luciana Paluzzi [Fiona Volpe in Thunderball (1965)]. Released in Europe at the tail-end of the spy boom spawned by the success of the James Bond films, Gavin's interpretation of OSS 117 was never shown theatrically in the United States, although it no doubt contributed to his eventual casting as James Bond in Diamonds Are Forever.

Distributor and financier United Artists were still not convinced John Gavin was the right man for the 007 role. Studio head David Picker, who was involved with the casting of Sean Connery a decade earlier, was sure that after the disappointing returns of On Her Majesty's Secret Service (1969), only one man could guarantee a box-office smash. Thunderball/You Only Live Twice had just been re-released on a double-bill in late 1970, and was the first time Sean Connery's Bond films had been seen in American cinemas for over a year. The pair played to enormous success well into 1971 including an exclusive engagement at the prestigious DeMille theatre in New York's Times Square, re-enforcing in the public's mind that Sean Connery was still James Bond. During the 16-months On Her Majesty's Secret Service was on release in the UK, Sean Connery's James Bond films were embargoed which obviously meant another loss in revenue for the studio as they were out of circulation for an extended period. The five Connery films had been more or less on constant release individually or on double bills since the debut of Dr. No in October 1962.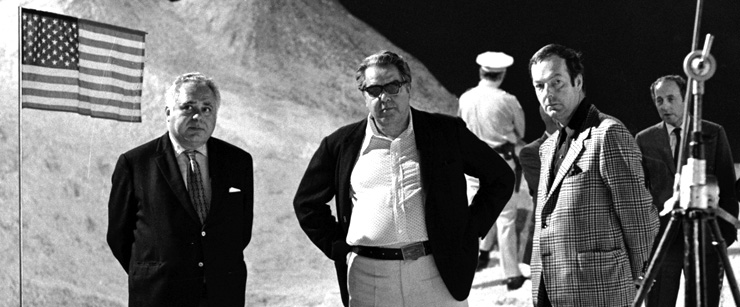 ABOVE: (L-R) Co-producers Harry Saltzman & Albert R. Broccoli, four-time James Bond film director Guy Hamilton, and associate producer Stanley Sopel on the moonscape set at Pinewood Studios during the filming of Diamonds Are Forever (1971).
In February 1971 David Picker (1931-2019) informed the James Bond producers that he would authorise the payment of a huge salary to sign Sean Connery. Associate producer on Diamonds Are Forever Stanley Sopel, and a personal friend of the star, was despatched to meet him at the Dorchester Hotel in London. Since leaving Bond in 1967, Connery's career had faltered but he was still determined to make it on his own and declined the offer to return to the Bond role, seeing it as a step backwards and an admission of failure. Undaunted, Broccoli & Saltzman next asked Ursula Andress, always Connery's favourite Bond leading lady, to personally persuade him to change his mind. When that didn't work either, David Picker decided to tackle the star himself and flew to London with an unprecedented offer; a staggering basic fee of $1.25 million and a 10% cut of the gross profits. Furthermore, Picker promised Connery that United Artists would financially back, to the tune of one million dollars apiece, any two films of his choosing; to either star in or direct. One of those films turned out to be the gritty police drama The Offence (1972), in which Connery gave one of his best performances; the second project never materialised.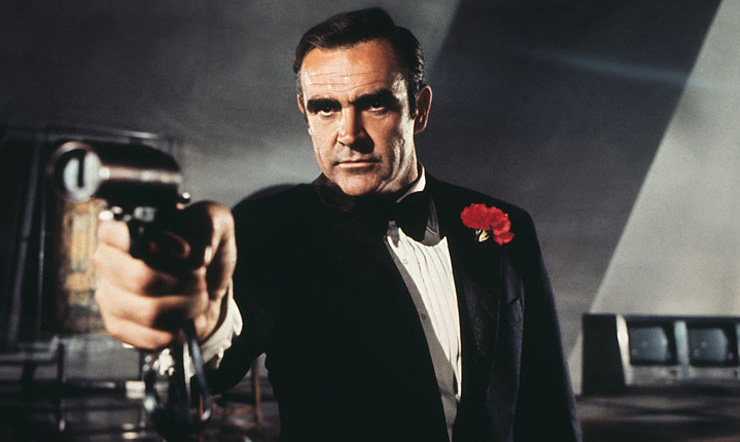 This was a deal too good to refuse, though it still took Connery a week before finally accepting, eventually earning himself a place in the Guinness Book of World Records as the highest paid actor up to that time. "I was really bribed back into it," Connery admitted. "But it served my purpose." In 1970 Connery had joined forces with Scottish industrialist Sir Iain Stewart and racing driver Jackie Stewart to create the Scottish International Educational Trust, a charity that funded artistic individuals and worthwhile projects in Connery's homeland. To get the foundation moving and in sound financial order Connery donated his entire fee to it from Diamonds Are Forever. In addition to the upfront fee and percentage gross, Connery had a clause in the contract that guaranteed an additional $10,000 per week if the film overran its allotted 18-week shooting schedule. Needless to say filming finished on time. With Connery back Diamonds Are Forever then became an entirely different production. David Picker suggested that film now become a British production in order to take advantage of the tax rebate that could be recouped from the Eady Levy. Working on the assumption that Connery's return would result in a substantial hit at the box-office, his unprecedented fee could be recouped and effectively cost the studio nothing. The shooting schedule was revised, and now eight weeks of location work in America would be followed by ten weeks at Pinewood Studios and with a largely British crew. The Eady policy allowed half of the ticket price for a film to be retained by the exhibitors, and the other 50 was divided among qualifying 'British' films in proportion to UK box-office revenue. To qualify as a British film a minimum of 85% of the production had to be shot in the United Kingdom or the Commonwealth, and only three non-British individual salaries could be excluded from the costs of the film, thereby ensuring employment of British actors, technicians and film crew; this explains the use of several American actors playing smaller roles who were already based in the UK, including David Bauer (mortician Morton Slumber of 'Slumber Inc.') already familiar from several British films and television series, and who had also appeared in a small role in You Only Live Twice (1967).