October 5, 2022 the cinematic James Bond franchise celebrates its 60th anniversary.
007 MAGAZINE looks back at the production of Dr. No, the first film adventure in the long-running series. KEVIN HARPER unearths rare and previously unknown facts about the making of the ground-breaking film that began the 007 film franchise - which changed the face of world cinema forever!
First published in the UK in April 1953, Ian Fleming's James Bond novels were very popular in the UK and across the Commonwealth, but by the early 1960s had yet to become widely read in the USA. It was not until March 1961 when US magazine LIFE published the list of President John F. Kennedy's 10 favourite books that this suddenly changed. The inclusion of FROM RUSSIA, WITH LOVE at number nine on the list increased Ian Fleming's readership in the USA overnight, and his novels then started to be reprinted in paperback with great success by Signet Books. Always with an eye on taking Bond to the big screen, in late 1960 Ian Fleming met with Harry Saltzman, the UK based Canadian producer of Look Back In Anger (1959), Saturday Night And Sunday Morning (1960) and The Entertainer (1960). Saltzman took out a six-month option on the James Bond novels (with the exception of CASINO ROYALE – the screen rights had been sold in 1954) and then feverishly went to work trying to find a financial backer for the first film. Unbeknownst to Saltzman, UK-based American producer Albert R. Broccoli had also been interested in filming the James Bond novels, and the pair were introduced via their mutual friend screenwriter Wolf Mankowitz.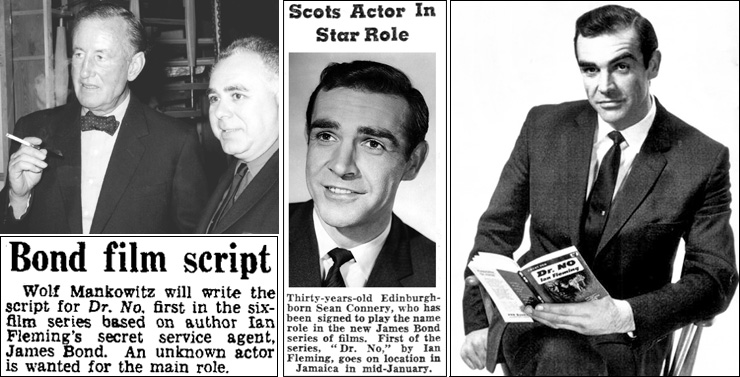 ABOVE: (top left) Author Ian Fleming with Canadian-born producer Harry Saltzman, who took out a six-month option on the James Bond novels in late 1960 [pictured on the set of Goldfinger (1964)]. (bottom left) On July 21, 1961 it was announced that Wolf Mankowitz would write the script for the first in a series of six James Bond films. (centre) Scottish actor Sean Connery is announced as James Bond on November 3, 1961. (right) An early publicity still of Sean Connery holding the recently published PAN Books paperback edition of DR. NO.
With time running out on Saltzman's option, the producers entered into a reluctant partnership and agreed to make the films together. After Broccoli's home studio Columbia turned them down the pair flew to New York and met with United Artists executives on June 21, 1961. After a very short meeting UA agreed to finance the first film for a budget of $1 million, and the deal was then announced in industry journals and by the press worldwide on June 29, 1961. The first film at this stage was either going to be based on DIAMONDS ARE FOREVER or DR. NO and would be made by Saltzman's own company Lowndes Productions, instead of Broccoli's Warwick Films. As pre-production work on the first project began, a new company called EON Productions was formed to produce the films, and for tax purposes a second company DANJAQ (the first three initials of Broccoli & Saltzman's respective wives' names - Dana and Jacqueline) responsible for the copyright and trademarks to the characters, elements, and other material related to James Bond on screen. Saltzman's Canadian citizenship allowed them to base DANJAQ in Switzerland.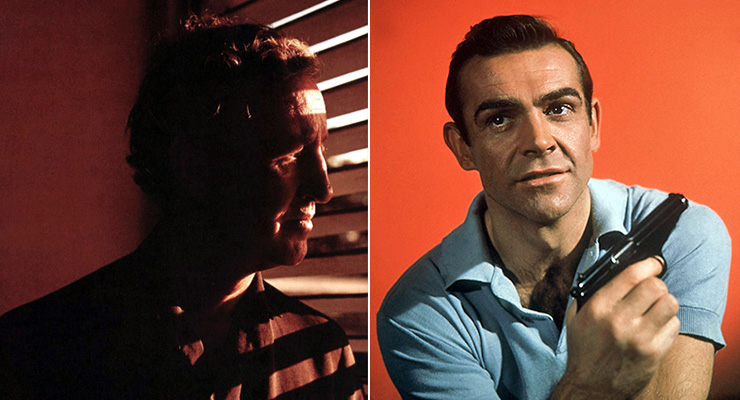 Ian Fleming's most recent novel, THUNDERBALL (1961), was also considered as the first film, but the title quickly became the the subject of a lengthy court battle between the author and Irish filmmaker Kevin McClory. A new screenplay had even been written by Broccoli's frequent collaborator Richard Maibaum and delivered to EON Productions on August 18, 1961, but shelved when he began work on Dr. No. Richard Maibaum's original 1961 Thunderball screenplay is barely recognisable as the style of James Bond scripts that would follow. Ian Fleming's 1958 novel DR. NO had itself been based upon a script written by the author for a proposed US TV series, to be called Commander Jamaica. Four of the short stories in the FOR YOUR EYES ONLY anthology (1960) had also been based on scripts for this proposed TV series. Harry Saltzman entrusted Johanna Harwood with the adaptation of DR. NO, although he had originally approached acclaimed TV writer Nigel Kneale (1922-2006), with whom he had recently collaborated on several Woodfall Productions, but the mercurial Manxman declined the offer. Broccoli's friend Wolf Mankowitz also delivered a 102-page draft that included the idea of Doctor No being the name of the villain's pet monkey! Mankowitz then stepped away not wishing to take any screen credit on the project. The producers wanted to remain close to Fleming's original so far as was possible. The final screenplay was based on elements from all adaptations, and ultimately credited to Richard Maibaum, Johanna Harwood and English author John Evan Weston-Davies – known as Berkely Mather. Harwood stayed with EON Productions and co-wrote the screenplay to Call Me Bwana (1963) with Richard Maibaum, and then adapted FROM RUSSIA, WITH LOVE and GOLDFINGER for the screen, although would be uncredited on the latter together with Berkely Mather, who had written the second draft.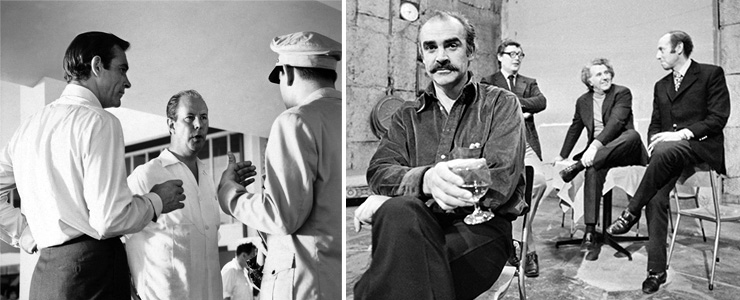 ABOVE: A LASTING BOND (left) Sean Connery with director Terence Young (and Reggie Carter) at Palisadoes Airport on the first day of location filming on Dr. No (1962). Terence Young had first directed Sean Connery in Action of the Tiger (1957). The pairing would continue with From Russia With Love (1963) and Thunderball (1965). Their friendship lasted until Terence Young's death in 1994. (right) Acting as an Associate Producer on Dr. No was Stanley Sopel - a role he would repeat on the next six James Bond films. When Sean Connery departed the EON Productions series for the final time in 1971 he set up his own company to produce The Offence (1972). Tantallon Films was a four-man partnership between Connery, his agent Richard Hatton, British film producer Denis O'Dell, and seven time James Bond associate producer Stanley Sopel [above L-R], with whom Sean Connery had remained on good terms since their first meeting on Dr. No in 1961.
Also involved in the production of Dr. No from day one as an associate producer was Albert R. Broccoli's frequent Warwick Films collaborator, Stanley Sopel. Many directors were originally considered including Guy Hamilton (who would later direct four James Bond films from 1964-1974), Ken Hughes, Val Guest (who would both direct segments of Casino Royale in 1967) and Bryan Forbes (1926-2013). Eventually the job went to another of 'Cubby' Broccoli's friends and Warwick Films collaborators, Terence Young, who signed his contract on October 15, 1961, although Harry Saltzman and United Artists were not convinced he was the right choice as director, as he was well-known for going over schedule and over budget. The financier and distributor were also not convinced that Saltzman & Broccoli's choice of actor to play James Bond was right either - however, after a lengthy search they had both agreed that Sean Connery was the man for the job, and offered him the role that would change his life forever! On November 3, 1961, it was announced in the press that 30-year-old Scottish actor Sean Connery had been signed to play Ian Fleming's secret agent James Bond in a new series of films, and that shooting on Dr. No would begin in Jamaica in mid-January 1962.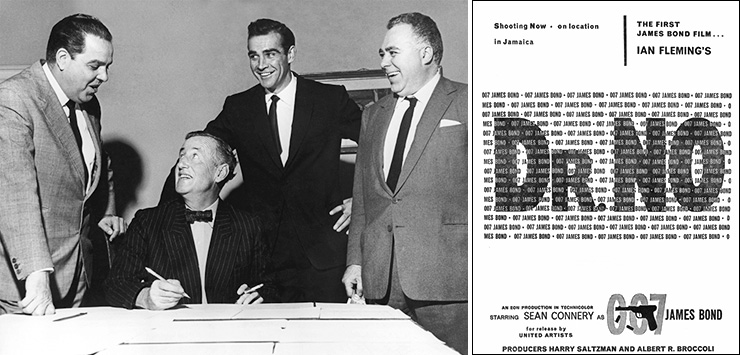 ABOVE: (left) Dr. No Co-producer Albert R. 'Cubby' Broccoli with James Bond author Ian Fleming, actor Sean Connery and EON Productions partner Harry Saltzman. (right) A trade magazine announcement confirming the start of location shooting on the first James Bond film in Jamaica.
Although Sean Connery had refused to take part in a formal screen test, he did agree to play opposite several actresses trying for the role of Miss Taro in a day of tests directed by Terence Young at Pinewood Studios on Thursday December 21, 1961. The four actresses testing were Talitha Pol (1940-1971) the Dutch model and Sixties fashion icon who is best-remembered for becoming the second wife of John Paul Getty Jr. in 1966; Tina Margo [listed on the call-sheet as Lina]; Violette Marceau and Zena Marshall (1926-2009) - who would ultimately secure the role. It was these tests that finally convinced United Artists that Connery was the right choice after all. Among those testing for the role of Honey Ryder was 19-year-old actress Gabriella Licudi (1941-2022), who would later play the small role of Eliza (one of M's many daughters) in Casino Royale (1967). The sequence chosen for the test was from the scene by the waterfall on Crab Key Island when Honey tells Bond (who is cleaning his Walther pistol with a rag) that Doctor No killed her father. The scene was filmed on a beach set of rocks with a sky backing. Although Ted Moore (1914-1987) was hired as cinematographer on Dr. No the lighting cameraman for the day of tests was Geoffrey Unsworth (1914-1977), later the celebrated director of photography on Stanley Kubrick's 2001: A Space Odyssey (1968), Bob Fosse's Cabaret (1972) [for which he won an Academy Award], Sidney Lumet's Murder On The Orient Express (1974), Richard Attenborough's A Bridge Too Far (1977), Richard Donner's Superman: The Movie (1978) [the film is dedicated to Unsworth]. Unsworth ended his career with Roman Polanski's Tess (1979), which earned him a second Academy Award. Geoffrey Unsworth died of a heart attack at the age of 64 during filming in France, with the Oscar presented posthumously and shared with cinematographer Ghislain Cloquet (1924-1981), who finished the film.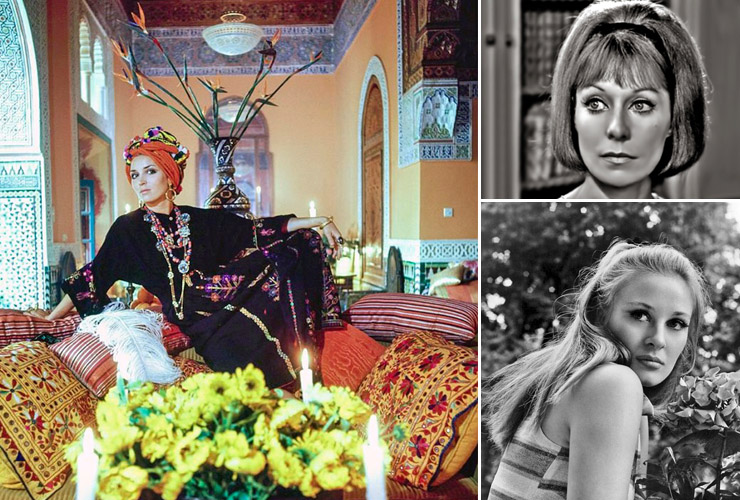 ABOVE: (left) Dutch model and Sixties' fashion icon Talitha Pol (then married to John Paul Getty Jr.) photographed in her Marrakesh living room by Patrick Lichfield (1939-2005) for Vogue January 1970. (top right) Violette Marceau who also tested for the role of Miss Taro in Dr. No. (bottom right) Testing for the role of Honey Ryder was 19-year-old actress Gabriella Licudi , who would later play the small role of Eliza (one of M's many daughters) in Casino Royale (1967).
BELOW: (left) EON Productions' unit progress report for the day of tests at Pinewood Studios on December 21, 1961 directed by Terence Young and photographed by Geoffrey Unsworth. [inset] Sean Connery played opposite the several actresses testing for the role of Miss Taro and also posted for publicity stills. It was these tests that finally convinced financier and distributor United Artists that Sean Connery was the right choice for the role of James Bond. (bottom right) Zena Marshall who would ultimately secure the role of Miss Taro, and would accompany Sean Connery to the Gala Screening of Dr. No at the London Pavilion on October 5, 1962.