"All this and much Moore!" – Live And Let Die at 50
KEVIN HARPER looks back at the production of Live And Let Die, released 50 years ago as the eighth entry in the long-running James Bond film series. Starring Roger Moore in his debut film as 007, Live And Let Die proved that cinemagoers were willing to embrace a new actor in the role, and one who would successfully portray James Bond on six further occasions over the following 12 years.
After the relatively poor box-office receipts of On Her Majesty's Secret Service (1969) when compared to its predecessors, Sean Connery had been tempted back to the role of James Bond for a record-breaking fee in Diamonds Are Forever (1971), but had made it clear that his return was a one-off, despite attempts by distributor United Artists and American screenwriter Tom Mankiewicz to lure him back again. Connery had been very happy with Mankiewicz's contribution to the script for his comeback as 007, and in a 1971 BBC-TV interview claimed it was one of the best of the series. Live And Let Die had been announced as the next film in the series in the end credits of Diamonds Are Forever, and Mankiewicz [pictured below] had begun work on a script inspired by the popularity of a series of so-called 'Blaxploitation' movies in the early Seventies, developing a new storyline for Ian Fleming's second James Bond novel, updating the crime, smuggling and voodoo themes for a modern audience. For the first time in its history the James Bond franchise was now following current cinema trends rather than initiating them, hoping to lure in the huge African-American audience then embracing the revolution in black cinema.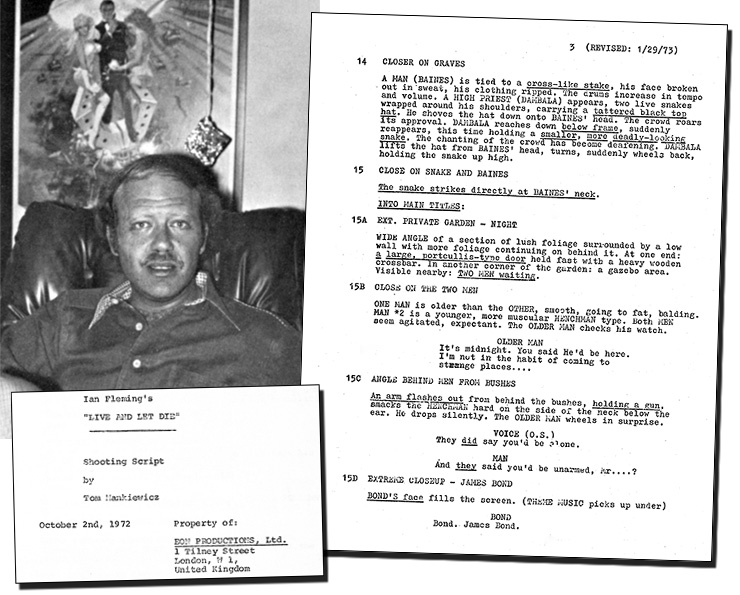 With Sean Connery adamant that he was not returning to the series after the hugely successful Diamonds Are Forever (1971), the filmmakers began searching for a new actor to play James Bond for the second time in five years; among those tested at Pinewood Studios between 5th and 7th June 1972 were British actors Jeremy Brett, Michael Billington, and Julian Glover [who would later play Kristatos in For Your Eyes Only (1981)]. Even John Gavin, who had originally been cast as Bond in Diamonds Are Forever was considered again, with American actor Burt Reynolds being favoured by director Guy Hamilton. Clint Eastwood was also approached by United Artists behind the producers back, but ultimately Albert R. Broccoli was still convinced that Bond needed to be played by a British actor.

ABOVE: Roger Moore with producers Harry Saltzman & Albert R. Broccoli as he is announced as the new James Bond at a press conference held at the Dorchester Hotel in London on August 1, 1972.
Roger Moore was an immensely popular television actor and well-known to audiences internationally via his performances in Ivanhoe (1958-1959), The Alaskans (1959-1960), Maverick (1959-1961), The Saint (1962-1969), and The Persuaders! (1971-1972). Moore had been considered (but never tested) for the Bond role before, and was friends with Bond co-producer Harry Saltzman. Although filled with glamorous European locations, the interiors for The Persuaders! were filmed at Pinewood Studios at the same time as Diamonds Are Forever (1971), and Roger Moore and Sean Connery would often get together after work, and maintained a lifelong friendship until Moore's death in 2017. Roger Moore also accompanied Sean Connery to the press screening of Diamonds Are Forever (1971) at the ODEON Leicester Square on the morning of Thursday December 29, 1971.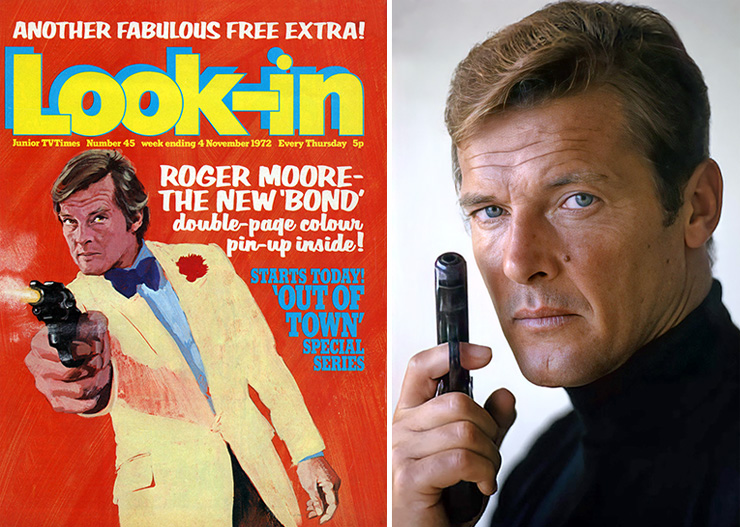 ABOVE: (left) Weekly children's magazine Look-in [the junior TV Times] announced the casting of Roger Moore as the new James Bond three months after the press conference on August 1st, with an illustrated front cover by Italian commercial artist Arnaldo Putzu (1927-2012) showing Moore with long hair as seen in The Persuaders! TV series. (right) A series of official publicity photographs shot by renowned British photographer Terry O'Neill (1938-2019) showed Moore after having his hair styled for the role of 007, and in a more iconic 'Bond-like' pose with a Walther PPK. Terry O'Neill also photographed a series with the principal cast in different poses (top of this page), and others (below) of Roger Moore in different costumes (some holding a Smith & Wesson .44 magnum revolver) that were used throughout the advertising campaign on (bottom right) on the cover of Moore's account of the filming of Live And Let Die (actually ghost-written by EON Productions publicist Derek Coyte from Moore's audiotape dictation notes) published in paperback by PAN Books in the UK.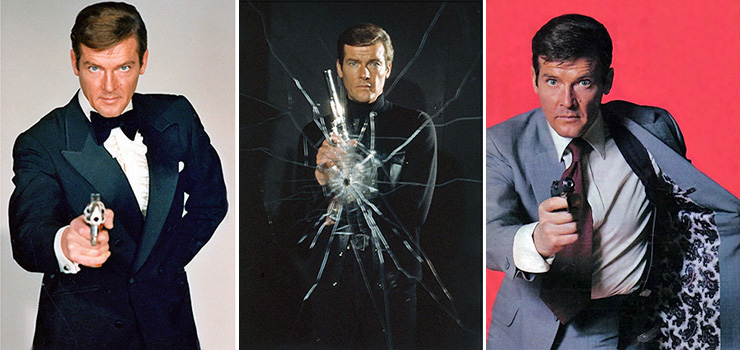 Roger Moore declined to sign for a second season of The Persuaders! knowing the Bond role was now available. On August 1, 1972 Roger Moore was announced as the new James Bond at a press conference held at the Dorchester Hotel in London. Ironically, Moore had already played James Bond in a 1964 television comedy sketch on Mainly Millicent – with popular English actress, singer, and comedienne Millicent Martin.
---
---