After waiting 12 years for Sean Connery to return to the role that many considered to be his and his alone, the release of Never Say Never Again in 1983 came as a major disappointment for many Bond fans around the world. In 2002, 007 MAGAZINE published the definitive article on the making of Never Say Never Again, which explored the reasons behind why the film failed to live up to expectations, and the myriad problems that befell the production before, during, and after shooting. An edited version of this article is now presented here to commemorate the 40th Anniversary of the film's release.
The Making of Never Say Never Again
2002 article by MATTHEW FIELD, edited and updated by KEVIN HARPER & GRAHAM RYE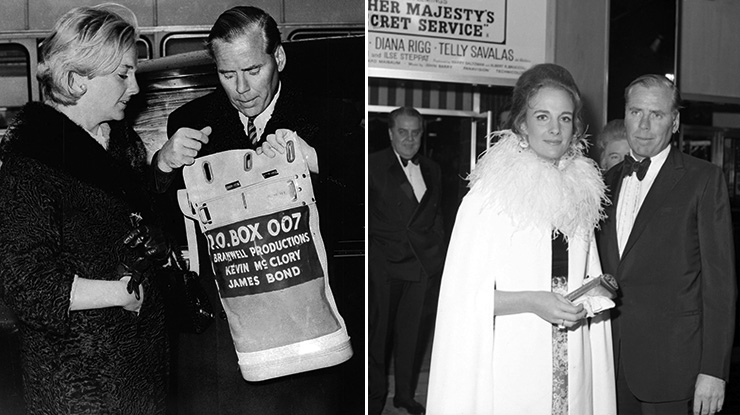 ABOVE: Following his acquisition of the THUNDERBALL screen rights in 1963, Kevin McClory set up the first of many holding companies used during the production of his various film projects. The first of these was called Branwell Productions, named after his son born in 1963 shortly after his marriage to American heiress Frederica Ann Sigrist – known as 'Bobo'. Branwell Productions arranged the locations facilities for Thunderball (1965), which was solely produced by Kevin McClory. EON Productions had licenced the rights to THUNDERBALL from Kevin McClory in 1964 in order to make the fourth James Bond film starring Sean Connery as 007. Thunderball Executive co-producers Harry Saltzman & Albert R. Broccoli [pictured above right] were clearly still on good terms with Kevin McClory in 1969 as they invited him, and his wife 'Bobo', to the Royal World Charity Premiere of On Her Majesty's Secret Service, held at London's ODEON Leicester Square on December 18, 1969.
The story of the making of Never Say Never Again really begins in 1976 after Kevin McClory's 10-year contractual exclusion made between himself and EON Productions had expired. In 1975 Harry Saltzman's personal financial difficulties had forced him to sell his share of the James Bond franchise to United Artists, and Albert R. 'Cubby' Broccoli became the sole producer of the film series. Since Thunderball, EON Productions had released a further five 007 adventures. EON's release the previous year, The Man With The Golden Gun, had been a medium-sized success in comparison to past giants. The future of the series now rested on the success of James Bond #10. Broccoli was deeply involved in preparing his first solo effort, The Spy Who Loved Me, starring Roger Moore, but was suddenly faced with an almighty shock that put even more pressure on the veteran producer.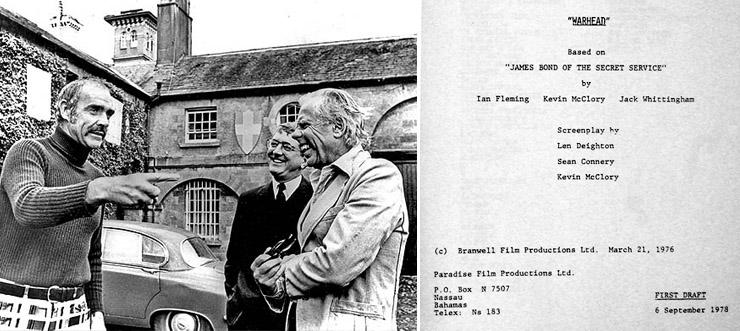 ABOVE: (left) Sean Connery with author Len Deighton and producer Kevin McClory during their development of the 'Warhead' script in the mid-1970s, at McClory's Irish home Straffen House. (right) The first draft script was dated 6 September 1978 and based on the screenplay 'James Bond Of The Secret Service', originally written by Ian Fleming, Kevin McClory and Jack Whittingham in 1958.
On May 12, 1976, Kevin McClory placed a whole-page advertisement in the industry publication, Variety, announcing 'James Bond of the Secret Service'; a Paradise Production would begin shooting in February 1977. Kevin McClory had shrewdly united best-selling thriller writer Len Deighton and none-other than Sean Connery, to collaborate with him on a screenplay for a possible re-make of Thunderball. McClory had first approached Sean Connery in 1975 while he was finishing production on The Wind And The Lion, and finally persuaded the star to take part in the project when the actor visited McClory's home, Straffen House in County Kildare, Ireland, with a host of other stars to support a charity for handicapped children. McClory commented, "I knew Sean didn't want to play Bond again but he knows more about Bond than anyone else and he has a vast number of ideas about what Bond can do. He did not just contribute throwaway lines, he also got involved in the construction of the plot, and he's a very good storyteller. He writes visually. He made enormous contributions, and we all got on very well." The screenplay was titled 'Warhead', and the three men worked as a team, both in Ireland and at Connery's home in Marbella over the course of four months. The screenplay featured the head of SPECTRE, working from an underwater fortress called Aquapolis. Connery, unaware that legally they had to stick to the plot of the original, enthusiastically spoke about the finished screenplay, "You know these aeroplanes that were disappearing in the Bermuda Triangle? We had SPECTRE doing all that. There was this fantastic fleet of planes under the sea; a whole world of stuff had been brought down. They were going to attack the financial nerve centre of the United States by going in through the sewers of New York, which you can do, right into Wall Street. They'd have mechanical sharks in the bay and take over the Statue of Liberty, which is quite easy, and have the main line of troops on Ellis Island."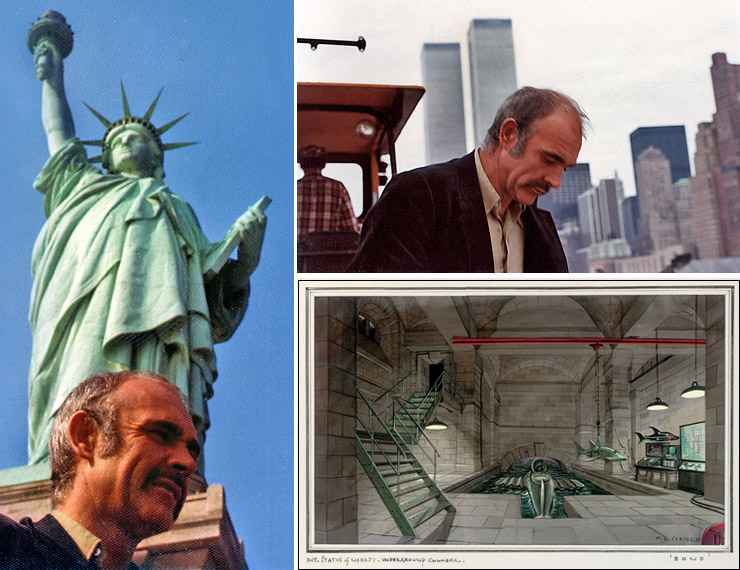 ABOVE: (left) Sean Connery takes part in location scouting in New York for 'Warhead' in 1978. The Statue of Liberty was one of the landmarks featured in the script he had co-written with Len Deighton and Kevin McClory. (top right) Sean Connery on board a boat in Hudson Bay - note the Twin Towers of the World Trade Centre in the background. (bottom right) A unique pre-production concept illustration by Maurice George Carter (1913-2000) sold in auction for £3,500 at Christie's in 2009. The artwork depicts a chamber beneath the Statue of Liberty showing a dock with a submarine, and a robot 'Hammerhead' shark hanging above on a simple pulley-system
Cubby Broccoli's camp was quick to respond to the Paradise announcement. United Artists' chairman Arthur Krim (1910-1994) placed a responding whole-page advertisement in Variety stating 'DANJAQ and United Artists are entitled, through the rights granted by Ian Fleming and the Fleming estate, to the exclusive use in the future of the "James Bond 007" character, except for "Thunderball". The exception as to Thunderball is strictly limited to the use of the character in remakes of (films of) the story of "Thunderball", with the right to use the name of the character in the advertising and exploitation of any films of "Thunderball", without the right to use "Thunderball", "James Bond" or "007" in the title, and does not extend one whit beyond this. Accordingly, except as stated, no person, co-operation, or entity other than DANJAQ and United Artists can use, or grant rights to use, the character "James Bond 007" in any other film which goes beyond the story of "Thunderball", and anybody who proceeds on any other premise does so at legal peril."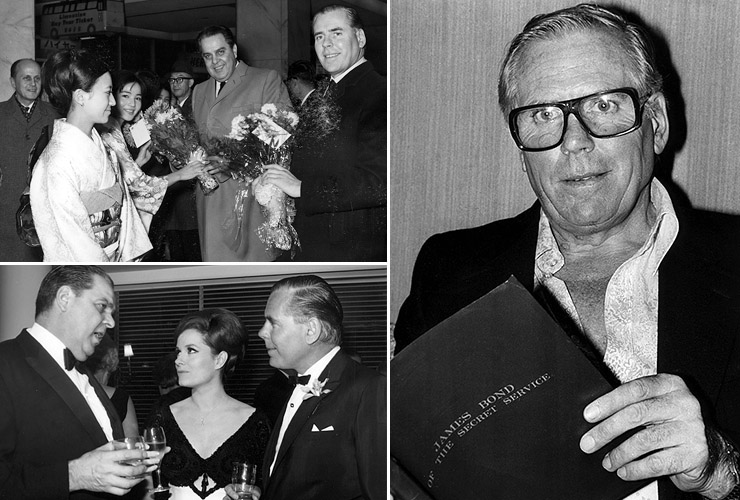 ABOVE: (top left) Albert R. Broccoli and Kevin McClory are greeted at Tokyo airport as they arrive in Japan for the World Premiere of Thunderball, held at the Hibiya Theatre on Thursday December 9, 1965. (bottom left) Albert R. Broccoli, Luciana Paluzzi (Fiona Volpe) and Kevin McClory at the Dublin premiere of Thunderball, held at the Savoy cinema on February 10, 1966, and (right) a decade later Kevin McClory holding the script for 'James Bond Of The Secret Service'.
Albert R. Broccoli and EON Productions were concerned that Kevin McClory was breaching his rights, and that the 'Warhead' screenplay was more than just a simple remake of Thunderball, and he was in fact introducing new material. But McClory ploughed on, determined that 'Warhead' would go before the cameras in 1977, with locations to include Nassau, New York, and Japan. "If you visualise Star Wars underwater, your get some idea of our story," he proclaimed. When McClory originally approached Sean Connery it was on the understanding he would take part primarily as a writer only, but as work on the screenplay came to an end, McClory proposed that Connery should also star as James Bond in the movie. After much consideration Connery agreed to star in the film. McClory saw this as an excellent weapon in his battle against Broccoli and EON Productions. Connery was still under the management of Dennis Selinger at the time, but years later Selinger was to comment, "I didn't want him to do it, but once he had made up his mind, I didn't try to stop him… I'm sure he just did it out of pique to Broccoli & Saltzman."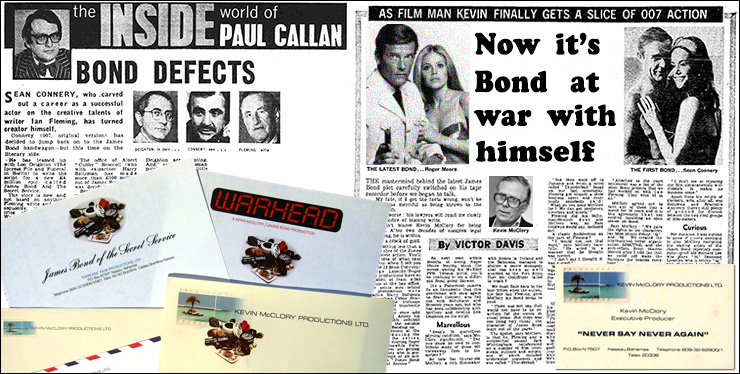 ABOVE: (left) The Daily Mirror January 27, 1976 reports on Sean Connery's collaboration with Len Deighton on the script for a new £4-million epic called 'James Bond And The Secret Service' [sic]. (right) The Daily Express reported on September 4, 1978 that Paramount Pictures were preparing a budget of £9-million for 'Warhead'. (also pictured) Various letterheads and business cards relating to the different titles used by Kevin McClory for the project that ultimately reached the big screen as Never Say Never Again in 1983.
Throughout the late Seventies, McClory tried to interest every film studio in Hollywood in his project, selling the prospect of "a Sean Connery remake of Thunderball." Every time it was treated with caution, with armies of lawyers and studio executives examining his evidence and rights. By 1978, McClory had interested studio giant Paramount Pictures in the project. The Daily Express reported on September 4, 1978 that Paramount were preparing a budget of £9 million for 'Warhead'. McClory later claimed "It's a major motion picture, we've got a budget of $22.5 million… At the moment, we're hoping Orson Welles will play Blofeld. This is for me marvellous, and then for M, Trevor Howard." It was while Paramount were preparing their colossal offer, that 'Warhead' ran aground. When it seemed that McClory's project was looking increasingly realistic, The Ian Fleming Estate sued, while Broccoli's camp was doing everything in their power to bring down the movie. It was here that Sean Connery decided to walk away from the project. Connery commented, "The legal factors were harder to go through than to make the film, I said 'That's enough!' And I walked away from it. When I first worked on the script with Len, I had no thought of actually being in the film. It wasn't until my wife Micheline suggested it would be fun to try it again that I agreed. But it's clearly not on the cards now."
---
---