"Dalton is an extremely gifted actor who has excelled in Shakespeare and in a variety of film and TV roles across seven different decades now. However, it has always intrigued me how little we really know about his personal life and family background.
He is an intensely private man and for many years this has added to the fog of mystery surrounding him. For example, there has been a long-running disagreement about his year of birth and even persistent rumours that his real name isn't Timothy Dalton at all!
Through my archival research for 007 MAGAZINE I'm delighted to say that I have been able to discover the truth and have also uncovered some fascinating information about Dalton's ancestors, whose amazing accomplishments in the military and showbusiness clearly provided the ideal breeding ground for a future 007!"

According to Timothy Dalton's entry of birth he was born on 21 March 1946 (not 1944, as some websites and sources claim), the son of Peter Dalton Leggett and his wife Dorothy (née Scholes).
Confusingly, although Dalton's entry of birth records his name as Timothy Leonard Dalton, he is listed in the England and Wales Civil Registration Birth Index as Timothy L. D. Leggett. Whether his parents intended Leggett to be one of his given names is unclear.

Williams also dug into the past of Dalton's father and grandfather in search of further information about the Leggett and Dalton surnames.

He discovered that although Dalton's father's officially registered birth name was Peter Dalton Leggett, his own father - Timothy Dalton's grandfather - had no familial claim to the Dalton name at all, and was actually named Albert Joseph Leggett.

"The surname Dalton only became associated with the family when Albert entered the world of showbusiness," Williams explains. "Albert was born in Battersea on 27 October 1877 and a detailed obituary published in The Stage newspaper after his death in 1957 reveals much about his fascinating life and background."

According to this obituary, as a youngster, Albert developed a passion for showbiz, skipping choir practice to conduct "surreptitious" visits to the variety and music halls. When his disapproving parents discovered what he had been doing they confronted him with "forecasts of impending disaster" if he attempted to pursue a career as a performer.
To placate his parents, Albert attempted to fulfil familial expectations with a period of employment at a firm of City solicitors, but he soon abandoned the legal profession for the bright lights of the music halls and theatres.
The Stage claim that Albert's decision earned him the "sternest parental dis-association" and he subsequently adopted the name of 'Will Dalton', possibly as a way of signalling a break from his parents.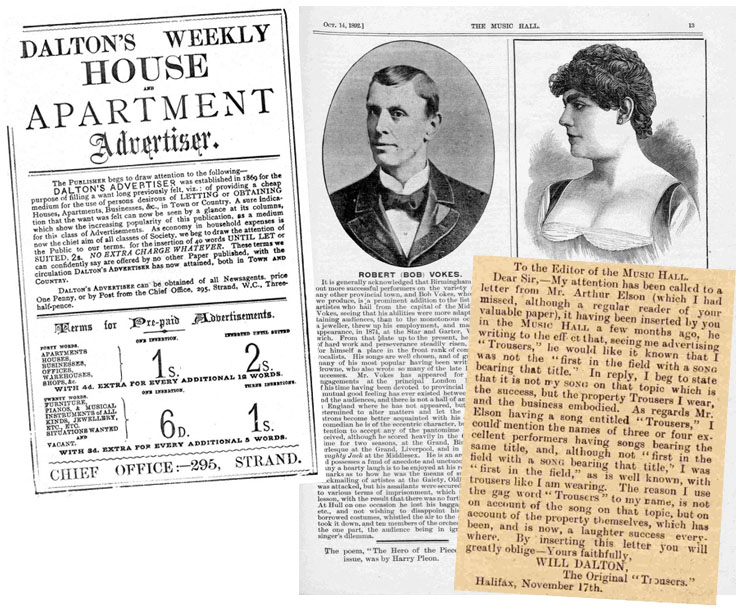 The Dalton surname was "cribbed from the well-known publication" Dalton's Weekly Advertiser, a popular journal established in 1869 for "the purpose of… providing a cheap medium for the use of persons desirous of letting or obtaining houses, businesses, etc in town and country".

Will Dalton soon carved out a niche for himself as a popular comic, entertainer, dancer, actor and singer, treading the boards at venues as diverse as the army base at Aldershot Plains, the Empire theatre in Bristol, and in South Africa during the second Boer War.
In 1895 the Music Hall and Theatre Review, a popular showbiz journal of the day, remarked, "Will Dalton is a smart eccentric comedian, and is getting popular. His army song, 'Johnny,' is well worked, and altogether is a good turn."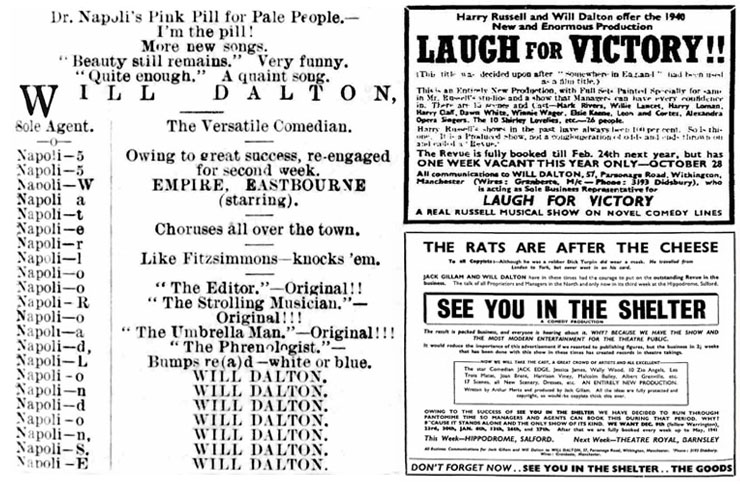 Will Dalton was managed by the colourful Waterloo Road based agent Felix Napoli, the son of an Italian strongman nicknamed 'The Italian Hercules'. An 1897 trade ad in the London and Provincial Entr'acte described Dalton as a "versatile comedian", who "like Fitzsimmons, knocks 'em" (a reference to the Cornish-born world heavyweight champion boxer Bob Fitzsimmons).

On stages across the British Isles, Dalton rubbed shoulders with many of the leading entertainers of the day; in 1896 he appeared at the Alhambra Theatre of Varieties in Sandgate on the same bill as Charles Chaplin Sr, an entertainer whose son Charlie – of course – would go on to become one of the greatest comedians and film stars the world has ever seen.
By the turn of the century, however, Will Dalton had decided to move away from performing and instead establish his own theatrical booking and promotional agency. It was in this sphere that he would work consistently and prolifically over the next few decades until his death in 1957, finding, nurturing and presenting myriad new talents, often from the provinces, including ventriloquists, song and dance acts, comedians and many more.

Will's decision to settle into life as an agent rather than a performer was probably influenced by his December 1899 marriage to Amelia Hodgkiss and the onset of family life.

Amelia - whose family came from Birmingham - was also linked to the showbiz world. Her father - Timothy Dalton's maternal great-grandfather - was a famous comedian, Bob Vokes, and Amelia herself "a pleasing ballad vocalist", who performed under the name 'Millie Vokes'.

Will Dalton's Agency was based in Manchester, firstly in Matlock Avenue in West Didsbury and then a mile down the road in Parsonage Road, Withington.

Dalton had a reputation for being "honest and straight" and was regarded as extremely hard-working and enterprising. In a 1906 letter to The Era he claimed, "I found more new turns while an agent than any other person in my line of business has done in the same space of time".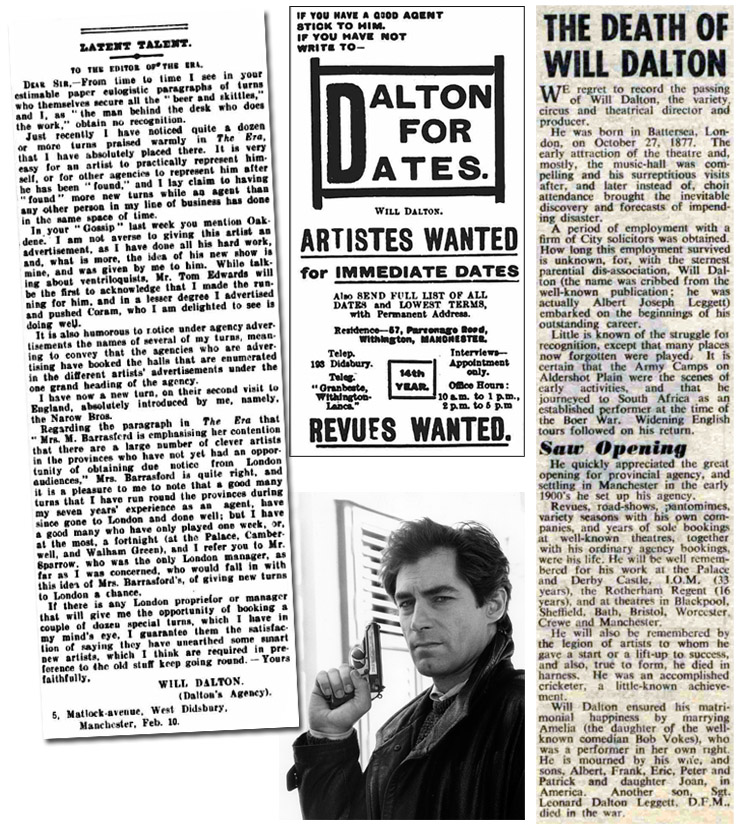 Ads for Dalton's Agency appear regularly in early 20th century editions of showbiz journals and advertisers; one such ad – in The Era in 1914 - declared: "If you have a good agent, stick to him. If you have not, write to: Dalton for Dates!"
Will Dalton enjoyed some major successes during World War II, co-producing two popular comedy revue shows entitled 'Laugh for Victory' and 'See You In The Shelter' in 1940 and 1941. Of the latter show, which starred Jack Edge, who regularly featured on BBC Radio and was regarded as one of the 'King Pins of Comedy', the Crewe Chronicle wrote: "The ready adaptation of Britishers to the new mode of living is vividly portrayed … full of funny and original scenes".

Birth records suggest that Will and Amelia possibly had as many as eight children, although The Stage obituary refers to seven. 007 MAGAZINE's research has revealed some fascinating details about how World War II touched the lives of two of their sons - Peter and Leonard.