In 2021, the biggest sin perpetrated by the 25th Bond film, No Time To Die, was that it wasted one of Ian Fleming's finest ideas, 'The Garden of Death', from his penultimate novel, YOU ONLY LIVE TWICE, and used it as little more than a footnote in the film's screenplay; the last unused plot point in the entire Bond canon was merely crammed into the narrative because, of course, they had to include the obligatory Fleming reference. See? We still go back to Fleming! Other than that, the legal credit Ian Fleming's James Bond 007 had never felt so hollow.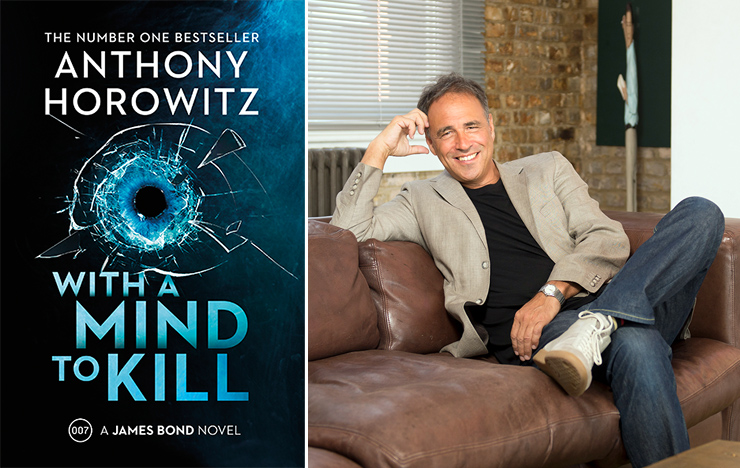 Which brings me to the problem with this - Anthony Horowitz's third (and allegedly final) Bond novel: instead of standing on its own two feet, it recycles Fleming's ideas instead of continuing them. Horowitz acknowledges "Robert Markham" merely as another writer who had a try at continuing directly after Fleming, but what makes Markham's (Kingsley Amis') COLONEL SUN unique is that "Markham" was the only writer who had the privilege of writing immediately after Fleming's death - the novel being written within roughly the same historical period in which the story is set.

WITH A MIND TO KILL is by no means the first period continuation Bond novel. Starting with the surprisingly good YOUNG BOND novels by Charlie Higson, Ian Fleming Publications has mostly tried to set themselves apart from the movie version of James Bond by commissioning Bond novels set during the cold war – this, only after having allowed an American with no fiction writing credentials to indulge in what can only be described as third-rate fan fiction. It is not even the first novel to rewrite the events after THE MAN WITH THE GOLDEN GUN. In 2008, Sebastian Faulks gave us DEVIL MAY CARE, which ignored the events of COLONEL SUN altogether and was set some 18 months after we left Bond at the end of Fleming's final novel. Fleming was not precisely what you'd call the strictest chronologist, but his novels can be read in the same order they were published without much trouble, whereas this latest novel can only be accepted if we ignore Markham's 1968 entry. I'm not a fan of alternate universes in literary sagas. Surely there's an entire decade (the 70s) in which not a single Bond novel is set. Do we have instead to have three novels set in the same timeline only so they can claim to be following Fleming's footsteps?

WITH A MIND TO KILL aims at exploiting the early elements of THE MAN WITH THE GOLDEN GUN. That novel is unique in that its beginning promises a much more interesting story than the one we end up with. Obviously inspired by the success of dirtier novels such as Le Carré's and Deighton's, Fleming got into true cold war material that screamed for further development, only to be let down by his failing health into delivering a recycled GOLDFINGER. Horowitz begins from this juncture by taking off from Bond's attempt to assassinate his boss, M. The problem is, that as Fleming did not develop that storyline further, we're expected to believe that the plot to fool the Soviets in Horowitz's novel occurs only after Bond has returned from his Jamaican assignment. It's the problem of writing by committee: you can ignore COLONEL SUN and DEVIL MAY CARE, but you can't ignore any of Fleming's novels because they are canon. WITH A MIND TO KILL would have been a much finer novel if it had followed directly after the attempted assassination and de-brainwashing, even if that had meant ignoring the events surrounding Francisco Scaramanga. That way, Horowitz would have had more freedom to manipulate the material. As it happens, the outcome is somewhat predictable: M's assassination is faked for the Russians to recruit Bond. It could have been more radical, with Bond indeed escaping after the botched attempt, with MI6 hot on his heels. The way it is presented by Horowitz it is too safe. The tension doesn't start until Bond is abducted by the Russians and, unfortunately, that eats a lot of the page count.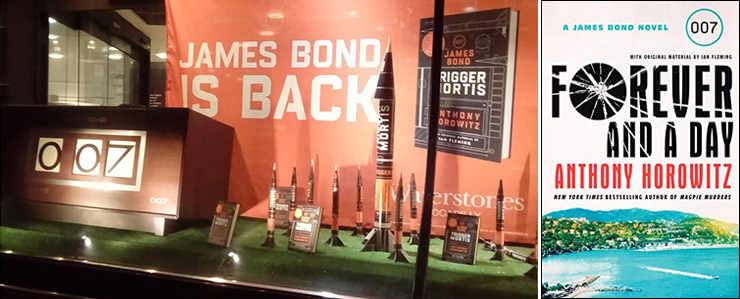 This essentially reduces the story development to Bond waiting for the villains to reveal their scheme - and here's my biggest complaint about WITH A MIND TO KILL: it's so clearly a rehash of The Man Who Knew Too Much (1934). Sebastian Faulks' novel was criticized for its similarity to an obscure spy movie (and novel), Where The Spies Are (1966), which currently will only have been seen by film obsessives who haunt TCM and other such channels, but Hitchcock's film (especially the 1956 remake) is obligatory watching even for casual movie and spy buffs). I won't go into details in case you happen not to have seen the original, let's suffice to say that I saw it coming in the novel before it was revealed - which is a pity, because the novel is well written, and Horowitz does know Fleming's Bond better than any other writer I can think of. One chapter, while Bond is under Russian care before the big reveal, portrays the character exactly as Fleming would have. His dialogue, his attitude, is all genuine. Horowitz gave us one truly memorable Bond novel the first time around with TRIGGER MORTIS, that followed on directly after GOLDFINGER, and still managed to be its own thing, but his latest effort is disappointing in that it could have been so much more, it could have opened the possibility for a series of direct continuations, maybe a trilogy. As it stands, it is fun and disposable (and very short) and aimed only at very forgiving, loyal fans.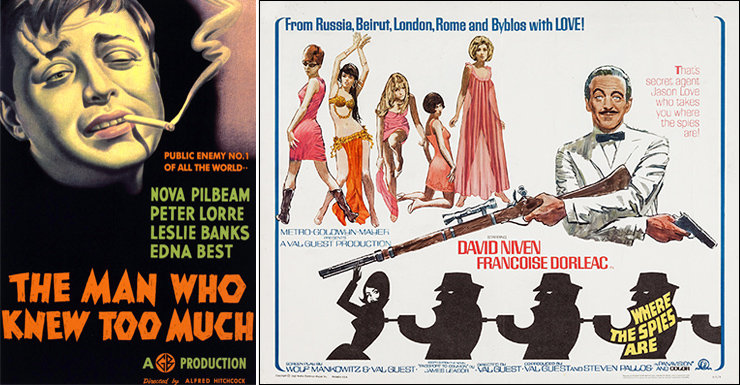 ABOVE: A CURIOUS BOND! (left) Slovakian born actor Peter Lorre (1904-1964) whose first English speaking role was in Alfred Hitchcock's classic thriller The Man Who Knew Too Much (1934). Lorre would later play Le Chiffre in the 1954 live US television version of Casino Royale opposite Barry Nelson as James Bond. (right) Where The Spies Are (1966) was a British comedy-adventure film starring David Niven as Doctor Jason Love based on the 1964 James Leasor novel Passport to Oblivion. Niven would play Sir James Bond in the 1967 spoof film version of Casino Royale. Where The Spies Are was directed by Val Guest who also directed David Niven in his segments of Casino Royale (1967). The screenplay of Where The Spies Are was co-written by Val Guest and Wolf Mankowitz, who was also the primary screenwriter of Casino Royale (1967), and had earlier been one of the screenwriters on the first James Bond film Dr. No (1962) although he did not want to take a credit for his contribution. Mankowitz was also the man who had introduced producers Harry Saltzman & Albert R. Broccoli in 1961.
In 2020 James Leasor's Passport To Oblivion was produced as an audiobook with one-time James Bond George Lazenby playing Dr. Jason Love.
Donovan Mayne-Nicholls was born in 1971. He graduated as a bachelor in English language from the Pontifical Catholic University, Chile, with a thesis analysing the short stories of Ian Fleming. He occasionally writes about movies for local online publications.