Guy Hamilton lives mainly in Majorca these days, and is a rare visitor to these shores, but his appearance was especially welcome as he has a wealth of stories from his long and distinguished career. He was also very popular, not having attended an official signing event before, and like all the other Bond guests posed for photographs and had a very busy weekend.
Norman Wanstall is without doubt one of the nicest and most genuine people you could ever meet, and armed with his Oscar for sound editing on Goldfinger, was a major draw.
Joe Robinson also had a great weekend, meeting up with many old friends including Brian Blessed, who he taught Judo back in the Sixties, and the evergreen Carol Cleveland of Monty Python fame.
Together with Fred Bryant (Graham's friend of over 40 years), I spent the weekend manning the 007 MAGAZINE stand in the exhibitors' area. We had a very busy weekend as we were selling 007 MAGAZINE issue #47, hot off the presses and featuring Ursula on the cover, and a number of very rare autographed James Bond items.
Apart from a few minor scheduling hiccups, and a lower turnout than the organisers expected on Sunday, the event went off without a hitch, and I think both guests and visitors had a great time. I'm sure they'll be many people who'll regret they didn't attend.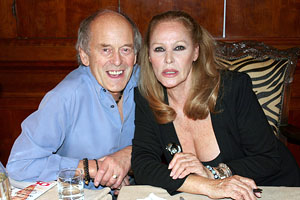 Oscar Winner Norman Wanstall with Ursula Andress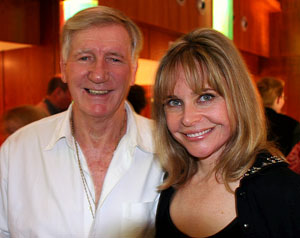 Joe Robinson with Priscilla Barnes