Ian Fleming Publications 70th Anniversary Paperbacks 2023
Cover design by Webb & Webb Design Ltd.
On October 5, 2022 Ian Fleming Publications announced they would issue the James Bond novels in paperback in the UK in 2023 under their own imprint to celebrate 70 years since the release of CASINO ROYALE. The new covers were revealed on March 13, 2023 - a month ahead of their publication on April 13th. On February 26, 2023 it was revealed that Ian Fleming Publications had commissioned a review by sensitivity readers, and several edits had been made to the text in some novels.

Each book now carries the disclaimer: "This book was written at a time when terms and attitudes which might be considered offensive by modern readers were commonplace. A number of updates have been made in this edition, while keeping as close as possible to the original text and the period in which it is set."
In addition to the changes to LIVE AND LET DIE approved by Ian Fleming for the first US publication in 1955, other edits have been made to some novels. The 70th Anniversary series also includes new editions of Ian Fleming's non-fiction works The Diamond Smugglers (1957) and Thrilling Cities (1963). The new covers were designed by Webb & Webb Design Ltd.
CASINO ROYALE

LIVE AND LET DIE
MOONRAKER

DIAMONDS ARE FOREVER

FROM RUSSIA WITH LOVE

DR. NO
GOLDFINGER

FOR YOUR EYES ONLY

THUNDERBALL

THE SPY WHO LOVED ME
ON HER MAJESTY'S
SECRET SERVICE

YOU ONLY LIVE TWICE

THE MAN WITH
THE GOLDEN GUN
OCTOPUSSY AND
THE LIVING DAYLIGHTS
THE DIAMOND SMUGGLERS

THRILLING CITIES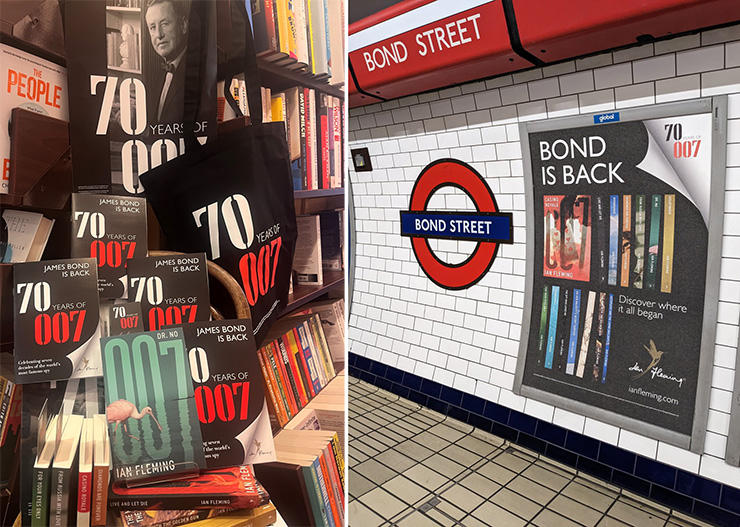 Just in time for Christmas 2023, Ian Fleming Publications released a boxed set of all 14 paperbacks housed in a presentation slip-case. Priced at £135 and limited to just 250 copies, the set was packaged in an exclusive box designed by Webb & Webb, who also designed covers for the latest 007 paperback editions.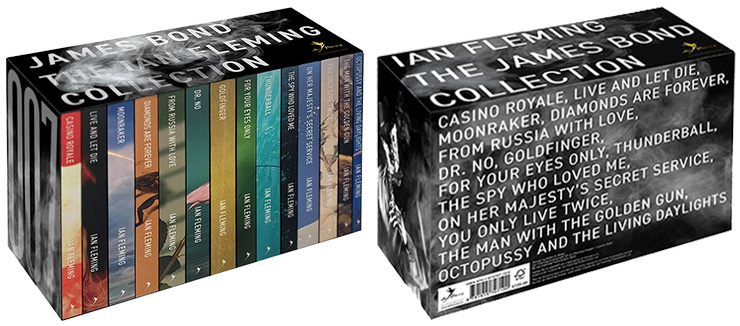 Ian Fleming Publications 70th Anniversary Paperbacks 2023
Three James Bond continuation novels
Cover design by David Eldridge
On August 12, 2023 (the 59th anniversary of the death of the James Bond author) Ian Fleming Publications announced new paperback editions of three James Bond continuation novels to be published on 'James Bond Day' October 5, 2023. COLONEL SUN celebrates the novel's 55th anniversary and features a new foreword by Anthony Horowitz; ZERO MINUS TEN include a new introduction from the author himself, Raymond Benson; and to celebrate the 50th anniversary of the publication of John Pearson's JAMES BOND; THE AUTHORISED BIOGRAPHY, the new edition will feature a new foreword written by Mark Pearson, John's son. The new cover designs are by David Eldridge of Two Associates.
COLONEL SUN
by Kingsley Amis
ZERO MINUS TEN
by Raymond Benson
JAMES BOND:
THE AUTHORISED BIOGRAPHY
by John Pearson

Mark Pearson

---