KEVIN HARPER looks back at the production of From Russia With Love, released 60 years ago as the second entry in the long-running James Bond film series. Reprising his role as 007, Sean Connery consolidated his success as Ian Fleming's Secret Agent in the film that is still widely regarded as the best of the series.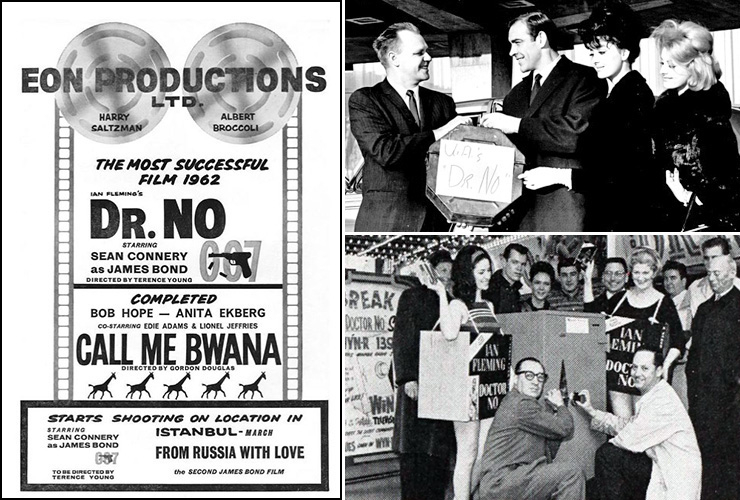 ABOVE: (left) A full-page advertisement in Variety announces the success of Dr. No (1962), completion of Call Me Bwana (1963), and the start of production on the second James Bond film From Russia With Love. (top right) A month before starting work on From Russia With Love Sean Connery undertook a Dr. No promotional tour of four major US cities accompanied by three 'James Bond Girls', starting on March 6, 1963 at the 'SHOW-A-RAMA' exhibitor's convention, held at the Hotel Continental in Kansas City. On March 11th & 12th, the tour reached Chicago where Sean Connery met with the press and was photographed as he arrived at O'Hare airport handing over a print of Dr. No. (bottom right) Two 'James Bond Girls' dressed as DOCTOR NO walking books herald the opening of the first James Bond film, which had its Midwest premiere at the State-Lake Theatre in Chicago on Wednesday May 22, 1963. 200 copies of Signet's movie tie-in paperback were distributed free outside the cinema prior to the opening. The Dr. No opening was also promoted with a street stunt featuring a safe positioned outside the cinema. Clues to the combination of the safe were given out by local radio stations, with a colour television set awarded to the successful safe-cracker!
As filming on the first James Bond film Dr. No neared completion in April 1962, co-producers Harry Saltzman & Albert R. Broccoli, together with distributor United Artists, still had no way of knowing if their $1-million gamble would pay off. The producers went ahead with their next project Call Me Bwana – a comedy starring Bob Hope (1903-2003) and Anita Ekberg (1931-2015), which retained much of the same crew who had worked on Dr. No. The film would be shot at Pinewood Studios, with only the second unit travelling to Kenya for location filming. With a star as big as Bob Hope the film was more or less guaranteed to make money, even if the first James Bond film proved to be less of a hit. The decision was then made to go ahead with the second Bond film, with United Artists allocating a budget of $2-million – double that of Dr. No. Screenwriter Johanna Harwood was asked by Harry Saltzman to begin work on adapting Ian Fleming's fifth James Bond novel FROM RUSSIA, WITH LOVE. With President Kennedy's endorsement in LIFE Magazine in 1961, it seemed the perfect choice as the novel was familiar to American readers, although still not reaching a massive audience. Johanna Harwood delivered her first draft screenplay on August 22, 1962, which stuck pretty close to its source material, but introduced SPECTRE's plot to discredit MI6 as revenge for Bond's successful mission in eliminating their agent Doctor No in the previous film. In the literary timeline FROM RUSSIA, WITH LOVE was actually published in 1957 a year before its follow up, which had Doctor No working for the Russians rather than the fictional SPECTRE, who now replaced the real-life counter-intelligence agency SMERSH as the main protagonists of the story. Following the UK release of Dr. No, production got underway on Call Me Bwana from October to December 1962. Dr. No director Terence Young was then assigned to direct the second James Bond film, and then proceeded to rewrite Johanna Harwood's screenplay, much to her displeasure.

ABOVE: (left) March 25, 1963 Len Deighton, Ian Fleming and Raymond Hawkey meet for the first time at London's White Tower restaurant (right) Fleming and Deighton pose at Purdey & Sons gunsmiths shop in South Audley Street - this photograph accompanied the March 27, 1963 Daily Express half-page article 'Pistols for two when Ian Fleming meets his latest rival', which recounted the historic meeting.
Author Len Deighton, whose first novel The Ipcress File had been published to great acclaim in November 1962, had also been asked to take a look at the screenplay, and he accompanied Harry Saltzman, director Terence Young and art director Syd Cain on a trip to Istanbul to scout locations in December 1962, delivering his draft of the From Russia With Love screenplay in February 1963. The producers were not satisfied with Deighton's take on the story so Richard Maibaum then returned to provide another draft on February 15, 1963. Although the deal with Len Deighton fell through, Harry Saltzman did purchase the screen rights to The Ipcress File, and went on to make three films starring Michael Caine as Harry Palmer (a character un-named in Deighton's novels). On March 25, 1963 Len Deighton was invited to a lunch at London's White Tower restaurant on Percy Street in Bloomsbury, by Daily Express entertainment columnist Peter Evans. Also present were fellow author Ian Fleming and a 33-year-old graphic designer named Raymond Hawkey (1930-2010). The half-page account of the historic meeting between the two authors appeared in the newspaper two days later. Ian Fleming had just returned from Jamaica where he had completed his penultimate James Bond novel YOU ONLY LIVE TWICE, and Raymond Hawkey (who was an art college friend of Deighton) had designed the stylish black-and-white cover for Deighton's debut novel The Ipcress File. Hawkey was then working at the Daily Express and had also provided graphic panels to accompany the newspaper's serialization of GOLDFINGER in 1959, RISICO (re-titled The Double-Take) in 1960, and THUNDERBALL in 1961.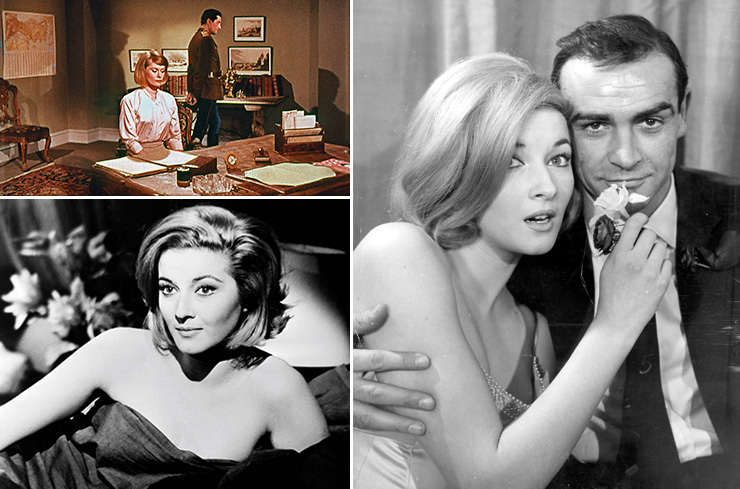 ABOVE: (top left) February 5, 1963 - An unknown actress is tested in the Klebb/Tatiana interview scene, with Anthony Dawson playing Colonel Klebb. (bottom left) Daniela Bianchi was invited to Pinewood Studios to screen test in February 1963 for the role of Tatiana Romanova in From Russia With Love. (right) Daniela Bianchi and Sean Connery at the Connaught Hotel in London's Mayfair on March 28, 1963 where Bianchi's casting was announced.
At this stage in their career Saltzman & Broccoli were also looking at other non-Bond projects to develop and had already optioned Berkely Mather to adapt his recently published novel The Pass Beyond Kashmir. Mather also worked uncredited on the screenplay for From Russia With Love before Richard Maibaum submitted his final draft on March 18, 1963. Two weeks earlier Sean Connery undertook a Dr. No promotional tour of four major US cities accompanied by a trio of 'James Bond Girls', which included a preview screening at New York's prestigious Astor Theatre on March 5, 1963.

ABOVE: (left) An early trade advertisement erroneously announced that From Russia With Love would be filmed in Athens in addition to Istanbul and Venice. Financier/distributor United Artists issued a colourful letterhead that was used on production correspondence and press releases, and the design later formed part of the unique advertising seen outside the ODEON Leicester Square when the film opened in London on October 10, 1963. Note the use of the PAN Books '007 logo' used throughout the promotion of the second James Bond film.
| | |
| --- | --- |
| French actress Hélène Chanel screen tests in February 1963 | In early February 1963, director Terence Young had conducted screen tests at Pinewood Studios with many actresses trying out for the role of Tatiana Romanova; among those tested for the lead role were British model Tania Mallet, who in 1964 would play Tilly Masterson in Goldfinger; Gabriella Licudi [who had also tested for the role of Honey in Dr. No (1962)], and Sixties fashion icon Talitha Pol (best-remembered in 1966 as the second wife of John Paul Getty Jr.), who also tested for the role of Miss Taro in Dr. No (1962). Israeli actress Aliza Gur (who eventually played gypsy fighting girl Vida in From Russia With Love) was also tested. British actor Anthony Dawson, who had appeared as Professor Dent in Dr. No (1962), played the role of Colonel Klebb in the screen tests. |
Co-producer Albert R. Broccoli and director Terence Young undertook a tour of several European cities, and estimated that by the end of February 1963 they had interviewed over 200 women for the role. Whilst in Rome they first saw Italian model/actress Daniela Bianchi – runner-up in the 1960 Miss Universe contest – who was invited back to London to audition. More try-outs took place in early March 1963, with several actresses taking part in readings and wardrobe and makeup tests, and filmed on a faux bridal suite set at Pinewood Studios. Daniela Bianchi was eventually cast just a few days before the production was due to start filming, and she was announced as the new Bond Girl at a press conference with Sean Connery at the Connaught Hotel in London's Mayfair on March 28, 1963.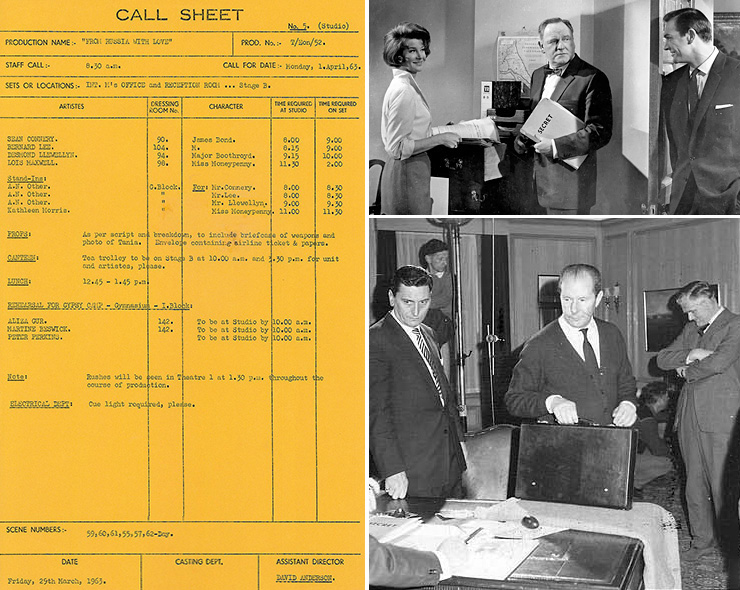 ABOVE: (left) MONDAY APRIL 1, 1963 - EON Productions Call Sheet for the first day's filming on From Russia With Love. (top right) Among scenes filmed were those in M's office and reception room. Lois Maxwell (as Miss Moneypenny), Bernard Lee (as M), and Desmond Llewelyn (making his James Bond film debut) completed their scenes over the first two days of shooting. Bernard Lee would return to the studios for a post-synching session on the morning of Monday June 17, 1963. (bottom right) Director Terence Young (with Bill Baskiville, Sean Connery's Stand-In) sets up the introduction of the gadget-laden briefcase given to James Bond (Sean Connery) by Desmond Llewelyn [pictured right] who is credited in From Russia With Love as 'Boothroyd', although his character is listed on the Call Sheet with his full title 'Major Boothroyd'. Whilst scenes for the film were captured on Stage 'B' at Pinewood Studios, stunt co-ordinator Peter Perkins oversaw rehearsals for the Gypsy camp fight between Martine Beswick and Aliza Gur at the Pinewood Gymnasium - I Block.
Filming on From Russia With Love began at Pinewood Studios on Monday April 1, 1963 with the scenes in the MI6 offices with Sean Connery, Bernard Lee, Lois Maxwell, and making his James Bond film debut, Desmond Llewelyn as gadget master Q. Lee and Connery worked on April 1st and 2nd, with Llewelyn earning £30 for his one day of filming on Tuesday April 2nd. Lois Maxwell worked for just one day on April 1st, and in the evening joined many cast and crew members on Pinewood's 'D' Stage at a party hosted by EON Productions to celebrate the start of shooting, and the publication of Ian Fleming's novel ON HER MAJESTY'S SECRET SERVICE. The James Bond author was invited to the party and chatted with Lois Maxwell (the first and only time they met), telling her she had "…the most kissable lips in the world!" Ian Fleming also met with Sean Connery, Daniela Bianchi, and the Academy Award nominated and Tony Award-winning Austro-Hungarian actress Lotte Lenya, who had been cast as the unforgettably villainous Rosa Klebb. Then in London performing in the review Brecht on Brecht at the Royal Court theatre, Lenya was the widow of Kurt Weill (1900-1950), a German-born American stage composer best-known for his collaborations with Bertolt Brecht (1898-1956), including The Threepenny Opera, which featured the ballad 'Mack the Knife'. Lenya (playing Jenny Diver) had first performed the iconic song in the 1928 Berlin premiere production of The Threepenny Opera, and won a Tony Award for the 1956 off-Broadway revival. Also attending the Pinewood party were Richard Maibaum, who would receive solo screenwriter credit on From Russia With Love despite its many contributors, and fresh from his West End and Broadway hit musical Oliver!, lyricist Lionel Bart, who would write the title song 'From Russia With Love' for the film. His involvement began the tradition of the producers hiring then popular artistes to write or perform the title song (in this instance heard within the film and over the end credits, sung by English recording artist Matt Monro). John Barry, who arranged Lionel Bart's 'From Russia With Love', and composed the orchestral score for the film, was also invited to the launch party. After arranging Monty Norman's 'James Bond Theme' for Dr. No in 1962, From Russia With Love would be the first of 11 James Bond films scored by John Barry.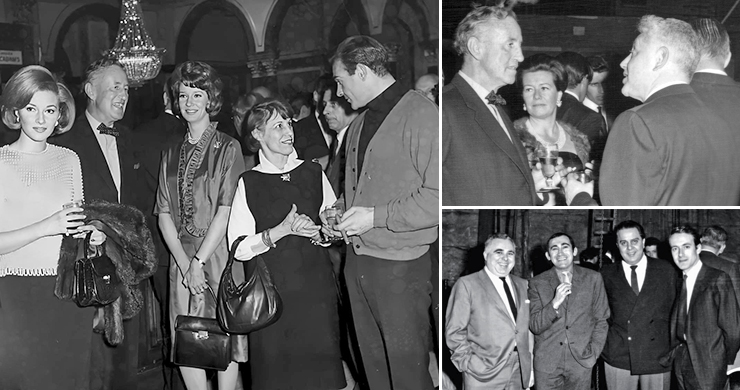 ABOVE: (left) At the end of the first days filming, a party hosted by EON Productions was held on Stage 'D' at Pinewood Studios to celebrate the start of shooting on From Russia With Love, and the publication of Ian Fleming's ON HER MAJESTY'S SECRET SERVICE [L-R] Daniela Bianchi, Ian Fleming, Lois Maxwell, Lotte Lenya and Sean Connery. (top right) Ian Fleming chats with From Russia With Love screenwriter Richard Maibaum. (bottom right) [L-R] Harry Saltzman, lyricist Lionel Bart, Albert R. Broccoli and composer John Barry.
CONTINUED

---
---