4 July 2019

BOND 25 composer announced
Dan Romer has been announced as the composer for BOND 25*. The news was broken by US film industry and review website IndieWire, and later confirmed by the American music producer, singer-songwriter, and film composer on Twitter.

Romer has already provided the scores for BOND 25 director Cary Fukunaga's Netflix series Maniac, and his 2015 film Beasts of No Nation.

*Romer later left the project due to creative differences.
30 June 2019

On set with BOND 25: London filming
| | |
| --- | --- |
| | 007 star Daniel Craig, director Cary Fukunaga and the BOND 25 crew were out and about in the sunshine today shooting across a number of central London locations, including Whitehall, where Daniel filmed a scene with a classic Aston Martin V8, first seen in The Living Daylights (1987). The first official images of Daniel Craig as James Bond are released amid rumours that Grace Jones who was supposed to have a cameo role in BOND 25, walked off the set only moments after arriving. |
25 June 2019

On set with BOND 25: Jamaica
20 June 2019

HRH The Prince of Wales visits BOND 25 set & 007's new car confirmed as Aston Martin Valhalla
HRH The Prince of Wales visited Pinewood Studios today, where he enjoyed a tour of the BOND 25 sets with producers Michael G. Wilson and Barbara Broccoli.

The Prince was introduced to cast Daniel Craig, Ralph Fiennes, Naomie Harris, Lashana Lynch and director Cary Joji Fukunaga. On display were two Aston Martins, the DB5 stunt car and the V8, that will feature in the film. Aston Martin have also confirmed that Bond's new car with be the Valhalla.
FULL STORY AND MORE IMAGES
4 June 2019

BOND 25 UPDATE
During the filming of a controlled explosion on the set of BOND 25 today at Pinewood Studios, damage was caused to the exterior of the '007 Stage'.

There were no injuries on set, however one crew member outside the stage has sustained a minor injury.

Conceived in 1976 by production designer Ken Adam to house the set he had designed for the interior of the Liparus supertanker in The Spy Who Loved Me (1977), the original '007 Stage' was later destroyed by a fire in 1985. Rebuilt and reopened in January 1985, with the new name 'Albert R. Broccoli 007 Stage', in time for the filming of A View To A Kill (1985). Another fire occurred on 30 July 2006 after the production of Casino Royale.
22 May 2019

BOND 25 UPDATE
| | |
| --- | --- |
| | BOND 25 production today announced Daniel Craig will be undergoing minor ankle surgery resulting from an injury sustained during filming in Jamaica. Production will continue whilst Craig is rehabilitating for two weeks post-surgery. The film remains on track for the same release date in April 2020. |
5 May 2019

Principal photography for BOND 25 begins in Jamaica
| | |
| --- | --- |
| | The first day of principal photography for BOND 25 took place on Sunday April 28, 2019 - three days after the cast assembled at Ian Fleming's Jamaican home 'Goldeneye' to announce the start of production on the 25th official James Bond film. Daniel Craig was reunited with Jeffrey Wright who is playing CIA Agent Felix Leiter for the third time in BOND 25. |
25 April 2019

BOND 25 UPDATE
Cast announced at a media event held at 'Goldeneye' in Jamaica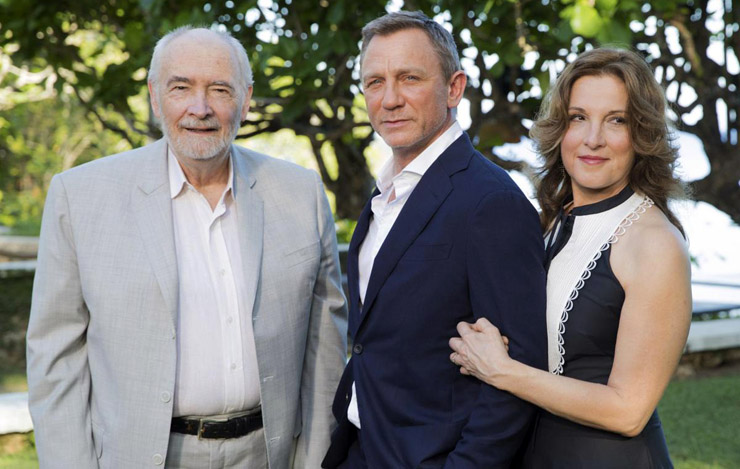 'Goldeneye' in Jamaica. James Bond Producers, Michael G. Wilson and Barbara Broccoli today confirmed the start of principal photography on the 25th official James Bond film begins on 28 April 2019. From Albert R. Broccoli's EON Productions and Metro Goldwyn Mayer Studios, the film is directed by Cary Joji Fukunaga and stars Daniel Craig, who returns for his fifth film as Ian Fleming's James Bond 007.
Metro Goldwyn Mayer will release the 25th James Bond feature film domestically through their United Artists Releasing banner on April 8, 2020; through Universal Pictures International and Metro Goldwyn Mayer in the UK and internationally from April 2, 2020.

Director, Cary Joji Fukunaga confirmed the returning cast, Ralph Fiennes, Naomie Harris, Rory Kinnear, Léa Seydoux, Ben Whishaw, Jeffrey Wright and introduced Ana de Armas, Dali Benssalah, David Dencik, Lashana Lynch, Billy Magnussen and Rami Malek. FULL PRESS RELEASE AND MORE IMAGES
30 March 2019

Filming on BOND 25 begins in Norway
| | |
| --- | --- |
| | After months of press speculation and rumours surrounding the production of the as yet untitled 25th James Bond film, it would appear that filming has finally begun in Nittedal, 20-miles north of Oslo in Norway. The scene involved a masked gunman chasing a blonde young girl across an ice lake. The situation described in the shooting script as: "A child shoots an intruder. She is chased by a 2nd intruder and runs onto a frozen lake." The scenes very likely forms part of a flashback for Madeleine Swann's character, who described this story to Bond as they make their way by train to Blofeld's desert hideout in Spectre (2015). Although director Cary Fukunaga nor any principal players were present at the location, the action is the first concrete evidence that filming on BOND 25 has begun in earnest. With major casting still to be announced one can only speculate as to who the masked gunman is, although the girl clearly represents a young Madeleine Swann who will be played in BOND 25 by Léa Seydoux. |
15 February 2019

BOND 25 UPDATE
The US release date for BOND 25 has changed. Producers Michael G. Wilson and Barbara Broccoli: "We are absolutely thrilled to be releasing BOND 25 on 8 April 2020."

Universal Pictures International and Metro Goldwyn Mayer will release the film in the UK and internationally from April 3, 2020.
20 September 2018

BOND 25 ANNOUNCEMENT
| | |
| --- | --- |
| | Michael G. Wilson, Barbara Broccoli and Daniel Craig announced today that BOND 25 will begin filming at Pinewood Studios on 4 March 2019 under the helm of director, Cary Joji Fukunaga with a worldwide release date of 14 February 2020. "We are delighted to be working with Cary. His versatility and innovation make him an excellent choice for our next James Bond adventure," said Michael G. Wilson and Barbara Broccoli. |
21 August 2018

BOND 25 ANNOUNCEMENT
| | |
| --- | --- |
| | Michael G. Wilson, Barbara Broccoli and Daniel Craig today announced that due to creative differences Danny Boyle has decided to no longer direct BOND 25. |
25 May 2018

BOND 25 ANNOUNCEMENT